Ex-Pastor Guilty of Exposure
Cop Was Shocked at Sight of Naked Priest

By Eric Barendsen and Victoria A.F. Camron
Longmont Times-Call
June 13, 2008

http://www.timescall.com/News_Story.asp?id=9344

GREELEY — The Rev. Robert Whipkey was convicted of indecent exposure Thursday evening after a one-day trial.

The jury of four women and two men found the former pastor guilty after about two hours of deliberations, following a trial that lasted about five hours.

Whipkey, 54, did not show any reaction when the verdict was read, and he left the courtroom stone-faced with his eyes lowered. He faces between six and 18 months in prison when he is sentenced on Aug. 11.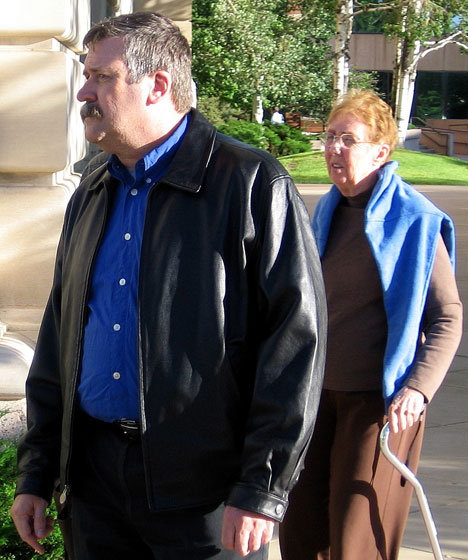 The Rev. Robert Whipkey leaves the Weld County Courthouse in Greeley with a supporter Thursday evening after being convicted of indecent exposure.
Photo by Eric Barendsen


He could have to register as a sex offender as well. Before he is sentenced, Whipkey must either undergo a sex-offender evaluation or turn in the results of a similar evaluation he had in November.

Ordained in 1983, he was the pastor of St. Theresa Catholic Church in Frederick, as well as of churches in Mead and Erie, before his arrest became public last summer. But jurors were not told Whipkey is a priest because the knowledge could prejudice them against the defendant, County Judge Timothy Kerns ruled last month.

In March, one of Whipkey's attorneys said his client was going out of state for treatment, but did not specify what treatment or where he was receiving it.

Whipkey was arrested June 22 after an off-duty officer saw him walking naked on Fifth Avenue in Frederick at about 4:35 a.m. Whipkey was not even wearing socks or shoes, Weld County prosecutor Kent Leier said during opening arguments.

But the fact that Whipkey covered his genitals when that officer shined a flashlight on him proves that he did not want anyone to see him, countered defense attorney Harvey Steinberg.

Although the priest admitted he'd been jogging naked on the track at Frederick High School, Whipkey was on trial only because the officer saw Whipkey, Steinberg said.

Officer Zachariah Hahn was sure Whipkey was naked, even before he shined his flashlight on the man, he testified.

"I was honestly shocked. At first, I didn't know what to think," said Hahn, who had just ended his shift and was watering his lawn when he saw Whipkey.

"I thought maybe the man was wearing tan clothing," Hahn testified. When he looked back up, he thought, "Is this man nude? Surely not. Who would be walking down the street nude?"

Hahn had never before seen a naked man walking on Fifth Street, he testified.

During opening arguments, Steinberg told jurors that Whipkey never meant for anyone to see him naked.

"When no one else is out, he's walking down the street. And as soon as someone sees him, he covers up," Steinberg said.

However, a neighbor testified that Whipkey regularly parades naked around his house, allowing a neighbor to see him. Another woman testified that 19 years ago, she saw Whipkey walking naked at a campsite when other people could see him.

"She confronted him about that, letting him know that behavior isn't acceptable," Leier said during opening arguments.

Victoria Camron can be reached at 303-684-5226 or vcamron@times-call.com