New Lawsuits Assail Diocese

By Dan Verbeck
KCUR
June 13, 2008

http://publicbroadcasting.net/kcur/news.newsmain?action=article&ARTICLE_ID=1299030&sectionID=1

Two more lawsuits are being filed against current and former Roman Catholic clergy and the Kansas city-St. Joseph diocese, alleging child sex molestation and coverup.

Neither plaintiff is named. One Jackson County Circuit Court case accuses Msgr Thomas O'Brien in the case of a 12 year old boy allegedly abused at that age, and then over years, from the rectory at St Elizabeths Parish.The purported victim died in a car crash 9 years ago. The suit asks damages for his 5 surviving children. Barbara Dorris of the support group known as survivors network of those abused by priests says the other accused was a Capuchin Order Brother. In her words: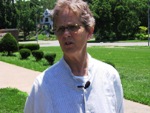 Barbara Dorris outlines molestation claims outside Kansas City Catholic Chancery kcur
Photo by Dan Verbeck


"We believe Earl Johnson is still in Kansas City as an elementary school teacher in a public school. He left the Order but he is teaching. Which is one of the reasons we are here."

Dorris says other bishops are trying to make peace over lawsuits against their clergy but that, in Kansas City, complaints are met with counterattack. This is the fourteenth lawsuit naming Msgr. O'Brien who was once principal of St. Pius Tenth High School in Kansas City, North.