Ashfield Man Calls on Church to Defrock Priest He Says Abused Him

By Stephanie Barry
The Republican
June 24, 2008

http://www.masslive.com/news/index.ssf/2008/06/ashfield_man_calls_on_church_t.html

SPRINGFIELD - An Ashfield man announced his intention today to put pressure on the Roman Catholic church to defrock a priest he says abused him in the late 1980s.

William J. Nash, 41, spoke with reporters outside the offices of the Roman Catholic Diocese of Springfield to talk about his chronicles of alleged abuse before mailing several copies of his request to defrock the Rev. James Tully to church officials in this country and in Rome.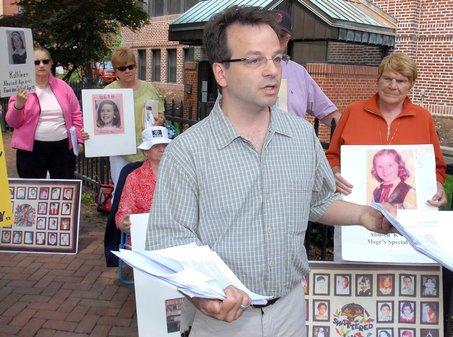 William J. Nash, who says he was a victim of clergy sexual abuse, shows documents he plans to send to the Vatican in his quest to have the Rev. James Tully defrocked. He is standing across from the offices of the Roman Catholic Diocese of Springfield on Elliot Street.
Photo by Don Treeger


Nash also called upon the Most Rev. Timothy A. McDonnell, the Bishop of the Springfield diocese, to support his petition.

"He probably has a little better access than I do to the Vatican. I'm going to ask that he use that access," Nash told reporters this afternoon.

He said he was moved to call for Tully's laicization by the Pope's recent, unequivocal denouncement of pedophiles in the priesthood.

Nash said that Tully abused him while he was a 21-year-old student at the Xaverian Seminary in Milwaukee. Included in a packet of materials Nash provided was a $75,000 out-of-court settlement reached in 2005 between him and the Xaverian Missionary Fathers.

Tully has reportedly been reassigned to a position at the religious order's Rome headquarters.

Contact: sbarry@repub.com