Church Settles 18 Suits
$5.5 Million Agreement Covers Cases Accusing Three Priests

By Electa Draper
Denver Post
July 2, 2008

http://origin.denverpost.com/news/ci_9758609

The Catholic Archdiocese of Denver on Tuesday announced a $5.5 million settlement of 18 cases of sexual abuse by three priests against young parishioners between 1954 and 1981.

Of the cases, 17 involved deceased priests Harold Robert White and Leonard Abercrombie. One claim was against Monsignor Lawrence St. Peter, also deceased.

Archbishop Charles Chaput said the victims' ordeal has been terrible and "hugely mortifying" to the church.

"We cannot undo the sins and failures of the past or the suffering they have caused," Chaput said at a news conference. "I would like to express the sadness of all of us in the church that this happened."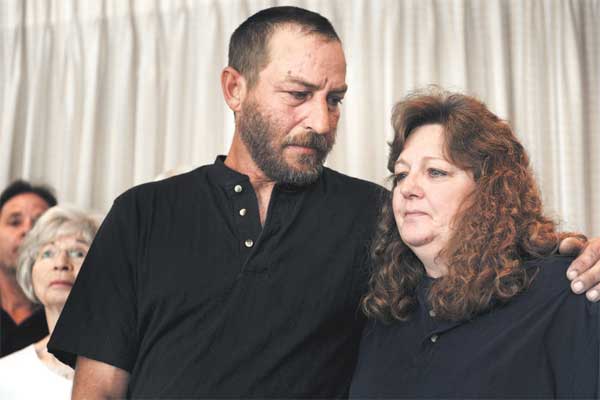 "I still have faith in Jesus Christ, but I totally lost my faith in the Catholic Church." Randy Becker, who was abused by a Catholic priest; he s pictured with wife Rita
Photo by Joe Amon


Since August 2005, the archdiocese has settled out of court 36 lawsuits and seven other claims against White, Abercrombie and St. Peter totaling about $8.3 million, archdiocese spokeswoman Jeanette DeMelo said.

Only two childhood sexual-abuse cases remain against the archdiocese, officials said. These pending cases involve Abercrombie and one other deceased priest, Thomas Barry.

An attorney for 14 of the victims, Jeff Anderson of St. Paul, Minn., said White abused 12 of his clients. White was a serial offender who could not control himself, Anderson said, and the archdiocese officials who could have stopped him by reporting allegations to the police lacked the courage to do so for decades.

"They covered up and enabled him to be what he was," said Tom Koldeway, now 47, one of three Koldeway siblings abused by White in Minturn. "He had accusations against him before I was even born. They knew."

Koldeway said the most satisfying aspect of the settlement is revealing the archdiocese's complicity in White's crimes.

Koldeway's father, Art, said his children's agony "broke our family in half."

The priests' victims were between the ages of 8 and 14 when they were abused, Anderson said.

White was moved around to parishes, hospitals and schools in Denver, Sterling, Minturn, Colorado Springs, Aspen,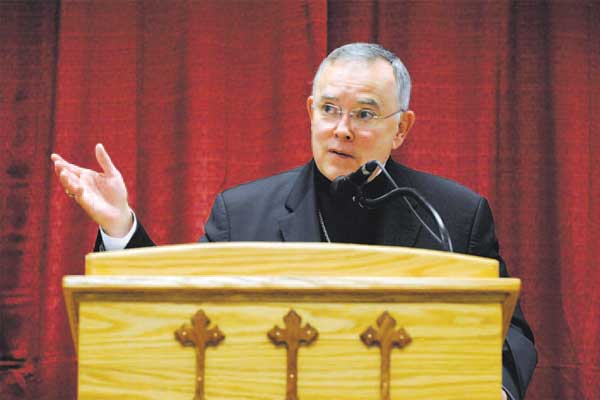 Archbishop Charles Chaput on Tuesday announces the settlement of 18 clergy sex-abuse cases for $5.5 million. The Archdiocese of Denver has spent about $8.3 million since 2005 settling lawsuits against three priests, all of whom are now deceased.
Photo by Andy Cross


Loveland and Wheat Ridge.

"In light of what we know today about sexual abuse, many of the decisions made by the archdiocesan leadership during the years 1961 to 1981 regarding Robert White would now be very different," Chaput said.

"Extremely scary"

Brandon Trask, 52, was the first of this group of plaintiffs to accuse White of rape.

"Going to the archdiocese was extremely scary," Trask said. "I asked them, 'What did you know, when did you know it and what did you do about it?' Their answer was: 'We can't tell, we can't tell, we can't tell.' "

Abuse victim Randy Becker, 47, said he couldn't come forward with the truth until the ghost of his dead father appeared to him.

"I still have faith in Jesus Christ, but I totally lost my faith in the Catholic Church," said Becker, while his 7-year-old grandson quietly sobbed behind him.

Chaput said the settlements were vital for the victims and also large enough to significantly deplete church resources for education and other services. Yet the archdiocese, which serves 525,000 Catholics in northern Colorado, was not forced to sell property to pay victims, in contrast to the Archdiocese of Los Angeles, which sold real estate to meet settlement payments of $660 million in 2007.

Understanding abuse

Chaput said the Denver Archdiocese has sought for 20 years to better understand the nature of sexual abuse and how to prevent it. He said his predecessor, Archbishop Francis Stafford, now a cardinal, established comprehensive sexual misconduct policies in 1991, which include the immediate reporting of any allegation of sexual abuse of a minor to law enforcement.

"It is my hope that these settlements help the victims and their families to heal," Chaput said. "I've offered to meet personally with every victim. Some of them have responded to this request."

Statute of limitations

Because of Colorado's statute of limitations, many abusive clerics will never face criminal charges, Anderson said.

Civil action also is generally limited to a period of six years after a victim reaches age 18.

The archdiocese opposed legislation that would have changed the statute on civil actions for private institutions only. However, Chaput said, the archdiocese will enter into mediation — not litigation — with victims whatever the time period.

And Colorado's Catholic bishops support abolishing the criminal statute of limitation for childhood sexual-abuse cases.

Electa Draper: 303-954-1276 or edraper@denverpost.com