Church Wanted to Avoid 'Scandal' over Pedophile Priest

By Berny Morson
Rocky Mountain News
July 2, 2008

http://www.rockymountainnews.com/news/2008/jul/02/church-wanted-avoid-scandal-over-pedophile-priest/

The letter called it "boy troubles."

That's how a Colorado Springs Catholic official in 1965 described the repeated, flagrant advances to children by the late Harold Robert White, the one-time priest at the center of many of the 44 sexual abuse cases settled by the Denver Archdiocese since 2006.

Church correspondence and reports from the early 1960s through early 1980s made public Wednesday show that many in the Denver Archdiocese knew White was a pedophile.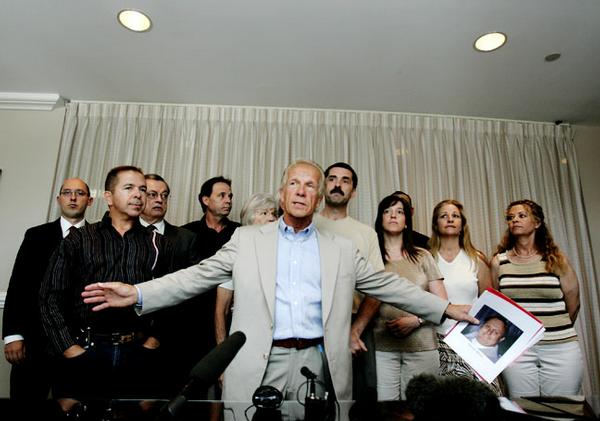 Attorney Jeff Anderson, center, stands in front of attorneys, victims and their family members as he holds a photo of Pastor Harold White as he announces a settlement for 12 victims of sexual abuse by clergy with the Denver Archdiocese in Denver, Colo., on Tuesday.
Photo by Chris Schneider


But instead of removing him from the priesthood, church officials transferred White to at least nine parishes during his career, which began with his ordination in 1960 and ended in 2004, when he was defrocked. He died in 2006.

"...the parish would be better off without Father White," wrote a cleric in Sterling, where White was transferred from Colorado Springs after abusing a child at a Catholic school.

A Minnesota lawyer who represents some of the abuse victims released more than 150 pages of archdiocesan documents Wednesday. The lawyer, Jeff Anderson, obtained the material under the settlement with the church.

The incidents detailed in the documents occurred between 1961 and 1981. Letters between clerics and complaints from parents cite advances on boys and fondling — the "unforgivable sin of the Bible," as the Springs letter put it.

Names, except for White's, were blacked out. But Archdiocesan letterhead and contextual clues make clear that church officials were concerned about White's sexual activities, but didn't tell authorities. The documents refer to other incidents that may not have been made public.

"There's a lot of damning information in those documents," said Tom Koldeway, 47, who was molested by White for more than eight years. "They knew he was a pedophile before I was born."

Archbishop Charles Chaput said that under today's rules, pedophiles would be reported to the police. Chaput said he doesn't know why previous church officials allowed offenders to transfer to other parishes.

White, who was born in 1933, entered St. Thomas Seminary in Denver right out of Regis High School.

His seminary grades were poor. One teacher described him as "not too bright," but with a personality that could make him "a good and sincere priest."

White was soon in trouble at his first church appointment, St. Catherine's in North Denver. At least several incidents occurred, including one described as "an approach ... by the priest to the boy for an indecent act." When the boy fled, White chased him, the document says.

A letter dated Dec. 13, 1961, shows church officials worried about "scandal" if one of the allegations became public. The letter does not mention the possible effect on the boy.

Several incidents led to White's transfer to Colorado Springs, followed by postings to Sterling, Loveland, Minturn and Aspen. He had trouble in each of those parishes.

No documents were released for the period after 1981, when White served in Wheat Ridge, Grand Lake and Steamboat Springs. The reason he was defrocked has not been released.

At each parish, White's sexual advances quickly became notorious among local Catholics, the letters show.

"Doesn't anybody tell you anything?" a Loveland parent asked in a letter to a archdiocesan official in Denver. "Don't you know what's going on?"