Archdiocese to Pay $5.5 Million to Erase 'Stain'

By Berny Morsonand Jean Torkelson
Rocky Mountain News
July 2, 2008

http://www.rockymountainnews.com/news/2008/jul/02/archdiocese-to-pay-55-million-to-erase-stain/



Art and Agnes Koldeway agonized for years over why three of their six kids abruptly left their secure family in Loveland and fled into the world, angry and estranged.

The years of pain officially ended Tuesday with the conclusion of 18 sex-abuse complaints against the Catholic Archdiocese of Denver for $5.5 million.

Sixteen cases implicated the late Harold Robert White, the priest accused of abusing John, Mary Kay and Tom Koldeway when they were youngsters. All are now in their late 40s or their 50s.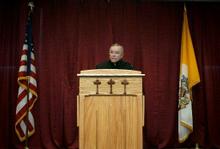 Archbishop Charles Chaput speaks to the press Tuesday at the Archdiocese of Denver's John Paul II Center about the legal settlement between the archdiocese and sexual abuse victims. Chaput said the clergy abuse was a stain on the church and that he had apologized privately to each victim.
Photo by Tim Hussin
"They were so shamed and guilt-ridden each fled in different directions," said Jeff Anderson, the Minnesota attorney who assembled abuse victims Tuesday at a Denver law firm.
Across town, Archbishop Charles Chaput said at a news conference that clergy abuse was a stain on the church. Chaput said he has apologized to the victims in private meetings. He also apologized several times Tuesday as he had done when previous settlements were announced.
"I think that the whole church is hugely mortified and embarrassed by this," Chaput said. "That this could happen in the church seems impossible in the minds of so many of our people. There's anger about that and disappointment and discouragement. . . . Some people have stopped going to church because of this.
"And of course, the people it has impacted the most are victims. At least for the most part, these are all people who were Catholics, if they aren't still Catholics, so that's where the greatest damage has been done."
The latest settlements bring payouts by the archdiocese to at least $8.2 million since 2006 in cases against White, and former priests Leonard Abercrombie and Lawrence St. Peter, all of whom have died. The incidents happened between 27 and 54 years ago, the church said.
The settlement has not been announced in a case involving former priest Timothy Evans, who was sentenced by a state judge in May to 14 years to life for sexual abuse in Larimer County.
One remaining complaint involving Abercrombie is headed to trial, attorney Jeff Herman said. And a case involving another priest, Thomas Barry, is also unresolved. Barry is also dead.
Chaput noted that the Catholic Church is not the only institution with sexual abuse problems.
"The world has a sexual abuse problem," he said. "Our country has a sex abuse problem.
"Unfortunately, our church shared in that, and the events in our church are very public. But it certainly isn't something only the church has."
Chaput said the church has not had to sell property to compensate abuse victims, as has occurred in other dioceses. But he said the millions of dollars paid out hurts the archdiocese and could affect Catholic schools, though not Catholic Charities.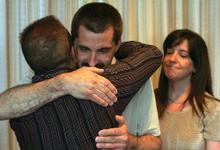 Brandon Trask, left, hugs Tom Koldeway, as Koldeway's wife, Trish, looks on after the announcement of a settlement for 12 victims of sexual abuse by clergy. Tom Koldeway and Trask say they suffered abuse at the hands of the Rev. Harold White.
Photo by Chris Schneider
"That's a lot of money for anyone," he said, adding "It's appropriate that they (the victims) be compensated for their pain."
'Today is a great day'
As part of the settlement, the archdiocese released some of its files on White. Chaput said they showed no evidence he abused anyone after 1981.
Tom Koldeway, now 47, said White began abusing him when he was about 9.
"Today is a great day," said Koldeway. "I feel fulfillment. I feel justification. I have no regrets for what we've done. I hope we've taken steps today so that this never happens to other children."
Koldeway said the files showed that the archdiocese knew of complaints against White dating back to before Koldeway was born.
"They concealed him," he said. "They enabled him to be what he was."
Chaput said the church's policy now is to remove priests from ministry as soon as a credible complaint is received. The church will work actively with police on sexual abuse cases, he said. And the church has an extensive training program on sexual abuse.
For the Koldeway family, the training came too late. Agnes Koldeway said she recalled how the friendly priest, Father White, became part of their family life.
"He was the kind of priest that always seemed to have a lot of toys for the kids," she said. "He drove a new car and knew how to fly. He took the kids skiing."
But one day, as White walked into the family's home, "I thought, 'What is he doing here so much?' "
She didn't know why, "but I was getting a little agitated by his visits."