Ex-Priest James Janssen Charged with Perjury

By Ann Mcglynn
Quad-City Times

July 10, 2008

http://www.qctimes.com/articles/2008/07/10/news/local/doc487623ed8d365662470090.txt?sPos=1

Statutes of limitations protected ex-priest James Janssen from criminal charges on dozens of accusations of horrific child molestation from decades ago.

But lies he allegedly told in 2006 and 2007 mean the defrocked Janssen now will face criminal charges.

Scott County Attorney Mike Walton filed three counts of perjury against Janssen on Thursday, as his six-month jail sentence for contempt of court for attempting to hide assets now owed to his nephew, James Wells, winds down.

Wells won a civil lawsuit against Janssen in 2005 for abuse he suffered as a child. He and his attorneys have been fighting ever since to get Janssen to pay up.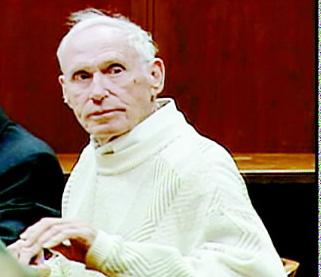 Former priest James Janssen faces three counts of perjury in Scott County District Court.



The Survivors Network of those Abused by Priests, or SNAP, thinks Janssen is the first priest accused of sex abuse also charged with perjury.

"A review of records and transcripts show that Janssen engaged in a continuing scheme to transfer and hide his assets from creditors while continuing to falsely testify regarding his knowledge of these assets," Walton wrote in the complaint and affidavit filed in Scott County District Court.

Janssen will make his initial appearance today. Each count of perjury carries a possible penalty of up to five years in prison.

According to documents, Janssen lied in April 2006 when he testified under oath that he did not transfer assets to a family member in the 10 years proceeding that date. He later admitted to transferring assets, including more than $700,000 in bonds to his sister, Dorothy.

In July 2007, Janssen lied on his application for a court-appointed attorney on an accusation of contempt of court. He did not disclose ownership of and income from an annuity or that he had access to money with his sister to pay his expenses.

And, in October 2007, officials said, he falsely testified under oath that he did not know about $80,000 in savings bonds. He later produced a list of bonds and admitted they were given as gifts to friends and family.

"Telling the truth under oath is, in a sense, the first commandment of our justice system," said David Clohessy, the director of SNAP. "When anyone lies in court, it undermines the entire process. The wrongdoer, no matter who he is, must face consequences for such deceit.

"We believe that many, many pedophile priests and corrupt bishops have either committed perjury or come extraordinarily close to doing so. Sadly, even now, many prosecutors are reluctant to go after high-profile defendants with high-priced lawyers, no matter how clear the evidence may be of their deception. We're glad this prosecutor is pursing this case."

Thursday's charges are a continuation of a winding three-year battle to collect the judgment, which Wells won in May 2005. The battle has resulted in two additional lawsuits, plus the contempt actions.

Wells sued his aunt, Dorothy Janssen, after he and his attorneys discovered that she and James Janssen began cashing the bonds May 23, 2003, the day after a Quad-City Times article detailed the first of several lawsuits to be filed against the ex-priest alleging sexual abuse.

Cashing of the bonds continued through Oct. 17, 2003. All told, the principal and interest on the bonds totaled $712,664.

Scott County District Judge Mary Howes ruled Wells was entitled to $255,607 from Dorothy Janssen, as well as her house, car and more than $112,500 in bonds and accounts in her name.

Wells has obtained title to the house and car. He is renting the house to Dorothy Janssen for two years, with the stipulation that James Janssen cannot stay there. Attorneys continue to work to resolve the judgment.

In April, Wells filed suit against five people who were given bonds, according to the list Janssen produced as he went to jail. They are Thomas Abel, David Wear, James Wilkinson, Jason Wilkinson and Christopher Bunce. One of the individuals on the list, retired priest Raymond Ruppenkamp, has returned the bonds.

Meanwhile, Janssen remains in jail on a contempt of court charge. He was ordered there in January by Judge Bobbi Alpers as a result of his failure to produce his assets.

He was removed from the priesthood in 2004 by Pope John Paul II. Believed to be the first-ever Davenport priest to be defrocked, Janssen was ordained in 1948. He held several positions in Clinton County. He also was pastor in Davenport, Burlington, East Pleasant Plain, Fort Madison, Holbrook and Newton. He was appointed Boy Scout chaplain. His last diocesan job in Grand Mound ended in 1990.

Janssen was a defendant in several civil suits alleging sex abuse, including the one filed by Wells. The others were dismissed after the victims reached settlements with the diocese.

All told, sex abuse cases in the Diocese of Davenport have cost the diocese and its insurer more than $47 million. That amount includes a recent $37 million settlement in the diocese's bankruptcy case and $10 million paid to 45 victims before the diocese filed for bankruptcy in October 2006.

Ann McGlynn can be contacted at (563) 383-2336 or amcglynn@qctimes.com. Comment on this story at qctimes.com.