Man Arrested for Incest and Murder
Body Found in Freezer

My Fox Gulf Coast
July 29, 2008

http://www.myfoxgulfcoast.com/myfox/pages/News/Detail?contentId=7084422&version=11&locale=EN-US&layoutCode=TSTY&pageId=3.2.1

MOBILE, Ala. -- 7/29/08: Mobile Police just released more details about a murder case, involving a woman's body found in a freezer.

Investigators believe the victim was Arletha Hopkins, the wife of the suspect, Anthony Hopkins. A woman's body was found last night in a chest-type freezer at the couple's home on Ryland Street.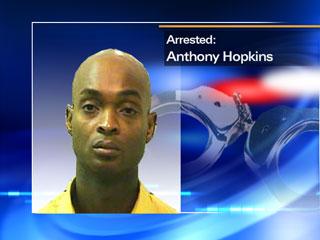 Anthony Hopkins charged with Murder



Police say the body was covered in a sheet. It appears to have been in the freezer for several years. Investigators say the discovery was finally made when one of the children accused Anthony Hopkins of sexual abuse. The child told police about the body. There were six other children in the home. They have been taken into protective custody.

Investigators say Anthony Hopkins is a preacher. At the time of his arrest, Hopkins was found at a church in Jackson, Alabama, where a revival was taking place. Hopkins is charged with murder and sodomy.

Mobile police executed a search warrant at a house at 258 Rylands St. late Monday night, and discovered the remains of a body in a freezer in the house.

Mobile police charged 37-year-old Anthony Hopkins with murder early Tuesday morning in connection with the discovery of a black female body that was retrieved from a freezer in his house.

The body was discovered by police who executed a search warrant at Hopkin's house at 258 Ryland St. about 7 p.m. Monday. The warrant was based on information that a homicide had occurred there. Police have not confirmed the identity of the dead woman and are awaiting an autopsy to determine the cause of death.

Police have also charged Hopkins with multiple sex charges in connection with incest that occurred with a family member. Police transported Hopkins to Mobile Metro Jail about 2 a.m. Tuesday and booked him on charges of Murder, Rape Second Degree, Sodomy First Degree, Sex Abuse First Degree and Incest.

Seven children were also at the home. It is not known if they are related to the woman. The children were taken to a safe location.

There are still a lot of unanswered questions surrounding this case. Fox10 News will be continue to post updates to this story throughout the day and we will have a full report Tuesday night on Fox10 News beginning at 5 p.m.