Abuse Victim's Claims Stand up to Challenge
A Thorough Fact-Finding Process Usually Weeds out Bogus Allegations of Molestation by Priests

By Rev. Robert M. Hoatson
Portland Press Herald
July 29, 2008

http://pressherald.mainetoday.com/story.php?id=201883&ac=PHedi

As a priest, survivor of clergy sexual abuse and advocate for hundreds of clergy sexual abuse victims, I take exception to Arnold Besier's Maine Voices column in the July 15 edition of this newspaper ("Diocese treated hard-working priest unfairly"). I will attempt to explain to Mr. Besier and readers why he is flat wrong.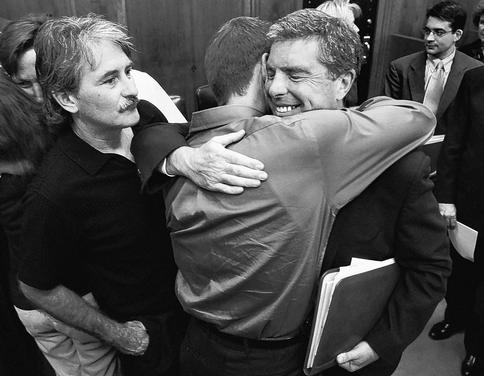 Attorney Robert Sherman, right, is hugged by church abuse victim Gary Bergeron, center, and thanked by victim Bernard McDaid on Sept. 9, 2003, after the Boston Archdiocese agreed to pay $85 million to settle claims of clergy sexual abuse.
Photo by Associated Press


I am working with the heroic and brave victim of the Rev. James Robichaud who had the courage to come forward, risk ridicule and contempt, and expose her abuser.

Instead of protecting the priest, Arnold Besier should be traveling to Massachusetts to award her a medal of valor, because children in the United States are safer now than they were in the days before she went public.

In my work, I have come to realize that a substantive discussion with a victim will expose their credibility or their lack of credibility. In my professional opinion, this victim told the truth.

In my six years as a clergy abuse advocate, I cannot recall one example of bogus reporting. That is not to say that a few persons have not leveled bogus charges, but they are few and far between.

Bogus charges are weeded out very early in the fact-gathering stage, thanks to competent, thorough attorneys like Mitchell Garabedian of Boston, who represents the victim in this case.

For instance, victims' health, education and employment records, to name a few, are collected to help determine the credibility of an accuser. In addition, common-sense questions are asked of the accuser, such as: the place or places where the abuse took place; the age of the accuser at the time of the abuse; and whether the assignment of the priest matches the times, places and dates of the abuse that the accuser is reporting.

After six years of credible allegation after allegation against priests, dioceses, and other religious persons, Mr. Besier still cannot have it in his heart to become a supporter of victims despite knowing that it has been documented that thousands of priests have abused thousands of children and continue to abuse even to this day.

Instead of acting as the host of the pity party for accused priests, Mr. Besier should travel with me just one day as I work to heal the broken hearts, souls and bodies of people abused as children. They are now adults, but they continue to suffer from the effects of post-traumatic stress disorder and a host of other psychological disorders.

The Catholic Church created the problems that Mr. Besier cites in his letter, and the Catholic Church is responsible for this scandal, not the victims. Have a small number of priests been accused unjustly? For sure, and I do not in any way condone that practice.

But unless Mr. Besier has definitive proof that Father Robichaud's accuser is lying, he needs to focus his attention on the healing of the victim and her pursuit of justice. I have spoken to Father Robichaud's victim. She is not lying!

Contact: rmhoatson1@msn.com