Top Priest in Perv Probe

By Ed Robinson
New York Post

August 4, 2008

http://www.nypost.com/seven/08042008/news/regionalnews/top_priest_in_perv_probe_122916.htm

Gov. Paterson's pastor - who organized the papal Mass at Yankee Stadium in April - was forced to step down after he was accused of sexual abuse involving minors, church officials said yesterday.

Monsignor Wallace Harris, 61, who had been pastor of Harlem's Church of St. Charles Borromeo since 1989, also had given the benediction at Paterson's swearing-in in March.

He was asked to leave when the Archdiocese of New York received an allegation of sexual abuse that occurred 20 years ago.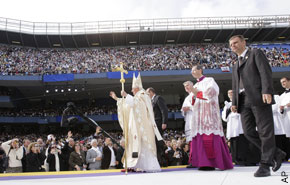 SCANDAL: Monsignor Wallace Harris organized the pope's April Mass at Yankee Stadium. He has stepped down.



Harris was "directed to step aside from his position as pastor and is not permitted to function as a priest until such time as the Archdiocesan Advisory Review Board has studied the matter," Joseph Zwilling, a spokesman for the archdiocese, said in a statement.

The archdiocese reported the matter to the Manhattan District Attorney's Office, which then received a second allegation of sexual abuse, according to the statement.

Harris has denied the allegations and has not been charged with any crime.

But it was a stunning turn of events for the man who Paterson referred to as "my pastor," at the swearing-in.

Ordained in 1972, he rose through the ranks to become pastor of St. Charles Borromeo on West 141st Street, and vicar of Central Harlem.

He is on the board of trustees of the archdiocese's Catholic Charities and an honorary NYPD chaplain.

He served as event coordinator for Pope Benedict XVI's Yankee Stadium Mass.

"Monsignor Harris has been recognized as a formidable, yet compassionate, church leader and is recognized for these characteristics within the archdiocese, ecumenical and African American community," the church says on its Web site.

The Rev. Bob Hoatson, a former Christian Brother who now serves as an advocate for victims of sexual abuse by clergy, said he was "not surprised at all that people are still coming out of the woodwork to expose these pedophiles and alleged pedophiles."

Hoatson said he first met Harris while stationed in Harlem in the early 1980s.

He said the priest had also served as a rector at Cathedral Prep Seminary.

"He was on the fast track to becoming a bishop," Hoatson said.

Additional reporting by Dan Mangan

Contact: ed.robinson@nypost.com