Harlem Pastor Suspended As DA Probes Charges He Sexually Abused 2 Kids

By Oren Yaniv
Daily News

August 4, 2008

http://www.nydailynews.com/news/ny_crime/2008/08/03/2008-08-03_harlem_pastor_suspended_as_da_probes_cha.html

A prominent Harlem priest who gave the invocation at Gov. Paterson's inauguration and helped organize Pope Benedict's recent visit was forced to step down Sunday amid allegations he had sexually abused two minors.

Msgr. Wallace Harris, pastor of St. Charles Borromeo Roman Catholic Church on W.141st St., has been barred from acting as a priest pending recommendations from an advisory review board, the Archdiocese of New York said.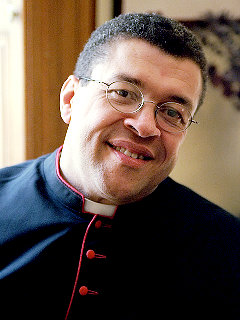 Msgr. Wallace Harris



"Msgr. Harris has denied the allegations, which concern actions that allegedly occurred 20 years ago," according to a statement issued by archdiocese spokesman Joseph Zwilling.

An allegation of sexual abuse of a minor had been brought to the archdiocese's attention and was referred to the Manhattan district attorney's office, the statement said.

In the course of its investigation, the DA's office received a second allegation of sexual misdeeds by the pastor. Prosecutors reported the second allegation to the archdiocese, which subsequently directed Harris to step aside while the cases are resolved. No charges have been filed against the priest.

The news of the stunning accusations against Harris was announced to the church's congregation during Mass yesterday.

Parishioner Nathan Dixon said the community backed Harris and wanted to help him fight the charges. "I'm just shocked - I don't believe it," said Dixon, 24, who started going to the church after the priest approached him on his front stoop. "We still love him."

Harris, 61, was ordained in 1972. He's been at the helm of St. Charles Borromeo since 1989.

The popular pastor was the event coordinator for the Sunday Mass at Yankee Stadium during the Pope's visit in April.

He also delivered the invocation at Paterson's March inauguration.

In thanking him, Paterson called Harris "my pastor."

The late John Cardinal O'Connor was a frequent visitor to St. Charles Borromeo and appeared there for the funeral of Harris' sister just months before he died of cancer.

Pope John Paul II also paid a visit to the landmark church during his trip to New York in 1979.

Contact: oyaniv@nydailynews.com