Priest Gets 10 Years for Abusing 3

By Stephanie Innes
Arizona Daily Star

August 5, 2008

http://www.azstarnet.com/allheadlines/251326

His victims were young teens, altar boys who trusted the "hip" priest who drove a red Corvette, gave them beer and allowed them to see X-rated films in the rectory of St. Odilia's Catholic Church in Tucson.

Those teens — now men in their 30s — confronted the Rev. Gary E. Underwood, the priest they once idolized, in a Tucson courtroom Monday. And they watched as a judge sentenced the 55-year-old priest to 10 years in prison for sexually abusing them more than two decades ago.

Underwood, who has not worked in the local diocese since 1987, apologized to his three victims.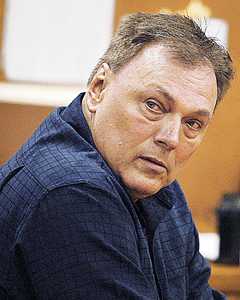 The Rev. Gary E. Underwood in the courtroom prior to the start of his sentencing hearing Monday.



"I've carried this around for a long time," Underwood said. "I abused my position . . . I can't undo the past. I wish I could. I give myself to the mercy of the court."

The daylong hearing, before Pima County Superior Court Judge Richard Nichols, included emotional testimony from Underwood's victims. Numerous supporters of the priest also spoke. Some said they still can't believe he's an abuser.

"He's a really nice, somewhat docile guy . . . I'd consider him a role model," said the Rev. Mike Biewend, a priest from Portland, Ore., who was a chaplain with Underwood.

Underwood's victims recalled a lively, larger-than-life priest who took them on trips and befriended their families. One former altar boy, speaking for the prosecution, recalled the priest saying that sexual intimacy between two males was acceptable because that's what Jesus and his 12 disciples did for pleasure while they wandered the desert.

The victims named in the criminal case recalled a progression of intimacy. One recalled going in a hot tub, swimming and to the gym with the priest — encounters that led to fondling and oral sex.

The Star is not identifying the man, a 39-year-old dentist who lives out of state, because he is the victim of a sexual crime.

"It was very confusing, surreal is a good way to put it," the man said. "It was almost as if it wasn't me. I had an odd sort of disoriented sense — queasy, powerless."

When indicted, Underwood was serving as a chaplain at Barksdale Air Force Base near Shreveport, La., but he has since retired. In the local diocese, he was a priest at Our Mother of Sorrows Catholic Church between 1980 and 1983; at St. Odilia's from 1983 to 1986 and at St. Anthony's in Casa Grande from 1986 to 1987. He then worked around the world as a military chaplain.

Underwood has admitted he engaged in oral sex with two of the boys and other acts with the third.

"He knows what happened, I know what happened," said another victim, a 38-year-old man who appeared at the hearing in shackles, as he's serving a drug-related prison sentence. "This man destroyed my life."

The third victim, 36-year-old Tucson painter Christopher Ellis, struggled to retain his composure as he spoke. Ellis wants to be public about what happened. Ellis was particularly emotional when prosecutor Kathleen Mayer brought out a picture of Ellis and Underwood standing together in front of a church.

"My mom and stepdad were getting divorced," Ellis said. "He seemed to be there at the right time to fill the gap."

One night when he'd had too much to drink, Ellis said he awoke to see Underwood performing oral sex on him.

"I was dumbfounded," he said. "I never conceived anyone would do something like that, let alone a priest."

Defense attorney Dan Cooper said Underwood has led an exemplary life since the abuse. Friends and family spoke of the priest's dedication and work as a military chaplain — particularly in notifying families of military personnel killed in action.

"This case is about redemption, salvation," Cooper said. "After that period in the '80s, he didn't do anything again."

But Mayer said the support for Underwood illustrates why so many victims of sexual abuse by priests do not come forward.

"I can't express in words how this case has impacted the young men in this case," said Mayer, who believes Underwood had more than three victims. "It is a blemish on their souls, hearts and minds."

Her office learned about the case from the diocese, which heard about accusations from a family member of one of the three victims.

Nichols told Underwood that most perpetrators in his situation would be facing a lifetime in prison and said that he'd received a very favorable plea agreement. The priest in May pleaded guilty to six counts of sexual conduct with a minor. He was indicted in December 2006 on 13 counts of sexual conduct with a minor under 15.

The plea agreement dismissed seven of the counts, amended the age of the victims to "under 18," and reduced his maximum possible sentence to 12 years. Had he gone to trial and been convicted, he was facing a life sentence because the victims were under 15.

Mayer believes Underwood will end up serving between eight and nine years behind bars. The priest must also spend a lifetime on probation and register as a sex offender.

Roman Catholic Diocese of Tucson Bishop Gerald F. Kicanas issued a statement Monday, saying he will meet with anyone who has been sexually abused by a church employee.

"I am praying for all those affected by this tragic situation: for the victims and their families; and for Rev. Underwood and his family," Kicanas said,

Sheriff's deputies handcuffed the cleric as his supporters stood and watched. Many of them cried. Underwood did not look back as the deputies led him away.

Reporter Stephanie Innes: 573-4134 or sinnes@azstarnet.com.