Ex-sallies Priest Accused of Abuse

By Eateban Parra
The News Journal

August 5, 2008

http://www.delawareonline.com/apps/pbcs.dll/article?AID=/20080805/NEWS01/808050349

Four allege Rev. Dennis Killion sexually molested them in '80s

A former Salesianum School priest is accused of sexually abusing four boys, according to a lawsuit filed Monday in Superior Court in Wilmington.

The lawsuit charges that Catholic officials suspected or knew about the abuse but did little or nothing to stop it.

According to the suit, the abuse occurred between 1983 and 1987 when the Rev. Dennis Killion was a teacher at the all-boys Catholic high school in Wilmington. Killion belongs to the religious order the Oblates of St. Francis de Sales, based in Wilmington and Philadelphia. The order allegedly knew about Killion's abuses as early as the 1980s but did nothing about it.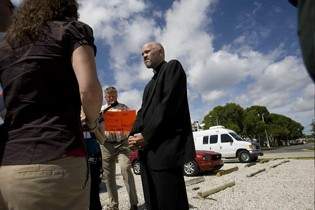 The Rev. J. Christian Beretta, principal of Bishop Verot High School in Fort Myers, Fla., talks to members of an abuse survival group about the Rev. Dennis Killion, who left the school in June when his position was eliminated.
Photo by Fort Myers


Two of the four victims reported their abuse, said John C. Manly, a California attorney representing the men. "They were told he was going to be transferred and to keep quiet."

Killion, who had been working as activities director at a Catholic high school in Florida, recently was assigned to St. Bede the Venerable Parish in Holland, Pa., as associate pastor. The church, which runs a school adjacent the site, announced Killion's assignment Sunday.

Cardinal Justin Rigali withdrew the assignment Monday, officials from the Archdiocese of Philadelphia said.

Killion had served in the Archdiocese of Philadelphia as assistant principal of Archbishop Wood Boys High School in Warminster from 1986-1990, and as a faculty member at Father Judge High School in Philadelphia from 1991 to 2006. The archdiocese said it had not received any allegation against Killion.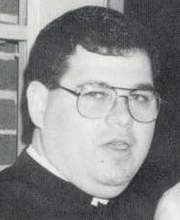 The Rev. Dennis Killion



Oblate spokesman the Rev. Kevin Nadolski said when the Oblates heard of the allegations Monday, Killion was placed on administrative leave and assigned to the Oblates' retirement facility in Childs, Md., near Elkton.

"We certainly take these allegations seriously, and as pastors we take our responsibility to protect children and to ensure quality ministry very, very seriously," Nadolski said. "The speedy action of our provincial, Father Jim Greenfield, to place Father Killion on administrative leave and ensue with the investigation ... is evident how serious we take the allegations."

An independent risk management agency is investigating, Nadolski said.

The suit was filed by former Salesianum students Thomas Ademski, Anthony Kramedas, Christopher J. Mauro and John M.S. Doe, who chose to sue anonymously, saying publicizing details of his abuse would compound his injuries.

This is the 15th sex-abuse lawsuit filed against the Catholic Diocese of Wilmington since Delaware's Child Victim's Act became law in July 2007. It is considered the nation's toughest law against child sexual abuse.

Chipman L. Flowers Jr., one of three lawyers representing the men, said he was "shocked" Killion returned to the area.

"We find it highly, highly unusual that in light of all the allegations and what's going [on] that they would bring him back so close to the region," he said.

Before returning to the Delaware Valley, Killion most recently worked at Bishop Verot High School in Fort Myers, Fla. Diocese of Venice (Fla.) officials said he transferred June 1.

Killion, who also has worked at schools in Philadelphia and Maryland, started at Bishop Verot on July 1, 2006.

Bishop Verot's principal, the Rev. Chris Beretta, said Killion requested the transfer. Nadolski said the transfer occurred when the school eliminated Killion's position.

"His ministry was no longer needed in Florida," Nadolski said.

The lawsuit names Killion, Salesianum and the Diocese of Wilmington as defendants. School and diocese officials referred comment to Nadolski.

According to the suit:

• During the summer of 1985, Killion is accused of molesting Ademski while the then-freshman worked at the school's bookstore and bingo games. Killion allegedly put his hand down his pants, grabbed him and ask if the student had lied to him, while threatening to squeeze harder if he lied.

• Killion allegedly assaulted Kramedas from 1983 to 1987, while the then-student worked in the bookstore, bingo and faculty house and during a school trip. Killion is accused of soliciting sex from from the boy in the confessional to "sexually exploit and assault [Kramedas] during and after the celebration of a Holy Sacrament." The nature of the alleged abuse was heavy petting, touching and fondling to the point of masturbation. In exchange, the victim said Killion would give him "special" treatment such as money, the teacher's edition of schoolbooks, free schoolbooks, items that were confiscated from other students and protection from trouble.

• Killion is accused of sexually assaulting Mauro from 1983 to 1987 while he worked at Salesianum's bingo and faculty house and on a school trip. Killion allegedly would engage in heavy petting, touching and fondling to the point of masturbation. Mauro said he also received special treatment.

• Doe said he was a freshman in 1985 when Killion first assaulted him, allegedly by taking a scooper of ice, grabbing the boy's pants, pulling them away and saying: "It would be cold if I dropped this down your pants, wouldn't it?" According to the suit, Killion also shoved his hand down the boy's pants in another assault.

The suit claims the diocese "created and implemented a 'Conspiracy of Silence,' a policy and procedure whereby any and all allegations of sexual misconduct by employees and agents would be squelched, concealed and hidden from the public, parishioners and law enforcement."

Bishop Verot school officials said they knew of no problems with Killion when they hired him and had no complaints about him during his two years in Fort Myers.

"Prior to his employment ... he successfully completed the screening procedures of the Diocese of Venice, including a criminal background check and a positive recommendation and clearance from his provincial," Diocese of Venice officials said in a press release.

"Father Killion's reassignment was not the result of any allegations of misconduct," the statement said.

Joelle Casteix, a regional director for the advocacy group SNAP, which stands for Survivors Network of those Abused by Priests, pleaded with Beretta before a Monday news conference at Bishop Verot to do outreach with parents to find other potential victims and connect them with law enforcement.

"You may have boys here now who are suffering and in pain," Casteix said.

Beretta said his staff is trained to recognize signs of abuse and that he'll address parental concerns when school starts Aug. 11.

SNAP plans a gathering at 11 a.m. today outside Salesianum, at 1801 N. Broom St., Wilmington.

Information from the News-Press in Fort Myers, Fla., was used in this story. Contact Esteban Parra at 324-2299 or eparra@delawareonline.com.