Harlem Pastor Wallace Harris Won't Be Charged with Sexual Abuse

By Oren Yaniv
DAILY NEWS

August 4, 2008

http://www.nydailynews.com/news/ny_crime/2008/08/04/2008-08-04_harlem_pastor_wallace_harris_wont_be_cha.html

The popular Harlem pastor accused of sexually abusing two minors will not be charged because the statute of limitation on the incidents expired, the Manhattan district attorney office said Monday.

The allegations against Msgr. Wallace Harris, pastor of the Church of St. Charles Borromeo on 141st St., happened in the late 1980's, a source said.

The statute of limitation on such offenses is five years.

"If there are any new complaints within the stature - we will investigate them," said DA spokeswoman Alicia Maxey-Greene.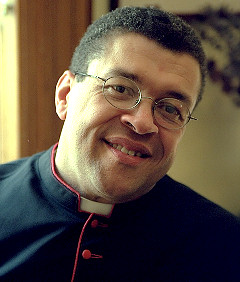 Msgr. Wallace Harris



Harris, 61, delivered the invocation at Gov. Paterson's inauguration and coordinated Pope Benedict XVI's recent mass in Yankee Stadium.

The Archdiocese announced Sunday that it had received a complaint about a sexual abuse with a minor and referred it to the Manhattan DA office. In the course of the investigation, another sex abuse allegation was reported.

"Msgr. Harris had denied the allegations, which concern actions that allegedly occurred 20 year ago," the Archdiocese said in a statement.

Joseph Zwilling, an Archdiocese spokesman, said one of the alleged victims came forward to Archdiocese officials in the past few weeks.

Both alleged incidents happened at another New York Archdiocese congregation, before Harris took the helm at St. Charles in 1989, Zwilling said.

The pastor has been suspended from his duties as a priest until recommendations are made by an advisory review board.

"[Harris' future] will be addressed a quickly as possible," Zwilling said.