No Charges for Harlem Priest

By Oren Yaniv
Dally News

August 5, 2008

http://www.nydailynews.com/news/2008/08/05/2008-08-05_no_charges_for_harlem_priest-1.html

A popular Harlem priest accused of sexually abusing two minors 20 years ago will not be charged because the statute of limitations has expired, prosecutors said yesterday.

The allegations against Msgr. Wallace Harris of St. Charles Borromeo Roman Catholic Church on 141st St. date from the late 1980s.

The statute of limitations in New York on such offenses is five years from the time the minor turns 18.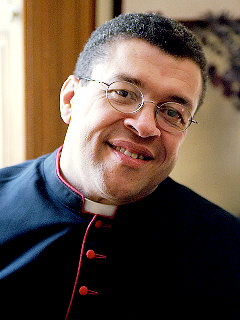 Msgr. Wallace Harris



"If there are any new complaints within the statute, we will investigate them," said Alicia Maxey-Greene, a spokeswoman for Manhattan District Attorney Robert Morgenthau.

Harris, 61, delivered the invocation at Gov. Paterson's inauguration and coordinated Pope Benedict's Mass in Yankee Stadium in April.

"Msgr. Harris had denied the allegations," the Archdiocese of New York said in a statement.

He was still ordered to step down on Sunday and is barred from acting as a priest pending a board review.

Joseph Zwilling, an archdiocese spokesman, said one of the alleged victims had come forward to church officials in the past few weeks. His case was referred to the DA's office, which came across another victim.

Both incidents allegedly took place when Harris served as vice rector and dean of discipline at Cathedral Preparatory Seminary, a Catholic high school on the upper West Side now called St.Agnes High School for Boys.

Ben Flores, who attended that school during the years in question, said he does not believe the accusations are true and called Harris "one of the finest priests I have ever come across."

"I just find it odd that these charges are brought up now, 20 years later," Flores said. "There was ample time to come clean and purge yourself of these emotional burdens."

Harris was ordained in 1972 and has served at the helm of St. Charles Borromeo since 1989.

Contact: oyaniv@nydailynews.com