Faith in School Unshaken after Former Employee Named in Sex-abuse Suit

By Janine Zeitlin
News-Press

August 5, 2008

http://news-press.com/apps/pbcs.dll/article?AID=/20080805/NEWS0110/808050373

Parents were shocked by sexual abuse accusations that surfaced against a former Bishop Verot High priest but not shaken in their faith in the school.

The allegations trace to the Rev. Dennis Killion's time teaching at an all-boy's Catholic school in Wilmington, Del., between 1983 and 1987, according to a complaint filed Monday in a Delaware state court.

It charges that Catholic officials suspected or knew about the abuse but did little or nothing to stop it. Killion worked as Bishop Verot's activities director from July 2006 until this June.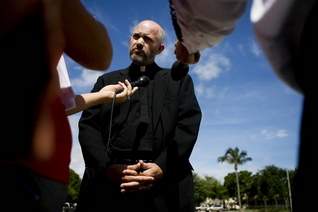 The Rev. Chris Beretta, principal at Bishop Verot High School in Fort Myers addresses the media and two members of Survivors Network of those Abused by Priests (SNAP) in front of the school. Beretta addressed concerns over priest Dennis Killion, who worked at the school for two years. A lawsuit has been filed in Delaware regarding sexual abuse allegations against Killion.



"I'm just as shocked as anybody," said Debbie Rainbolt, a Cape Coral parent who volunteers at the bookstore on campus where her 17-year-old daughter, Sarah, will be a senior when school starts next week. Rainbolt's daughter, Rachel, 19, is a graduate.

"I have never once felt my kids weren't safe at that school," she said, her voice wavering. "I feel bad for Verot, but it shouldn't reflect on them."

Principal Chris Beretta said that no such accusations emerged during Killion's two years in Fort Myers.

"I know absolutely nothing in his time here that has made me suspicious or concerned," Beretta said outside the school at a Monday press conference organized by the national SNAP, Survivors Network of those Abused by Priests, to announce the lawsuit. "This is very upsetting and very disappointing obviously for us."

The Diocese of Venice, to which Bishop Verot High belongs, said it was not aware of any allegations before hiring him and had not received complaints about him in Fort Myers.

"He successfully completed the screening procedures ... including a criminal background check and a positive recommendation and clearance from his provincial," it said in a statement.

Beretta said Killion, who supervised lunch and scheduled events, asked for a transfer to Delaware at the end of last school year and that his transfer did not stem from any accusations of misconduct. Killion rarely had one-to-one contact with the school's 750 students, the principal said.

Killion now belongs to a religious order called the Oblates of St. Francis de Sales, based in Wilmington and Philadelphia.

When word of the allegations came out Monday, Kevin Nadolski, director of communications of the Oblates, said Killion was placed on administrative leave and assigned to the Oblates' retirement facility in Childs, Md. The Oblates have hired an independent agency to conduct an investigation.

Killion was set to work as an assistant pastor at a church in Bucks County, Pa. The recently filed complaint accuses Killion of abusing four boys, now grown men, when they were about 14 to 17 years old by touching or fondling them.

Beretta said his staff is trained to recognize signs of abuse and that he'll address parental concerns when school starts.

Joelle Casteix, a regional director for SNAP based in California, traveled to Fort Myers for the day for the press conference. She pleaded with Beretta to do outreach with parents to find other potential victims and connect them with law enforcement.

"It is important that you outreach because, for most survivors, it takes 10, 15, 20 years to come forward," Casteix said. "You may have boys here right now who are suffering."

Bishop Verot tennis star Zak Gibson, who will be a senior this year, was nearly speechless at the news of the allegations connected to the man he saw every day in the cafeteria.

"Wow," he said. "He was always a nice guy and knew everybody by name."

Randy Zavada, himself a 1977 Bishop Verot graduate and the girls soccer coach, has sent five children to the high school. His daughter, Stephanie, 17, will be a junior. Zavada was in disbelief Monday.

"An accusation is just that. I don't see it impacting the school," he said. "It is by far the best high school in this county."

The Diocese is encouraging anyone with complaints about Killion to call 941-416-6114. Beretta encouraged Catholics not to let their faith waiver.

"The faith has got to be stronger than one person or one series of allegations as difficult as it is," he said. "The well-being of children is a huge priority for us and will continue to be and if people need to be held accountable - they will be."

SNAP is also available to assist at 949-322-7434, www.SNAPNetwork.org.

Contact: jzeitlin@news-press.com