Rigali Rejects Accused Priest

By Kathleen Brady Shea and Kristen A. Graham
Philadelphia Inquirer

August 6, 2008

http://www.philly.com/philly/news/20080806_Rigali_rejects_accused_priest.html

The Rev. Dennis Killion, named in an abuse suit, was blocked from taking a post in Bucks.A veteran Philadelphia-area Roman Catholic priest's transfer from Florida to Bucks County has been halted after a lawsuit accused him of sexually abusing four boys in the 1980s at a Delaware high school.

The Rev. Dennis Killion was scheduled to fill a vacancy Aug. 18 at St. Bede the Venerable Parish in Holland; instead, he was placed on administrative leave Monday, a news release from the Archdiocese of Philadelphia said.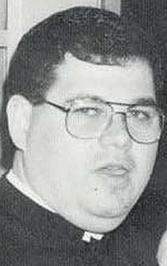 The Rev. Dennis Killion in 1986.



The release said Cardinal Justin Rigali "immediately withdrew his approval" for Killion to serve "anywhere within the Archdiocese" after Killion's order, the Oblates of St. Francis de Sales, told the archdiocese of the allegations.

A news release from the order said it assigned Killion to a retirement facility in Childs, Md., after John C. Manly filed a lawsuit Monday accusing him of sexually molesting four boys from Salesianum High School, an all-boys school in Wilmington, where he served as activities director.Manly appeared yesterday at a news conference in Wilmington with leaders of a support group called the Survivors Network of Those Abused by Priests, known as SNAP.

The four victims came forward separately, Manly said, and two said they reported the abuse at the time to school officials, who told them "to be quiet, he would be transferred."

After Killion left Salesianum, Manly said, he served at Archbishop Wood High School in Warminster and Father Judge High School for Boys in Philadelphia for many years, and at Bishop Verot High School in Fort Myers, Fla., for the last two years.

Manly said a change in Delaware law made the lawsuit against Killion possible.

The Child Victim's Act, which became law in Delaware a year ago, gives victims of child abuse two years from July 10, 2007, to sue perpetrators and the institutions found to be negligent in protecting them. Before, victims had only two years from the date of the abuse to sue.

Efforts to pass similar legislation in Pennsylvania remain stalled.

At Father Judge, in the Holmesburg section of the city, Killion served as assistant principal and activities director.

There, he was an integral part of student life, coordinating activities such as a charity basketball marathon, according to an article in the Northeast Times. He was even singled out in a proclamation by the Pennsylvania House of Representatives commending the 1998 Judge basketball team for winning the Philadelphia Catholic League Championship. His "assistance and support" were notable, according to the proclamation.

Judge's Class of 2006, the final group of seniors during Killion's tenure, awarded him an honorary diploma at its graduation. Killion was hailed as "a great priest" in the student newspaper.

To Michael Kuzma, a 1992 graduate of Father Judge, the allegations are unthinkable.

Kuzma got to know "Father Dennis" well working in the rectory at St. Timothy Church in Mayfair, where Killion would sometimes say weekend Mass.

"I'd have dinner with the guy, and we'd talk about sports, or he'd ask me about my life, was I dating anyone," Kuzma said. "He was a priest, but he was a normal guy."

At Judge, Killion was known as a stern disciplinarian and would watch over the cafeteria from a high perch, carefully looking for any infractions.

"If you screwed up, he'd be right on you," said Kuzma, 33, who now lives in Newtown. "You'd be sweeping floors or something."

Killion's reassignment to St. Bede's in Bucks County had just been announced to parishioners on Sunday.

Msgr. John C. Marine, the pastor, was not available and would not be commenting on Killion, said a woman who answered the rectory phone.

Patrick J. Wall, a former Benedictine monk who now serves as Manly's legal consultant, said Killion would be relocating to Bucks County if Delaware had not changed its law.

Kuzma, a high-school athlete, can remember seeing the big, burly Killion at hockey games, along with other faculty members. He said he couldn't believe the friend he asked to officiate at his wedding could be guilty.

"I know a ton of priests," said Kuzma. "I've seen a couple that had actually gotten in trouble, and I thought, 'OK, I can see that.' Not so with Father Killion."

Livingston and Joelle Casteix, SNAP's Southwest regional director, said victims are often more comfortable speaking with other victims, and they urged anyone who might have been abused to call SNAP at 949-322-7434.