Accused in Scandal, a Pastor Who Rose High Yet Felt Free to Speak out

By Paul Vitello
New York Times
August 9, 2008

http://www.nytimes.com/2008/08/10/nyregion/10harris.html?_r=2&ref=nyregion&oref=slogin&oref=slogin

Tall and charismatic, Msgr. Wallace A. Harris has earned a reputation over a 36-year career for cool-handed crisis management and for forging connections. He revived a Harlem parish where the previous pastor was in drug rehabilitation, helped arrange the pope's visit this year, and as the highest-placed black cleric in the Roman Catholic Archdiocese of New York, was talked about as a potential bishop, even cardinal.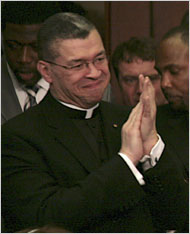 Msgr. Wallace A. Harris Governor Patersonís inauguration in March.
Photo by Todd Heisler


But as a black man in a largely white organization who saw himself as something of an outsider, friends say, Monsignor Harris also earned a reputation as someone willing to speak up for those he saw as underdogs — a quality that made him the natural choice of fellow priests in the mid-1990s, when they elected him chairman of the Presbyteral Council, the senate that represents all 650 priests in the archdiocese.

In recent years, as reports of low morale among priests surfaced under the simultaneous stresses of sex abuse scandals, church closings and tensions with Cardinal Edward M. Egan's briery management style, Monsignor Harris has been described by some friends as the closest thing to a priests' union shop steward, taking late-night phone calls from his peers and sometimes carrying their concerns to the hierarchy.

At the height of the national uproar over sexual abuse in 2002, he testified before a blue-ribbon church panel studying the problem, saying that while some priests were guilty, many others were being falsely accused.

Now, Monsignor Harris himself is snared in allegations of abuse, and the shock has been felt not just among the members of his Harlem parish, but also among the members of the other flock he tended: fellow priests.

"This is a tragedy that cuts across the lines," said Paul Dinter, a friend and former priest.

Last Sunday, the archdiocese announced that it had removed Monsignor Harris from all his priestly duties — as pastor of the Church of St. Charles Borromeo, as chairman of the priests' council, and as vicar overseeing the half-dozen churches in central Harlem — after two men made sworn statements that he sexually abused them about 20 years ago, when he taught at a Manhattan high school for students planning to become priests.

The removal represents a crisis in Monsignor Harris's life that may defy his deft management. He has denied the allegations, and the Manhattan district attorney's office said the five-year statute of limitations has lapsed for the complaints.

But at 61, Monsignor Harris faces what could be a long process of review by the archdiocese, which has said it will look into the complaints before deciding on one of several options for him. Those range from defrocking him to returning him to his duties. In at least one case, involving a longtime friend of his, Msgr. Charles M. Kavanagh of the Bronx, the process, including appeals, has dragged on for six years.

Monsignor Harris has made no public comment, and did not respond to phone calls or e-mail messages. Fellow priests contacted for this article declined to speak about him, one declaring before hanging up the phone: "It's just too much. I can't."

But in interviews with former clergymen, former students and friends, a portrait emerged of Monsignor Harris as a priest with great diplomatic skills that propelled him forward, and with a countervailing sense of duty, inherited by many black men of his time, to speak out against perceived institutional injustice — an instinct not always welcomed when applied to the internal workings of the Catholic Church.

"He took a lot of pressure," said Ray LaManna, a former Bronx priest and longtime friend of Monsignor Harris's who now teaches business at Baruch College.

Less in his formal role on the priests' council than as the unofficial ombudsman he tried to be in recent years, "Wally heard the cardinal raise his voice a lot of times," Mr. LaManna said. "A lot of guys felt they got no support from the cardinal, and he was sort of a lifeline."

By way of example, Mr. LaManna said that Cardinal Egan broke with tradition when he was appointed New York archbishop in 2000 by not attending as many priests' funerals as had his immediate predecessor, Cardinal John J. O'Connor. "A lot of priests were very upset about this," Mr. LaManna said. "Wally went to him, and eventually it got better."

In a statement on Friday, Cardinal Egan said that since taking office, he has "celebrated the funeral Masses of deceased priests without fail unless I was out of the archdiocese or fulfilling an archdiocesan commitment that could not be changed." In his place, he has always sent an auxiliary bishop, he said, adding that no priest had ever discussed the matter with him — "including Monsignor Wallace Harris."

Cardinal Egan added that priests' concerns were addressed regularly during meetings of the Presbyteral Council, and that he had no back-channel interaction with the monsignor.

The archdiocese has released few details about the accusations against Monsignor Harris, but people in the district attorney's office familiar with the complaints said both were made by men who had been 13- or 14-year-old students at Cathedral Preparatory High School and College, now closed, where Monsignor Harris taught from 1983 to 1989, and where he had graduated before entering the seminary in the late 1960s.

Daniel Donohue, a student there in the 1980s who later accused Monsignor Kavanagh, the school rector, of sexually abusing him, said in an interview last week that he remembered Father Harris as one of the most popular teachers, but someone not to be crossed.

"He was smart, challenging, gave great sermons, but you didn't want to be on his bad side," said Mr. Donohue, who is now 44, married with four children, and living in Portland, Ore. "It was nice to be liked by Wally Harris."

In the culture of the school at the time, Mr. Donohue said, "intense relationships between faculty and students were permitted to exist, both for priests and lay teachers." He said for many priests — "guys who didn't have anybody to go home to" — those relationships became all-consuming and, in his experience, abusive. He remembered Father Harris as having close relationships, but said he knew nothing about the recent complaints of abuse.

Wallace Harris grew up in Harlem, the youngest of four children; friends said his parents had immigrated from the Caribbean islands of Grenada and St. Lucia. He attended Catholic schools, and was accepted at the archdiocese-run Cathedral Prep in 1960, beginning a course of study that led to his ordination in 1972.

He spent 11 years as a priest at the Church of St. Joseph of the Holy Family on 125th Street, then taught at Cathedral Prep, and in 1989 was named pastor of St. Charles Borromeo, Harlem's pre-eminent black Catholic church, on 141st Street and Adam Clayton Powell Jr. Boulevard.

His predecessor as pastor there, Emerson J. Moore, had become the archdiocese's first black bishop in 1982, leading to speculation that Father Harris might be on the same track. But by 1989, Bishop Moore was struggling with illness and drug addiction, and many in his parish suspected as much. (He died in 1995 at an AIDS hospice.)

"It was a very conservative culture, especially about AIDS," said Mr. LaManna, the friend and former priest. "Wally had to walk a fine line — keeping people from leaving, but not being critical of Emmy Moore."

Father Harris followed through on many of Bishop Moore's initiatives, forging bonds with other members of the Office of Black Ministry, which Bishop Moore started, and reaching out to a hard-pressed community with food distribution, health screening and housing assistance. He oversaw the emergence of what parishioners consider one of the best gospel choirs in Harlem, and in 1990 he was named a monsignor.

"We all thought he was overdue to become a bishop," said Mr. Dinter, another friend and former priest, who attended Cathedral Prep with Monsignor Harris and remembered him as a funny, forthright, self-possessed kid who seemed to know from the beginning that he was "a lifer" in the church.

"He always seemed to have the inside track, but he kept just going around and around," Mr. Dinter said. "He was always smooth, but he could also be very candid."

His stewardship of St. Charles Borromeo was not completely successful. In 1994, Monsignor Harris gave more than $100,000 in church money to a young man on the parish council who said he would invest it in certificates of deposit through the corporation where he claimed he worked as a lawyer. The man later served prison time for absconding with the money.

In 2002, when Monsignor Harris was called to testify before a national board of clergy and laypeople, appointed by the United States Conference of Catholic Bishops to recommend ways of ridding the church of abusive priests, he described two big problems.

One was abusive priests. "The other problem, though, he said, was how too many innocent people, innocent priests, were getting swept up in these accusations," said Pamela D. Hayes, a New York lawyer who served on the National Review Board panel that heard his testimony. The board later developed the guidelines under which Monsignor Harris has been removed from his duties.

The last four months have in some ways defined the outer reaches of his career.

In March, he delivered an invocation at the inauguration of his most prominent parishioner, Gov. David A. Paterson. In April, the archdiocese assigned him to organize the largest event of Pope Benedict XVI's New York visit, a Mass for more than 60,000 worshipers at Yankee Stadium, which went off without incident.

On July 30, he was notified he was being relieved of his duties.

"I am beyond words trying to describe how people feel about this," said Ms. Hayes, who has known Monsignor Harris for decades. She meant people in the parish and people like herself, who are his friends.

"It's always different when you know somebody, but this just brings home for me what he was saying in his testimony — how sometimes innocent people do get swept up."

She paused, adding, "I just hope it's not true."