Pastor Steps Forward with New Claim of Past Sexual Abuse by Harlem Monsignor

By Paul Vitello
New York Times
August 14, 2008

http://www.nytimes.com/2008/08/15/nyregion/15harris.html?_r=1&oref=slogin

A Harlem pastor and retired police officer said on Thursday that he was sexually abused as a teenager by Msgr. Wallace A. Harris, the prominent and popular priest who was suspended indefinitely by the Roman Catholic Archdiocese of New York two weeks ago on the basis of similar complaints by two other men.

The pastor, Eric C. Crumbley Sr., 42, who leads a nondenominational storefront congregation known as the Harlem Faith Center, said his motivation in coming forward with the accusation now was to lend moral support to the two men, the first of whom contacted the archdiocese in June. The second was located by the Manhattan district attorney's office as it investigated the first man's claim; prosecutors determined that the statute of limitations had lapsed for the two complaints, which concerned events about 20 years ago.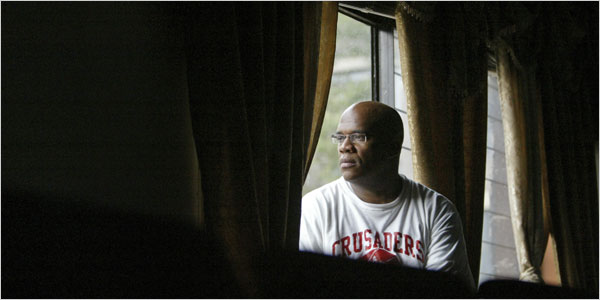 Eric C. Crumbley Sr., pastor of the Harlem Faith Center, said Msgr. Wallace A. Harris abused him for about three years.
Photo by David Goldman


Neither man has been identified by prosecutors or archdiocesan officials, and Mr. Crumbley says he does not know who they are, either.

"I just want them to know they are not alone," he said in an interview Thursday afternoon, sitting amid the seven rows of chairs that make up most of the furnishings of his small church in a commercial building on Frederick Douglass Boulevard. "I know what happened to those boys because it happened to me, too," he said. "I'm telling them: 'I support you.' "

Monsignor Harris, 61, who was pastor of the Church of St. Charles Borromeo in Harlem for almost 20 years, did not return phone calls seeking comment. He has denied the earlier charges, according to archdiocesan officials, but has not spoken publicly about them.

Before the monsignor was suspended from pastoral and priestly duties on July 30, he was considered a rising star, tapped by the archdiocese in April to arrange the largest event of Pope Benedict XVI's recent visit, the Mass at Yankee Stadium. He was Gov. David A. Paterson's pastor, and delivered one of two invocations at the governor's inauguration in March.

Joseph Zwilling, spokesman for the archdiocese, said on Thursday that Mr. Crumbley had not contacted church officials with his accusation. "We would invite Pastor Crumbley to report the allegation to the district attorney," Mr. Zwilling said, "and to meet with appropriate representatives of the archdiocese to relay his story and prepare a signed statement, as we would with any person having an allegation of abuse."

Mr. Crumbley said that he did not intend to file complaints with the district attorney or the archdiocese, and that he was aware the statute of limitations would preclude any prosecution. He announced his accusation in a news release, through a public relations agency, which he said he employed because he did not know how to contact the news media.

In his statement, Mr. Crumbley said he was "sexually molested numerous times on various occasions by Father Harris, from the time I was 13 to 16 years old."

He said he first met Monsignor Harris when he was an altar boy at the Church of St. Joseph of the Holy Family on 125th Street, where the priest was assigned as associate pastor immediately after his ordination in 1972. Mr. Crumbley said Monsignor Harris baptized and confirmed him, and acted as his sponsor in the sacrament of confirmation.

"He and I were so close when I was growing up that people used to call me 'little Father Harris,' " the statement said. "I loved him. But Father Harris repeatedly manipulated seemingly innocent, everyday situations to his advantage to create any excuse to touch me improperly — more specifically, to fondle or to grab my genitals."

At the urging of Monsignor Harris, Mr. Crumbley said, he decided early in his life to become a priest, attending the Cathedral Preparatory High School and College in Manhattan, then a seminary in the diocese of Rockville Centre on Long Island, before changing his mind and becoming a New York City police officer.

Mr. Zwilling, the archdiocesan spokesman, said he was unable on Thursday to confirm whether Mr. Crumbley was a student at Cathedral Prep, which has since closed.

But Daniel Donohue, 44, a Cathedral Prep graduate who later brought charges of sexual abuse against the school's rector at the time, Msgr. Charles M. Kavanagh, said Thursday that he remembered Mr. Crumbley as a student there.

"He was one of Father Harris's boys," he said, explaining that most priests at the time had close friendships with a group of favored students.

The two men who first accused Monsignor Harris said the abuse occurred while they attended Cathedral Prep, according to two people familiar with the district attorney's investigation.

Mr. Crumbley was a police officer from 1987 until he retired in 2002, but the New York Police Department would not provide any details on his career. He was one of two patrolmen who received public praise in 1991 for capturing a man later convicted in connection with five sexual attacks on women in Forest Hills, Queens.

He said he considered coming forward with his accusations against Monsignor Harris several times in the past 20 years, but felt "the time was not right" until now. He and the monsignor remained close for a short time after he left the seminary to become a police officer, Mr. Crumbley said, but the two had not spoken in the last five years.

He said he felt no malice toward Monsignor Harris, but needed to speak up for his own sake, as well as for that of the two other men.

"With the exception of sharing this information years ago with a couple of very close people in my life, I have held what happened to me in secret," he wrote in his statement. "As a result, for years I have lived with intense anxiety, sleeplessness and night terrors. The experience also has affected my personal relationship with women."

He said he was divorced from the mother of one of his children, and no longer living with the mothers of his two other children.

While the archdiocese looks into the two earlier complaints against Monsignor Harris, members of St. Charles Borromeo have rallied to his defense. Several Masses at the church have included prayers for his return.

One parishioner, Janice Moore Smith, wrote recently on a Web forum for Catholics: "I do not believe the allegations that have been made against Monsignor Harris. You would have to know him to know that he is a man of integrity, compassion, sound judgment and superior intelligence."

Monsignor Harris has led many community outreach programs, organized a food distribution network that is considered one of the most reliable and extensive in Harlem, and helped revive St. Charles Borromeo after its previous pastor went into drug rehabilitation.

Mr. Crumbley agreed that Monsignor Harris had accomplished much good. "What his parishioners say is all true — he is a great guy, capable of great things."