Former NYPD Officer Says He Was Molested by Msgr. Wallace Harris

By Oren Yaniv
Daily News

August 15, 2008

http://www.nydailynews.com/ny_local/2008/08/14/2008-08-14_former_nypd_officer_says_he_was_molested.html

A retired city cop bared his private pain Thursday, claiming he was molested by a popular Harlem priest who was recently bounced from the pulpit amid charges he fondled children for decades.

Breaking nearly 30 years of silence, former NYPD Officer Eric Crumbley Sr. said Msgr. Wallace Harris baptized him, taught him - and tormented him.

"I was sexually molested numerous times on various occasions," said Crumbley, 42.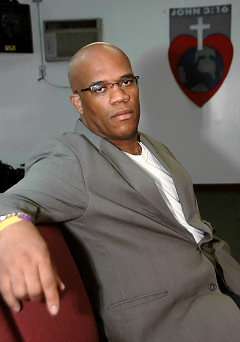 Eric Crumbley alleges that he was abused by Msgr. Wallace Harris



Crumbley said in an interview that the abuse started in 1979, when he was 13, and lasted until he was 16.

The prominent monsignor, now 61, found excuse after excuse to grope him, said Crumbley, who has a second career as the pastor of the nondenominational Harlem Faith Center.

"Harris repeatedly manipulated seemingly innocent, everyday situations to his advantage to create any excuse to touch me improperly - more specifically, to fondle or to grab my genitals," Crumbley wrote in a letter sent yesterday to the New York Archdiocese.

Harris could not be reached to respond to the allegations.

Well-connected and well-respected, Harris delivered the invocation at Gov. Paterson's inauguration in March and coordinated Pope Benedict's April Mass at Yankee Stadium.

His devoted parishioners at the Church of St. Charles Borromeo were stunned when he was stripped of his priestly duties on Aug. 3.

Two unidentified men had accused Harris of molesting them 20 years ago when he was a teacher at Cathedral Preparatory Seminary, an upper West Side high school.

The Manhattan district attorney did not pursue the old charges because the five-year statute of limitations had expired.

The identities of the two men who made those allegations - which Harris denied - were never made public.

Crumbley said he was not one of the two men. He is stepping forward now, he said, to help his healing process and to encourage other victims to speak out.

"I'm not hiding behind anything," he said. "I say, 'I am a victim.'"

Save for telling a few close confidants, Crumbley said, he kept the molestation a secret.

"As a result, for years I have lived with intense anxiety, sleeplessness and night terrors," said the divorced dad of three.

"The experience also has affected my personal relationships with women."

Crumbley, who was a cop for 15 years before retiring in 2002, said that after others accused the priest, he felt ready to speak. He shared his story with his family and congregation and plans to meet with archdiocese officials.

Crumbley said Harris not only baptized and confirmed him but was also his godfather. Harris later taught him at St. Joseph's Elementary School and at Cathedral Preparatory, he said. A classmate confirmed Crumbley attended the schools.

Archdiocese spokesman Joseph Zwilling said the review of Harris' status is in its initial stages and an advisory board will determine his future as pastor.

"You could do great things," Crumbley said, "but that does not negate the fact that this person is a pedophile."

Contact: oyaniv@nydailynews.com