Woman's Suit Alleges Priest Tried to Rape Her

By Sean O'suilivan
The News Journal

August 15, 2008

http://www.delawareonline.com/apps/pbcs.dll/article?AID=/20080815/NEWS/80815043

Attorneys announced the first lawsuit against the Catholic Diocese of Wilmington by a female victim of an alleged pedophile priest today in Wilmington.

In court papers, Mary Dougherty, 55, charged that in 1966, when she was 13, the Rev. Leonard J. Mackiewicz sexually assaulted her on several occasions, and attempted to rape her.

At the time she was a member of the Catholic Youth Organization under Mackiewicz at Holy Rosary Roman Catholic Church.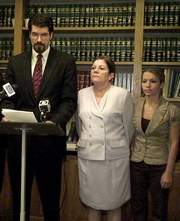 Attorney Stephen Neuberger (left) speaks during a news conference announcing a suit by Mary Dougherty (center), who alleges that she was sexually assaulted by a priest in 1966.



The suit was filed against the diocese and the parish.

Church officials had no comment today, saying they had not yet seen the lawsuit.

Mackiewicz died in 1994 and was identified by the Wilmington Diocese as one of 20 priests who the church determined had "credible or substantiated complaints of sexual abuse of minors" against them.

In addition to several alleged instances of Mackiewicz forcibly fondling Dougherty, including in a pool and once when pinned to the wall in a church basement, the lawsuit charges he attempted to rape her during a church outing to the Indian River Inlet.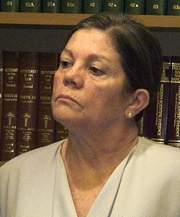 Mary Dougherty



Attorney Stephen Neuberger said the priest tackled her and attempted to force himself on her and rip off her bathing suit while yelling, "This is power, (expletive)."

The assault was stopped, according to Neuberger, when another priest, Rev. Leonard Kempski, came upon the scene and pulled Mackiewicz off. The sexual abuse allegedly stopped after Dougherty confronted Mackiewicz several days later in a church confessional and threatened to kill him if he ever touched her again.

The lawsuit charges gross negligence by the church for not removing Mackiewicz and covering up allegations against the priest that dated to 1957.

Dougherty appeared at the press conference but did not speak.

Neuberger said the attacks trashed Dougherty's faith and caused her lifelong problems, including depression, anxiety, insomnia and substance abuse.

Contact Sean O'Sullivan at 324-2777 or sosullivan@delawareonline.com.