Day 4 of Trial Focuses on Priest Misconduct

Burlington Free Press
August 19, 2008

http://www.burlingtonfreepress.com/apps/pbcs.dll/article?AID=/20080819/NEWS02/80819019

The alleged sexual misconduct of several priests now retired or deceased became the focus of testimony Tuesday in the fourth day of a trial on claims by a Waitsfield man who alleges that, as Christ the King Church altar boy in the late 1970s, he was molested by the Rev. Edward Paquette.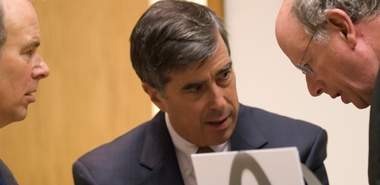 From left, plaintiff lawyer Jerome O'Neil approaches the bench with diocese defense attorney Tom McCormick at the request of Judge Matthew Katz after O'Neil disputed the introduction of church personnel records during trial in Superior Court in Burlington on Tuesday, August 19, 2008. The Roman Catholic Diocese is accused of being responsible for the molestation of a former altar boy by former priest Edward Paquette.
Photo by Ryan Mercer


Attorney Jerome O'Neill, representing the Waitsfield man, questioned the Rev. Wendall Searles, a former vicar general for the state's Roman Catholic diocese, about the diocese's investigation into complaints about the Rev. George Paulin, who had his priestly duties suspended in 2002.



Tom McComick, a diocesan lawyer, then had Searles review other documents regarding Paulin, the late Rev. Forrest Rouelle and Benjamin Wysolmerski that indicated the diocese's concern about sexual misconduct allegations.

The lawsuit by the Waitsfield man accuses the diocese being responsible for his molestation by hiring Paquette, who had sexually abused boys in two other states, and then retaining Paquette after learning of two molestation incidents involving Paquette in Rutland. The diocese is the sole defendant in the case.