Priest Testifies against Diocese

By Sam Hemingway
Burlington Free Press
August 19, 2008

http://www.burlingtonfreepress.com/apps/pbcs.dll/article?AID=/20080819/NEWS02/80818030/1007

A priest who has been a national critic of his church's handling of clergy sex abuse cases said Monday that the state's Roman Catholic diocese was irresponsible in handling molestation reports in the 1970s involving the Rev. Edward Paquette.

"They were in some sort of vacuum," the Rev. Thomas Doyle told a Burlington jury. His testimony came during the third day of a trial on claims by a Waitsfield man that as a Christ the King Church altar boy he was molested by Paquette between 20 and 50 times in 1977 and 1978.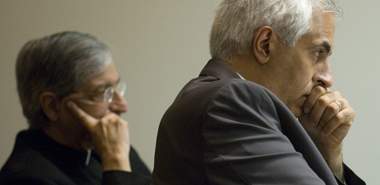 Defense attorney Kaveh Shahi (right) sits with Monsignor Salvatore Matano while the Rev. Thomas Doyle testifies Monday in Superior Court in Burlington at a trial in which the Roman Catholic Diocese is accused of being responsible for the molestation of a former altar boy.
Photo by Emily Nelson


"In my opinion, they were irresponsible," Doyle said of the Vermont diocese. "Their concern was for the image of the institutional church. I've seen this in more instances than I can count."

Doyle, a former Air Force chaplain and Vatican embassy aide in Washington, D.C., has researched the issue of clergy sex abuse rec-

ords for 24 years and written extensively on the subject. He is an advocate for the victims of such abuse and testified Monday on behalf of the Waitsfield man.

Doyle said his review of diocesan records showed that then-Bishop John Marshall did not consider the potential threat to altar boys when he hired Paquette in 1972 and retained him after receiving a report that Paquette had molested boys in Rutland in 1974.

"I didn't find any serious effort to sit down with the families of the victims and consider the harm to the victims," Doyle said.

Instead, Marshall relied on the advice of psychiatrists who said Paquette's "homosexual" problem was treatable. According to church documents, Marshall moved Paquette to parishes in Montpelier and then Burlington after the Rutland incidents.

"They put him in charge of altar boys in Burlington," Doyle said. "Through that venue he got to molest more young boys." Paquette's name has been linked to 18 lawsuits filed by former altar boys who alleged he molested them.

Tom McCormick, a diocesan lawyer, challenged Doyle's assessment, saying Marshall was in some ways ahead of his time in addressing clergy sex abuse.

McCormick said Doyle's own research showed that few bishops suspended or defrocked priests accused of child molestation, yet Marshall did so twice, by relieving Paquette of his duties in 1978 and, in 1980, beginning the process that led to the defrocking of another problem priest, the Rev. Alfred Willis.

At one point, McCormick got Doyle to agree that Doyle himself used to be more tolerant of efforts to rehabilitate pedophile priests than he is now.

"The Father Doyle of today disagrees strongly with the Father Doyle of the 1990s, correct?" McCormick asked Doyle.

"I would not make those same assessments today," Doyle conceded.

McCormick also pressed Doyle on Doyle's claim that bishops in the 1970s knew of information regarding priests who molested children and should have been aware of the importance of closely monitoring their conduct.

"You don't know what he knew, do you?" McCormick asked.

"Well, I have an idea what he knew," Doyle said, referring to church personnel records he had reviewed.

The trial continues today at Chittenden Superior Court.

Contact Sam Hemingway at 660-1850 or e-mail at shemingway@bfp.burlingtonfreepress.com