Tentative Settlement Reached in Kc Priest Abuse Cases

By Mark Morris
Kansas City Star
August 20, 2008

http://www.kansascity.com/105/story/757052.html

[with link to video giving comments from lawyers for the plaintiffs]

[with link to a list of the priests involved]

The Catholic Diocese in Kansas City and more than 40 victims of clergy sexual abuse tentatively agreed late Tuesday to settle lawsuits against the church for about $10 million.

The settlement — which still must receive final approval by Bishop Robert Finn and two church boards — also requires the diocese to take new steps to prevent further molestation by priests. The settlement could become final by Thursday, lawyers said.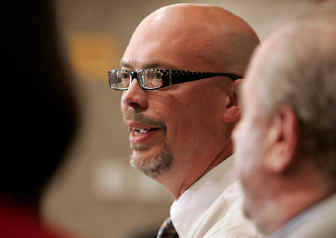 Minnesota attorney Patrick Noaker on Tuesday night outlined a tentative settlement for clergy members.



Attorneys for the plaintiffs described the settlement as the largest by the church in Missouri and said it would resolve claims filed in Jackson County from 2002 to the present. The lawsuits alleged clergy sexual abuse beginning almost 60 years ago and continuing into the 1990s.

Talks to settle some of the cases filed by 47 plaintiffs have been going on for months, but negotiations to dispose all of the cases began in earnest more recently, according to parties on all sides of the case.

The plaintiffs already have begun meeting with an arbitrator, who will apportion the financial settlement among them.

Kansas City lawyer Rebecca Randles said her clients were less concerned about the money than the church's pledge to care for the victims of molestation and prevent more abuse.

"Money is such a poor means of exchange for the value of a soul," Randles said.

Jon Haden, a lawyer representing the diocese, confirmed the outlines of the settlement and said he was optimistic it would be completed soon.


"We have been involved in extensive negotiations with plaintiffs, and we hope we can reach a group resolution of the claims," Haden said.

In a letter released late Tuesday, Finn informed his priests about the tentative settlement and said it could help resolve a painful situation.

"Based on advice from legal counsel and on prayerful reflection over this most difficult matter, I believe that this settlement, while costly, is a responsible resolution for these individuals and their families and in the best interest of the diocese," Finn wrote.

The priests and clerics accused in the lawsuits were retired Wyoming Bishop Joseph Hart, John Tulipana, Thomas J. Ward, Earl Johnson, Stephen Wise, Francis E. McGlynn, Hugh F. Monahan, John C. Baskett, Thomas J. O'Brien, Thomas J. Reardon, James Lawbaugh and Sylvester Hoppe.

Reached Tuesday night, O'Brien said he was shocked by news of the settlement and again denied accusations brought against him in the lawsuits that prompted it.

"Of those 47 plaintiffs, I don't know which ones I'm concerned with, or which ones are concerned with me," O'Brien said. "In depositions that were made, some of my accusers admitted that they didn't even know me.

"I have to deny the accusations."

He referred further questions about the settlement to his attorney.

Hart said Tuesday night that he was aware of the talks going on but also referred questions to his attorney.

Those attorneys could not be reached for comment.

Lawyers for the plaintiffs emphasized that the tentative settlement represented a global resolution of all known sexual abuse allegations against the Diocese of Kansas City-St. Joseph and religious orders. The settlement also covers priests and former clerics who were sued individually.

"These are 47 families who have suffered from clergy abuse for years," said Stanley Spero, a Massachusetts lawyer involved in the case. "They need to move on, and the fact that money will be available soon is important."