Schwaegel: Priest Transferred to St. Henry's Parish in Belleville Despite Prior Compliants of Sexual Abuse

By George Pawlaczyk
News-Democrat
August 21, 2008

http://www.bnd.com/breaking_news/story/442464.html

BELLEVILLE — When it came time to finally decide what to do with a priest who was the subject of complaints over 15 years that he raped and sexually molested minors, diocese officials sent him to live next door to hundreds of Belleville elementary and high school students.

"You put him right in the heart of a grade school and a high school?" attorney Steve Wigginton loudly asked the Rev. Joseph Schwaegel, a witness today in a civil trial stemming from a 2002 lawsuit.

In a barely audible voice, Schwaegel, who was removed from ministry in 1994 because of sexual addiction not involving a minor, said "yes."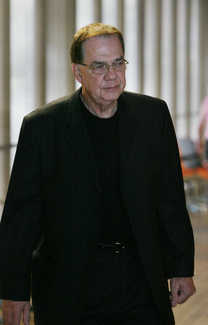 The Rev. Joseph Schwaegel testified in a civil lawsuit trial in St. Clair County Court today.
Photo by Derik Holtmann


The lawsuit alleges that James Wisniewski, 47, of Champaign, was sexually assaulted by the Rev. Raymond Kownacki for five years beginning in 1973 when Wisniewski was a 13-year-old altar boy in Salem. The diocese is the sole defendant.

Kownacki, who suffered a stroke and cannot attend the trial, has stated he will not comment. He was removed from ministry in 1995 after a diocesan review board found "credible evidence" that he sexually molested minors.

Documents shown by plaintiff's attorneys Wigginton and his partner attorney Mike Weilmuenster, show that during a June 22, 1988, meeting of the diocesan personnel board chaired by then Belleville Bishop James Keleher and attended by Schwaegel, the board first considered sending Kownacki to a parish in Metropolis on the Kentucky border and then settled on St. Henry's Parish on West Main Street. The parish, which is next to Althoff Catholic High School, then operated an elementary school.

Like six other parishes where Kownacki was transferred without warning to parishioners after allegations of sexual abuse, members of St. Henry's Parish were never told about the accusations, Schwaegel testified. At this time Schwaegel, a monsignor and vice chancellor, also was personal secretary to Keleher, who retired in 2005 as archbishop of Kansas City, Kan. Keleher could not be reached for comment.

Also at the personnel board meeting that day in 1988 was Monsignor James Margason, who has served as vicar general and interim bishop, although he was not then serving in either of these roles.

Defense attorney David Wells of St. Louis, said in his opening statement on Wednesday that the diocese has a proper process in place to investigate sexual abuse of minors by priests — a review board convened in 1993 and made up of laymen and priests, that has removed 14 priests.

But the defense has yet to counter testimony that for more than 20 years diocesan officials did not investigate reports of sexual abuse by Kownacki and continued to transfer him to unsuspecting parishes.

Because of time limit statutes, before a jury can decide whether Kownacki psychologically damaged Wisniewski by sexually abusing him, it must first find that the diocese engaged in "fraudulent concealment" of sex abuse of minors by priests. If concealment is found, a decision involving Kownacki can be made. Damages in the millions are sought.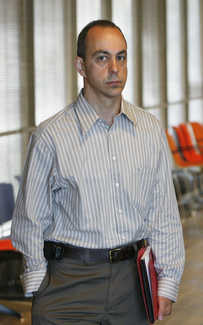 Former altar boy, plaintiff James Wisniewski, 47, of Champaign.
Photo by Derik Holtmann


At the time of the 1988 personnel board meeting, according to Schwaegel's earlier testimony, Keleher and Margason knew about numerous allegations about Kownacki. These included that he raped a 16-year-old girl for years and tried to induce an abortion of her fetus using his hands, was accused of getting a woman pregnant and molesting twin boys in Guatemala and molesting one of the boys after bringing him to Illinois and molesting other boys at parishes in Salem, Harrisburg and Valmeyer.

A document showing the minutes of another personnel board meeting, showed that Keleher and his staff were concerned what to do with Kownacki.

A copy of the minutes of a March 1987 personnel board meeting stated, "Bishop (Keleher) said we must take care of a brother priest (but) the diocese must also be considered."

At still another meeting in 1987, the minutes stated, "Bishop suggested a (hospital) chaplaincy somewhere. This could be dangerous."

Schwaegel testified that none of the reports about Kownacki were investigated at length. Kownacki was never reprimanded.

When Kownacki was transferred to a parish in Valmeyer, that also included Tipton and Madonnaville, he was encouraged to work with students at Gibault High School despite the many sexual abuse accusations, Schwaegel testified.

During his brief time at Valmeyer, the chancery received a complaint that Kownacki had left a note to a boy asking him to come to his bedroom and give him a massage. This complaint was not investigated, he said.

Earlier today during the trial before Circuit Judge Lloyd Cueto, Schwaegel said that when a Salem family sought his help after Kownacki allegedly molested their son, Schwaegel sent them a letter at Keleher's direction telling them to let "bygones be bygones."

Schwaegel testified that despite the family's letter, that also named Wisniewski as a victim of Kownacki, he never talked to the accused priest, nor to any victim or family members.

At one point he said because he didn't investigate he never met Wisniewski.

"Well, you can meet him now," said Wigginton, holding up a poster-sized color photo of Wisniewski as a sixth grader, about the time he was allegedly molested. Schwaegel looked down and said nothing.

The same poster brought tears to the eyes of Wisniewski's mother Marcy Wisniewski, 70, of Salem who said she would never have allowed her son to get anywhere near Kownacki had diocesan officials told her about the abuse reports.

Marcy Wisniewski said she learned from her son at a family meeting in Champaign on July 4, 2002, that he alleged he had been sexually molested by Kownacki for years, including during trips with the priest to Guatemala and Rome.

She said after learning this, she realized that despite the abuse allegations, Kownacki sent the family Christmas cards right up until 2001.

"I even sent him birthday cards back," said Marcy Wisniewski, who through tears testified, "It's hard to explain but when you're raised Catholic you believe a priest is taking the place of a father or of God... If I had known what was happening, I would not have let my son anywhere near him. I trusted a priest."

Mel Wisniewski, the plaintiff's father, said his son told him that he never mentioned the abuse because Kownacki had shown him a pistol and threatened he would kill his parents.

After his son revealed to the family his claim of being molested, Mel Wisniewski said, "I went up and put my arms around him and told him I loved him, I respected him and I would stand by him 100 percent."

Under cross-examination by defense co-counsel Cathie Schroeder, both Wisniewskis said their son experienced a normal childhood and did not seem to be psychologically damaged. They both testified Kownacki never appeared violent.

Under questioning by Wigginton, the plaintiff's attorney, Schwaegel, who is not allowed to wear a priest's collar and wore a dark sport jacket and black shirt on the witness stand, said his oath as a priest required that he specifically protect children.

However, he said that even though he knew for years that top diocesan officials were aware of criminal sexual abuse reports concerning Kownacki, neither he nor anyone else at the chancery ever contacted civilian authorities.

"Others were aware of the situation much more than I was," he said.

Contact reporter George Pawlaczyk at gpawlaczyk@bnd.com or 239-2625.