Priest Tried to Order Porn Movie, Lied to Victim's Parents
Anaheim Police, County Probation Pushed for Sex-Offender Listing, but Didn't Get It

By Rachanee Srisavasdi
Orange County Register
August 22, 2008

http://www.ocregister.com/articles/ramirez-report-priest-2133265-teen-victim

SANTA ANA – A Catholic priest sentenced to 180 days in jail this week for taking a 17-year-old parishioner to a motel room had tried to rent a pornographic movie and lied to the victim's parents about the teen's whereabouts, according to court records made public today.

The Rev. Luis Eduardo Ramirez, ousted from Our Lady of the Pillar in Santa Ana after his January arrest, told the victim's parents that he was taking their son to a youth seminar the night of Jan. 3, Orange County Deputy Probation Officer Vicki L. Pedrin wrote in a Aug. 7th probation report.

Instead, the priest drove to a restaurant in Orange where he ordered two margaritas for the victim, then brought the boy to Cortona Inn and Suites in Anaheim, the report says. There, the priest rented a room, and tried to order a pornographic film.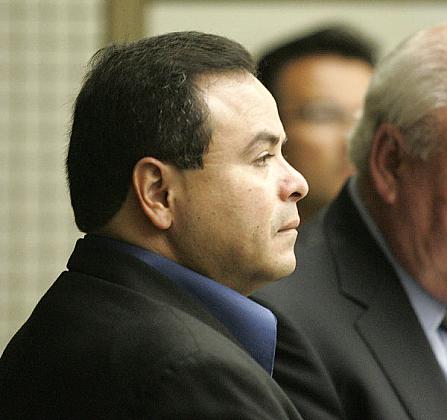 PRIEST: Rev. Luis Eduardo Ramirez during sentencing in Santa Ana on Wednesday.
Photo by Andy Templeton


"The clerk remembered the defendant because he came in twice to pay for the movie, since adult movies cost more," Pedrin said.

The report shows police investigated the case by interviewing independent witnesses and reviewing phone records, text messages and videotape. It also indicates that both Anaheim police and county probation lobbied for Ramirez to be a lifelong registered sex offender – saying he was a danger to children.

In June, the priest pleaded guilty to two misdemeanors. Three other misdemeanors – furnishing/selling alcohol to a minor, contributing to the delinquency of a minor and annoying or molesting a child – were dropped. He also was not required to register as a sex offender.

"My office is disappointed he was not held to answer for the things he really did … This man will continue to have access to children," Anaheim Detective Ryan Tozzie said in the report.

Anaheim Assistant City Attorney Patrick Ahle said today that he decided on the plea bargain "after reviewing evidence and legal issues involved in the case." He declined elaborate.

Ahle said the judge's sentence "sufficiently punished the defendant and protects the public," making registration as a sex offender unnecessary. In additional to jail time, Ramirez will serve three years probation.

The report details what happened that night.

After checking into the room, Ramirez gave the victim drinks spiked with alcohol. Then, he tried to touch the victim. The teen got up to go to the bathroom, the report says, and called a friend. She told him to leave.

The teen left, and spent the next several hours hanging out at a gas station and a pharmacy.

"A gas station attendant recalled him … smelling of beer and saying a priest tried to rape him," Pedrin wrote.

Meanwhile, his mother started to worry. She called Ramirez. "The defendant lied, claiming they were at church when the victim 'acted out,' " Pedrin wrote.

Phone records indicated that Ramirez was not at the church – and never left the city of Anaheim that night, according to the report.

The teen finally went home at 7 a.m., and told his mother, who called her lawyer. The attorney called police.

In a statement given to authorities, the teen asked the judge to send "Father Luis" to jail.

"He abused his position of confidence and should be away from all minors," the teen wrote. "He needs to be placed somewhere where he cannot hurt those who trust in him."

The teen also said he and his family – who are devout Catholics – have been unable to go to church since the crime. "It is just not comfortable to be in a church anymore," he said.

Ramirez, who also has a prior drunk driving conviction, told authorities he went out that night because the youth sought counseling.

He said he was remorseful about the incident.

"He insisted that nothing like this has ever happened before … and it will never happen again," the report said. "He promised he will 'super-behave' in the future."

Ramirez, who headed youth groups for Our Lady of the Pillar, also added he wanted to work as a priest again.

Ramirez -- a member of the Order of Augustinian Recollects – has served at the Santa Ana parish since becoming a priest in 2003.

Before that, Ramirez worked as a city hall secretary and a radio station assistant in Mexico. He got a master's degree in Theology from Seton Hall University in New Jersey.

Also in the report, church officials are criticized for not allegedly telling parishioners about the full context of the incident.

"The church lied to its members, telling them it was alcohol-related, but not telling them about the child annoyance charge," said Tozzie, the Anaheim detective.

Diocese of Orange officials refuted the allegation Friday, noting that a notice about the crime – which included mention of the child annoyance count – was distributed to parishioners in both English and Spanish days after Ramirez's arrest.

"We didn't hold anything back, (and) we told parishioners exactly what happened," said diocese spokesman Ryan Lilyengren.

Diocese officials have forbidden Ramirez from working in any diocese ministry. Ramirez's order will investigate the case, and could make a finding that results in his removal as a priest.