Former Belleville Bishop Gregory Says Key Documents about Sex Abuse Were Kept from Him

By George Pawlaczyk
News-Democrat

August 27, 2008

http://www.bnd.com/news/crime/story/450046.html

Watch video

Former Belleville Bishop Wilton Gregory testified Tuesday that key documents concerning an accused priest were kept from him while he was leading an investigation into sexual abuse of minors in the 1990s.

Gregory, now archbishop of Atlanta, testified for the defense during a civil trial that began Aug. 18 resulting from a 2002 lawsuit brought by James Wisniewski, 47, of Champaign.Wisniewski alleges he was psychologically damaged beginning at about age 12 or 13 because of five years of sexual abuse by the Rev. Raymond Kownacki in the 1970s. The Belleville diocese is the sole defendant in the first trial stemming from a priest sex scandal in the diocese.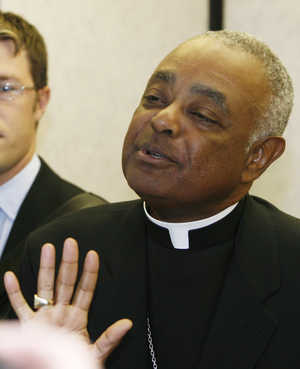 Archbishop Wilton Gregory waves off media questions as he exits the St. Clair County Courthouse Tuesday afternoon. Gregory was called to the witness stand in a civil trial. The lawsuit in St. Clair County Court was brought by a former altar boy who alleges that beginning when he was 13, the Rev. Raymond Kownacki sexually abused him for years.



Plaintiff's attorney Mike Weilmuenster asked Gregory that if church officials kept transferring Kownacki in the years before Gregory came to the diocese, knowing that the priest was responsible for sexually abusing and raping minors as testimony showed, then should the diocese be responsible for what happened to Wisniewski?

"If all of those things are true, I would have to agree with you," Gregory said.

Gregory said under cross-examination that dozens of other documents, concerning potential unknown victims of 14 priests including Kownacki who were removed from ministry after they were accused of sexually molesting minors, might have been withheld without his knowledge. He said he personally met with "80 to 100" victims, although some of these involved persons who moved to the Belleville Diocese but had been abused elsewhere.

"They were not filed where they should have been filed," he said of the Kownacki reports compiled in 1973 and 1982. These documents compiled by a former vicar general now deceased were known to diocesan officials for years before Gregory's arrival in 1994.

A 1982 letter, the one document that mentioned Wisniewski and could have alerted diocesan officials to offer him counseling, was one of the reports withheld from Gregory. Gregory was on the stand for about 1 1/2 hours. As he was leaving the courthouse, he declined to respond to reporters' questions, stating he could not comment on pending litigation.

The last witness for the defense was former vicar general Monsignor James Margason, who testified that before Gregory came to Belleville, Margason knew about detailed reports that Kownacki had raped a 16-year-old girl and aborted her fetus with his hands. There were also reports that he had sexually molested twin boys he brought from Guatemala and was mentioned in letters from a man and woman complaining Kownacki abused their son at St. Theresa's Parish in Salem and that they heard Wisniewski was a victim at the parish as well. These were reports withheld from Gregory.

Margason, a canon lawyer certified to represent accused priests, was asked by plaintiff's attorney Steve Wigginton whether he breached church law and special review board guidelines when he failed to tell Gregory about the allegations against Kownacki. Margason answered, "yes."

Under cross-examination by Wigginton, Margason said he didn't believe Kownacki might still be sexually molesting minors when he investigated a 1986 report from a housekeeper at the rectory in Valmeyer that included a love letter to a boy and signed by Kownacki asking the youth to come to his bedroom and "give me a massage."

Margason said he did not contact the parents of several boys seen at the rectory, and instead took the word of Kownacki and the youths that nothing sexual had happened. However, he removed the priest because of "drinking."

Despite a half dozen reports about alleged sexual abuse by Kownacki, the priest was transferred from parish to parish from one side of the state to the other in the far flung diocese without any warning to parishioners, testimony has shown. The final transfer was in 1988 to St. Henry's Parish in Belleville where Kownacki lived in a rectory next door to Althoff Catholic High School and an elementary school.

When Gregory was questioned about the transfer to St. Henry's, which occurred before he came to Belleville, he shook his head and answered "no" when asked if he would have approved such a posting for a priest who was the subject of multiple accusations of sexual abuse.

Margason also was asked whether he was bound by special church law regarding priests who engage in abortions to use the diocesan judicial system to punish Kownacki for aborting the 16-year-old girl's baby, the allegation contained in the 1973 report that had been withheld from Gregory. Margason answered, "Yes," that he was obligated under church law but said he had not attempted to punish Kownacki.

Margason agreed with Wigginton that he had known for years that Kownacki was considered "dangerous."

Earlier in the day, Wisniewski testified that Kownacki took him to the church rectory, let him watch movies on television, gave him whiskey and then took him into a bedroom and sexually abused him.

Wisniewski said Kownacki abused him at least "40 or 50" times over five years beginning in 1973. During this time he served as an altar boy at St. Theresa's Parish in Salem. The abuse ended when he was in high school, he said.

Wisniewski said Kownacki told him that the church condoned sexual abuse of minors and that if he told anyone, Kownacki would kill Wisniewski's parents or ruin their business. He said Kownacki showed him a handgun he kept under his bed.

Under cross-examination by defense attorney David Wells, of St. Louis, who represents the diocese, Wisniewski admitted that during a recent deposition he failed to state that Kownacki had threatened to kill Wisniewski's parents.

He also testified under cross-examination by Wells, that despite being diagnosed by two psychiatrists in 2002 that he had post traumatic stress disorder because of sexual abuse by Kownacki, he still managed to run a business and raise a family.

Kownacki, 73, of Dupo, has stated he will not comment and is not a party to the lawsuit. He has not been in attendance at the trial.

Wisniewski also testified that after he became reluctant to allow the abuse, Kownacki threatened to tell his parents and members of the community that he was gay.

The trial resumes today with attorneys' closing statements.

Contact reporter George Pawlaczyk at gpawlaczyk@bnd.com or 239-2625.