Hung Jury in Clergy Sex Abuse Case Leads to Mistrial

By Sam Hemingway
Burlington Free Press

August 28, 2008

http://www.burlingtonfreepress.com/apps/pbcs.dll/article?AID=/20080828/NEWS02/80828003/1007

The case of a former altar boy allegedly molested by a priest in the late 1970s was declared a mistrial Wednesday by Judge Matthew Katz after the jury signaled that it was unable to come up with a verdict following 16 hours of deliberation.

Katz dismissed the panel shortly after noon after the jury sent him a note saying "We cannot agree and we can no longer proceed." The judge received the note an hour after he sent his own message to the panel, imploring the jurors to keep talking.

"You've given it your all, and that's all we can ask of you," Katz told the jury.

Joseph Rossner of Essex Junction, who served as the jury foreman, said in an interview later Wednesday that the panel tried several different ways to compromise on a verdict, without success.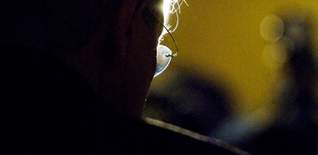 Bishop Salvatore R. Matano reacts to a mistrial in the case of the Roman Catholic Diocese of Burlington sued by a former altar boy in Superior Court in Burlington on Wednesday.
Photo by GLENN RUSSELL


"The jury did a very good job at listening to different opinions and concerns," Rossner said. "There was some doubt by some about the facts but in the spirit of compromise we kept going."

Another juror, Alice Mills of Colchester, said some panel members held such strong positions on the case that compromising on the amount of a monetary award would have "made it difficult to look in the mirror in the morning."

Jerome O'Neill, an attorney for the former altar boy, told reporters he was disappointed the jury could not reach a decision on monetary damages because he believed the jury had agreed the diocese was liable for the abuse his client suffered.

"This jury was spilt," O'Neill said. "We don't know how it was split, but I anticipate a significant number of those people were prepared to enter a serious verdict for our client."

O'Neill and law partner John Evers had asked the jury to award between $886,000 and $14.3 million in damages in the case.

Tom McCormick, a diocesan lawyer, said the hung jury was proof the $8.7 million verdict handed down by another jury in a similar clergy abuse case in May after five hours of deliberation had been an "aberration."

In this case, the diocese had suggested the jury award between $5,000 and $15,000 to pay for therapy for the victim.

"To have a jury here not return the same verdict with the same speed is affirming to our position," McCormick said. The diocese has appealed the earlier, $8.7 million verdict.

The former altar boy, now 40 and a resident of Waitsfield, claims the diocese was to blame for his abuse because it knew the Rev. Edward Paquette had molested boys in three states, including Vermont, prior to the abuse incidents at Christ the King Church in Burlington.

The man testified that Paquette molested him between 20 and 50 times between 1977 and 1978. The Free Press does not identify the alleged victims of sexual assaults without their consent.

The incidents occurred at the church and allegedly involved Paquette holding the altar boy, who was clothed, with one hand on his genitals and the other over his mouth, and swinging the boy in the air or rubbing the boy's body against his groin.

The man said he did not tell his parents about the incidents for fear they would not believe him. He also said he grew to be ashamed of what Paquette did to him and has struggled with anxiety and sexual intimacy as an adult.

The diocese, which does not dispute the abuse claims, said its officials in the 1970s chose to employ Paquette based on the advice of church psychologists who said Paquette's sexual deviancy had been cured.

The diocese also contends the man waited too long to file his lawsuit and did not seem to have been that harmed by the incidents.

O'Neill, speaking to reporters Wednesday, accused McCormick of skewing the jury's perspective in favor of the diocese by telling the jury during his closing statement that "one lawsuit ought to be enough to teach a lesson."

O'Neill quickly objected to the remark and said Wednesday the comment was meant to remind the jury about the earlier $8.7 million verdict, something Katz had told lawyers not to bring up during the present trial.

The May verdict stunned the diocese and prompted Bishop Salvatore Matano to say that paying such a sum would "seriously impact" church programs.

"What he was trying to do was get the jury to take a look at the determination in the last case and consider that one here so they wouldn't do the same thing," O'Neill said of McCormick.

"That prejudiced us significantly. We were, at this point, very happy to have a mistrial," O'Neill said. "If you give us a clean jury with facts that are fairly presented, then our clients will be fairly and fully treated by this jury, any jury."

McCormick disputed O'Neill's allegation. He said in an interview that O'Neill interrupted him at the time with his objection. McCormick said that had he completed his thought, he would have said if a lesson needed to be taught, Matano had learned it sitting through just the trial in this case.

"There was no intent by me to ignore the court's order," McCormick said. "There was no thought of speaking in code to the jurors."

Jurors Rossner and Mills said panel members picked up on McCormick's remark as a reference to the earlier case.

"He should not have done that," Mills said. She also said she did not personally know anything about the earlier verdict.

Rossner said he did not think McCormick's comment affected the jury's deliberations. He credited Katz for providing guidance to the jury about how to ignore information about any other clergy abuse cases.

Matano, who attended the trial, expressed "deep regret" afterward for the abuse suffered by the Waitsfield man.

"I sincerely apologize to him that one chosen to be God's servant betrayed a sacred trust and so wounded him and other victims of abuse," Matano said in a statement.

Matano also said he hoped the mistrial would encourage parties in the 20 clergy abuse cases pending at the court to search for "reasonable, just and charitable resolutions."

It was unknown late Wednesday when the Waitsfield man's case will be retried.

Contact Sam Hemingway at 660-1850 or e-mail at shemingway@bfp.burlingtonfreepress.com