Jury Awards $5 Million to Former Altar Boy in Belleville Priest Abuse Case

By George Pawlaczyk
News-Democrat

August 28, 2008

http://www.bnd.com/news/crime/story/451475.html

Plaintiff argued diocese had covered it up

BELLEVILLE - A jury awarded $5 million to a former altar boy Wednesday, validating arguments by his attorneys that the Rev. Raymond Kownacki sexually abused him and other youths and that top officials of the Belleville Diocese covered it up for decades.

James Wisniewski, 47, of Champaign, was awarded damages in a civil trial resulting from a lawsuit he brought in 2002. It alleged that when Wisniewski was a 13-year-old altar boy at St. Theresa's Parish in Salem in 1973, his pastor, Kownacki, began repeated sexual abuse that spanned five years.

The damages to Wisniewski include $2.4 million for compensatory losses including medical costs and emotional duress and $2.6 million for punitive damages.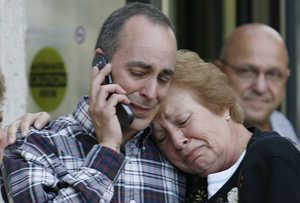 James Wisniewski, 47, of Champaign, and his mother Marcy Wisniewski outside of the St. Clair county courthouse.



Following the verdict, which came after nearly five hours of deliberations, an emotional Wisniewski, surrounded by family who supported him throughout the trial, said, "This is a great day for me and other victims of sexual abuse."Wisniewski, who took the witness stand Tuesday, added, "There's a long road ahead," a reference to mental counseling for post-traumatic stress disorder that two psychiatrists testified he may be need for the rest of his life.

His father, Mel Wisniewski of Salem, said, "I feel that our family can begin to heal now, especially my son Jim, but I think most of all we feel that maybe a whole lot of people out there who were afraid to come out before might have the courage now to come out and look at the problems, and admit the problems and start their healing, too."

The jury found that the diocese had "fraudulently concealed" evidence that Kownacki, 73, of Dupo, was known by church leaders from reports as early as 1973 to be a violent rapist and child sex offender but kept reassigning him to parishes without warning the public. Kownacki has stated he will not comment. He did not attend the trial.

Plaintiff's attorney Steve Wigginton, who in his closing statement urged jurors to "punch a child molester in the face" through their verdict, said he expects lawyers for the diocese to appeal to the 5th Appellate Court in Mount Vernon.

"Knowing the diocese, they will (continue to) spend an enormous amount of money for lawyers to fight the victims of childhood sexual abuse," he said.

David Wells of St. Louis, the attorney for the diocese, declined to comment.

It was the first jury trial in the diocese since a series of News-Democrat stories in the early 1990s exposed signs of priest sexual abuse of minors in the metro-east and led to the formation of a diocesan review board on the problem in 1993.

Nearly nine years before widespread priest sex scandals in the Archdiocese of Boston became national news in 2002, Kownacki and 13 other priests were removed from active ministry here after the review board found "credible evidence" that they may have sexually abused minors.

Most jurors declined to comment. Two of them shook Wisniewski's hand after the verdict.

Juror Sarah Wiesner, of O'Fallon, said that the most important testimony for her concerned the repeated reassignment of Kownacki to unsuspecting parishes throughout the diocese even after some church leaders knew he was a sexual abuser. This included a 1988 posting to St. Henry's Parish in Belleville, where Kownacki was sent to live next door to Althoff High School and an elementary school.

"They kept placing Father Kownacki in the parishes," she said. Wiesner also said her decision was influenced by testimony that the diocese had knowledge of Kownacki's abuse but did nothing to stop him.

During closing arguments, Belleville attorney Mike Weilmuenster told jurors that Kownacki was a dangerous pedophile who instead of being sent to jail or confined to a treatment center was "held out by the diocese" as a person who could be trusted around children.

Referring to the six years that lawyers for the diocese have raised legal issues that prevented the case from going to trial, Weilmuenster said, "I think the diocese is sending a message to any other victims out there: 'We're going to make your life hell if you come to us looking for justice.'"

Wells, of St. Louis, said in his closing argument that since 1993, the diocese has promptly removed every priest the review board recommended should no longer be allowed to perform priestly duties for the public.

Former Belleville Bishop Wilton Gregory testified Tuesday that reports were missing from a personnel file about Kownacki compiled in 1973 and 1982 that stated the priest raped a 16-year-old girl, aborted her fetus, molested twin boys he brought from Guatemala and abused Wisniewski and other unnamed boys at the parish in Salem. Gregory testified he was unaware of the reports when he turned Kownacki's personnel file over to the review board. The reports surfaced during the court-ordered legal discovery process.

Gregory testified that if the allegations that parish officials knew about Kownacki's violent past and still reassigned him, as the evidence showed, then the diocese was responsible for what happened to Wisniewski.

Wigginton repeatedly pointed to former vicar general James Margason, who testified earlier that he knew about a 1973 report concerning several detailed allegations of sex abuse of a minor by Kownacki, but failed to investigate or warn parishioners.

"Shame on you, shame on you," Wigginton shouted at Margason, who sat a few feet away at the defense attorney's table.

Wigginton said Margason's participation during priest personnel board meetings in the 1980s where Kownacki was routinely reassigned showed that church officials were not concerned about the safety of children.

"If this isn't utter disregard for the safety of others," Wigginton said, "I don't know what is."

Contact reporter George Pawlaczyk at gpawlaczyk@bnd.com and 239-2625