Convicted Local Priest Charged Again

WOOD

August 29, 2008

http://www.woodtv.com/Global/story.asp?S=8918337&nav=0RceLqI7

[with video]

Watch video

GRAND RAPIDS, Mich. (WOOD) - A priest who served in West Michigan and currently serving a prison term is facing more charges.

Shamaun Beas has been charged with second-degree criminal sexual conduct for an incident with a person under the age of 13 in Kent County. He has been transferred to the Kent County Jail and was bound over to Kent County Circuit Court.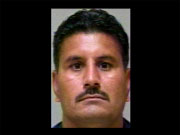 Shamaun Beas



Beas is currently serving five to 20 years in prison for Internet sex crimes that occurred in 2004 in Macomb County. At the time, he was serving an internship as an associate pastor at St. Patrick's Church in Portland in Ionia County.

He also served at a church in Sparta in Kent County from May to November 2001.

In the fall of 2002, church officials brought him in for evaluation and counseling after there were indications of questionable behavior. He was later deemed fit for ministry.

Beas was then removed from ministry in 2004 when he was charged and convicted for the Macomb County incident.

Mary Haarman of the Roman Catholic Diocese of Grand Rapids said they have not been contacted or are involved in the latest charges. She said people who believe they are victims of abuse should contact authorities.