Already Imprisoned for Child Sex Abuse, Hunterdon County Priest Gets 18 More Years in Jail

By Walter O'brien and Michael Deak
Home News Tribune

September 5, 2008

http://www.mycentraljersey.com/apps/pbcs.dll/article?AID=/20080905/NEWS/80905020

FLEMINGTON —The Rev. John Banko, 62, the former pastor of St. Edward the Confessor Church in Milford, was sentenced Friday morning to 18 years in prison for first-degree aggravated sexual assault and eight years for second-degree endangering the welfare of a child from 1994-95.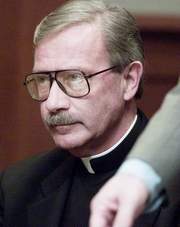 John Banko, former priest at St. Edward the Confessor Church in Milford



Jurors convicted Banko on May 13. He was charged with the offenses in 2006.

The sentences will run concurrently and be added to the term Banko is already serving on a previous child sexual abuse conviction.

Banko is already serving a 15-year term at the Adult Diagnostic and Treatment Center in Avenel for his 2002 conviction of molesting a former altar boy from 1993-94.

A 23-year-old man testified in the trial that he was a boy when Banko, then pastor of St. Edward the Confessor, sexually abused him in a locked men's room at the church's parish center.

A former church custodian testified that the men's room door did not have a lock on it. Hunterdon County Assistant Prosecutor Dawn Solari argued that under the duress of abuse, the victim could have felt "locked in'' regardless of the literal presence of a lock.