Financial Concernes Cause Diocese to Merge Churches in Queens, Brooklyn

By Brendan Brosh
Daily News

September 7, 2008

http://www.nydailynews.com/ny_local/queens/2008/09/06/2008-09-06_financial_concernes_cause_diocese_to_mer.html

Parishioners in some Queens churches are going to notice some changes Sunday.

The Diocese of Brooklyn and Queens has merged six churches into three parishes around the borough to save resources and money. Two Brooklyn churches have also been combined.

The mergers, which took effect Sept. 1, are the fourth wave of reconfigurations by Bishop Nicholas DiMarzio since early last year.

Individual churches will remain open, but the number of Masses is likely to be cut.

"We really connected with the folks in each of the parishes and explained the reason why the mergers are necessary," said the Rev. Kieran Harrington, vicar of communications for the diocese. "People's lives won't be disrupted because the houses of worship are still open."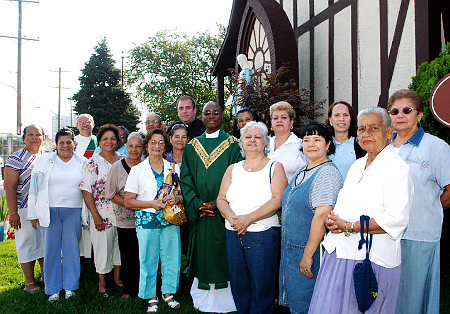 Parishioners and clergy gather in front of St. Gertrude's in Far Rockaway.



Religious education and senior programs will be mostly unchanged, but officials will combine church bulletins and cut office expenses.

Running an urban diocese, with many working-class and new immigrant families, is a challenge, Harrington said. He also stressed the mergers were needed because of a declining number of priests.

"People understand the reality because of the shortage of vocations," said the Rev. Jim Cunningham, who now leads the St. Mary Star of the Sea/St. Gertrude parish in Far Rockaway.

St. Gertrude lost its full-time pastor in July 2007, when the popular Rev. Brendan Downing died of cancer. Cunningham has led both churches since then.

"We didn't want to change the names of the churches because of all the history down here," he said. "St. Mary Star of the Sea is really the mother of all the Catholic churches in the Rockaways."

Some parishes, however, are opting to create a new identity.

St. Pascal Baylon and St. Catherine of Sienna in St. Albans are merging into Our Lady of Light parish, a move widely embraced by parishioners.

"For us, it's a merger of equals," said the Rev. William Smith. "It was a decision of the entire parish to change the name to Our Lady of Light."

Merging the churches, only a mile from one another, has served as a community builder, Smith said, with churchgoers interacting more than ever before.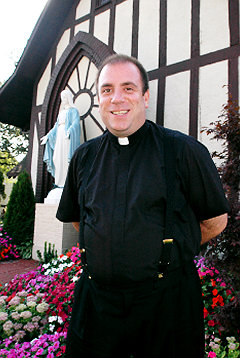 The Rev. Jim Cunningham leads both St. Gertrude's and nearby St. Mary Star of the Sea.



"Anytime a person's house of worship closes, it's a difficult situation, and we didn't want to do that here," Harrington said. "We wanted to bring people into the process and let them take ownership."

One Queens parish will now have a bridge between its churches, as St. Camillus in Rockaway Beach and St. Virgilius in Broad Channel will be combined.

"A couple called me a few days ago, worried if their wedding in December is still on," said the Rev. Richard Ahlemeyer. "I assured them that nothing is going to change and the church is still open."

Ahlemeyer, a Broad Channel native who said his first Mass at St. Virgilius, is making good use of his E-ZPass now that he has to take the Cross Bay Bridge to work.

"I've already taken four trips back and forth today," he said last week.

Being pastor at his childhood church is "humbling in so many ways," Ahlemeyer said. "My father would be proud."

Several pastors said they'll use the opportunity to burn some excess calories.

"Thank God it's only 18 blocks [between the churches]," said Cunningham. "I'm going to start walking because I need the exercise."