Kerry Kennedy: Obama & Catholics Divine

Daily News

September 8, 2008

http://www.nydailynews.com/gossip/2008/09/08/2008-09-08_kerry_kennedy_obama__catholics_divine.html

Kerry Kennedy thinks Sen. Barack Obama and Sen. Joe Biden have got the Catholic vote.

"Certainly, Catholic voters will be key in this election," said Kennedy, who founded the Robert F. Kennedy Memorial Center for Human Rights in honor of her late father. "I think they are responding to the vision of hope that Barack Obama articulates.

"Catholics want what other Americans want: access to health care and jobs that pay a living wage. They want to send their kids to good schools. They want something done about poverty. This is the central message of the Obama-Biden campaign." There are 65 million Catholics in the U.S.; still, Kennedy told us, "Catholics don't vote as a bloc as they did in 1960."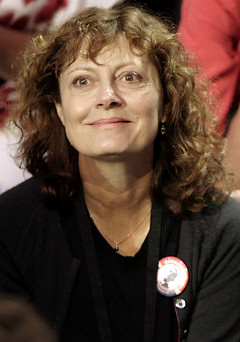 Susan Sarandon



Nowhere is that diversity more evident than in Kennedy's fascinating new book, "Being Catholic Now," for which she interviewed famous Catholics from far left to far right, including Susan Sarandon, Martin Sheen, Bill O'Reilly, Speaker of the House Nancy Pelosi, Gabriel Byrne, Dan Aykroyd and Bill Maher. "I was struck by their raw honesty," Kennedy said.

She cried when Byrne told his story of being abused by a priest as a child, and spotting the abuser at a football game decades later. "I called him and asked if he remembered me," said the actor. "He said, 'No.' ... He didn't make the connection, but I, of course, did." Byrne blames the vows of celibacy, "which I regard as a sin against human life."

Sarandon strikes a lighter note with a story of praying with rosary beads at age 7 and not knowing they were glow-in-the-dark. "I looked down and they were glowing and I thought, 'Oh my God, I'm about to have a vision! The Blessed Virgin is about to come in the door!'"

Sheen and Peggy Noonan, who don't agree on much politically, both speak of their deep belief.

Aykroyd says his father was a Catholic preacher, but not humorless. "In the super- market, he'd throw rolls of toilet paper into the next aisle to get people to yell, 'What the f—?!'"

Maher said he believes "religion hurts people because it causes so much death and destruction." O'Reilly, however, goes to church — though he thinks priests should make their sermons more relevant. "Every year, I've got to listen to the guy tell me about the mustard seed. Okay, I've got it."

Many grew up in large families, like Kennedy, one of 11. What was that like? Kennedy, whose book party is at the Beacon tonight, said: "Noisy."

We told you first (on June 27) that Uma Thurman and Arki Busson were getting married. We now bring further evidence that they're expecting. Last week, Uma's assistant called Fred Segal in Santa Monica and ordered a half dozen dresses from Tricky Threads. "They were all two sizes larger than she usually orders," says our spy.

GOP image-handlers want to make sure veep nominee Sarah Palin doesn't continue to take after President Bush by mispronouncing "nuclear" as "nucular." A spy who could see Palin's TelePrompTer screen at the RNC tells us the word was phonetically spelled "new-cle-ar."

Times have changed at the Republican National Convention. Last week, John McCain had a big hug for Gov. Sarah Palin's pregnant daughter, Bristol, and baby daddy Levi Johnston. But, back in 1976, you didn't see Patti Davis with her dad, Ronald Reagan, because she was living with former Eagles guitarist Bernie Leadon - and they weren't married! "I was a little sinner," Davis tells us. "No one ordered me to stay away; it was unspoken. Bernie and I lived together for four years. My mother, [Nancy Reagan], still asks, 'Why didn't it work out with him?' I think if someone moved in with me now, she'd be relieved."

So many vets of the "Sopranos" were sneaking into a loft building around the corner from The News Friday night that our spy outside thought they might be shooting the show's long-rumored movie sequel. In fact, they were headed to a reception for James Gandolfini and Deborah Lin, who got married in Hawaii on Aug. 30. Edie Falco, Jamie-Lynn Sigler, Aida Turturro and Dominic Chianese were among the "family" members who stayed till almost 2 a.m. eating, dancing and toasting the newlyweds.

Christy Turlington is going back to college to study maternal and child health at Columbia University. "I have explored several career paths and have discovered that in addition to being a mother, a career in service is most fitting," she told us. Perhaps she can study nights with Chelsea Clinton. The former First Daughter is also starting a master's program at Columbia, majoring in public health policy, according to a source.

Jeremy Piven had no problem cuddling up with director Guy Ritchie at the Toronto premiere of "RocknRolla" - but wasn't so at ease when Mrs. Ritchie visited the set. "She's Madonna," Piven says. "It was like having some sort of animal, a wild beast, walk into the room."

Mary-Kate Olsen, Donna Karan, Domenico Dolce and assorted topless, body-painted dancers grooved as Taz Arnold performed "Imma Vote Obama Way" at Interview magazine's relaunch in the penthouse of Andre Balazs' still-under-construction Standard Hotel.

Contact: rushmolloy@nydailynews.com