Archdiocese Acts against O'Brien Stalker

Boston Globe
September 11, 2008

http://www.boston.com/news/local/articles_of_faith/2008/09/archdiocese_act.html

The Archdiocese of Boston is suspending a priest, the Rev. David Ajemian (above), who had been accused of stalking NBC "Late Night" host Conan O'Brien. Ajemian had been receiving mental health treatment, but, according to the archdiocese, has stopped doing so against the advice of his doctors and directives from Cardinal Sean P. O'Malley. The statement from the archdiocese: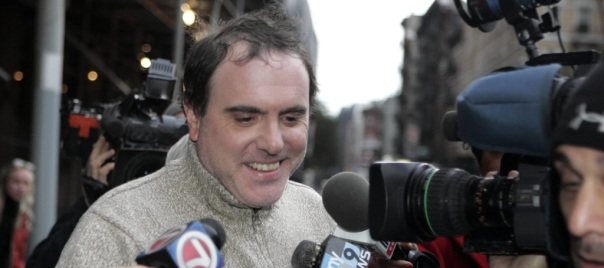 "Today, the Archdiocese of Boston was informed that Fr. David Ajemian, against the wishes of his bishop, Cardinal Seán P. O'Malley, and medical professionals, checked himself out of a medical facility located outside Massachusetts where he has been staying for the past several months. Our understanding is that he plans initially to return to Massachusetts to the care of his family. As a priest of the Archdiocese of Boston, Fr. David Ajemian made a promise of obedience to his bishop when he was ordained in 2001. In the context of these vows and with his medical care a priority, Fr. Ajemian was instructed to remain at an out of state residential treatment facility indefinitely to receive the care he requires. By his own actions, he has violated this mandate from his bishop. Therefore, he is Absent Without Permission. He is not authorized to function as a priest. We pray for Fr. Ajemian, for his family and for all those who are concerned about his health and well-being. We also pray for those who have been impacted by Fr. Ajemian's actions."


The archdiocese had last November declared that Ajemian was on leave and "no longer able to exercise public ministry" — now the archdiocese is ending his financial support as well. Ajemian had pleaded guilty to disorderly conduct, and agreed to stay away from O'Brien for two years, but then last month (supposedly while back in town to visit his family and meet with local doctors) he was accused of sending disturbing letters (second item) to actress Lindsay Crouse.

Ajemian and O'Brien both attended Harvard (Ajemian graduated in 1983, and O'Brien in 1985), but it is unclear whether they knew one another there. Crouse, coincidentally, is a Radcliffe alumna (class of 1970).

(Photo above, by AP, shows the Rev. David Ajemian leaving Manhattan Criminal Court after his arraignment on Nov. 9, 2007.)