Clergy in 'Cover-Up' over Sex Claims

By James Massola
Canberra Times
September 11, 2008

http://www.canberratimes.com.au/news/local/news/general/clergy-in-coverup-over-sex-claims/1269350.aspx

Senior bishops have closed ranks after a raft of new allegations about a cover-up involving a Catholic priest facing child-sex charges.

Father Peter Dwyer was arrested last week and charged with four assaults dating back to when he was a teacher at St Stanislaus College in Bathurst, NSW.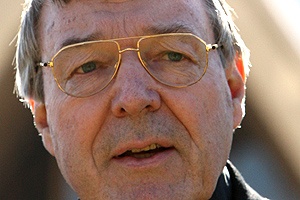 Cardinal George Pell



Now The Canberra Times has been told by four sources close to the Good Shepherd seminary in Sydney that alleged improprieties committed there by Dwyer were common knowledge but not acted on by senior Church figures, including the Archbishop of Sydney, Cardinal George Pell, in a way the complainants expected. It is also alleged other bishops withdrew students from the seminary when they heard of the claims about Dwyer's behav-iour.

The Good Shepherd allegations are unrelated to the Bathurst case, and there is no suggestion of criminal conduct, but seminarians allege they felt targeted and embarrassed by Dwyer. The allegations feed the continuing public debate about the Church's perceived shortcomings in responding to allegations of sexual impropriety within its ranks.

The sources allege that senior figures including Cardinal Pell and the seminary's rector, Bishop Julian Porteous had knowledge of Dwyer's behaviour as far back as 2004.

The sources who contacted The Canberra Times spoke of Dwyer receiving back rubs from seminarians a fact confirmed by a Church investigation and alleged he had also made sexual advances on students, tickled them and stroked them.

One of the sources, who asked to be known as "Leo", said he was one of many people in the Church who had spoken directly to Cardinal Pell about Dwyer. "I told Cardinal Pell that I held grave concerns over Dwyer's suitability for the position of authority over young and impressionable seminarians that he had been given," he said.

"My main concern was to do with what I saw as Dwyer's unhealthy, inappropriate and extremely controlling behaviour with those young men.

"For example, he was always tickling them and never seemed to have his hands off them, at least the younger ones."George [Pell] seemed displeased with me, the conversation ended abruptly and, as far as I am aware, he did nothing."

A spokeswoman for the Archdiocese of Sydney said in a statement that claims Dwyer had asked adult seminarians to massage his back to relieve pain had been fully investigated once they were drawn to the attention of the seminary authorities.

"There was found to be no improper conduct nor were specific seminarians targeted. Father Dwyer was directed to cease this practice and he complied fully with this direction," she said.

Another source, "John", said three Vietnamese students at the seminary had come in for particular attention from Dwyer.

"We all know they were preyed upon by Dwyer and then threatened by him with expulsion from the seminary and shamed back to Vietnam."

Sources have told The Canberra Times that other bishops also knew of Dwyer's behaviour.

They say the bishops removed their trainee students from the Sydney seminary when no action was taken.

"John" said one bishop had raised Dwyer's behaviour on a number of occasions.

"[The bishop] became frustrated about the inaction and so sent his students to Melbourne and Rome to try and make the point."

A spokesman for one of the bishops denied the allegation.

He said trainees were not removed from the Sydney seminary because of any concerns expressed to the bishop.

A spokeswoman for the Archdiocese of Sydney also denied any suggestion that seminarians had been removed because of the way Dwyer's conduct had been handled.

A retired auxiliary bishop of Sydney, Geoffrey Robinson, said he had been "vaguely aware that some bishops were not happy with was happening at the Sydney seminary.

"I had heard stories that they would be setting up ... [a seminary] of their own."

"Peter" said he spoke out because he wanted it known the Church had been aware of the complaints.

"Even the concept of asking a seminarian for a massage, it's completely inappropriate."