Ex-Chaplain's Sex Arrest Raises Local Fears

By John Chadwick
The Record
September 15, 2008

http://www.northjersey.com/news/Ex-chaplains_sex_arrest_raises_local_fears.html

Advocates for victims of clergy sex abuse are urging a Passaic hospital to spread the word about a former chaplain who was arrested earlier this year for sexually abusing a child in another state.

The Rev. Robert Yurgel, a Roman Catholic priest and Franciscan friar, was working as a chaplain at St. Mary's Hospital when he was arrested last April on charges he had sex in 1999 with a 14-year-old boy in Charlotte, N.C.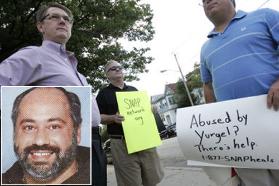 Survivors of priest abuse gather today with concerns about Fr. Robert Yurgel.
Photo by Sarah Simonis


"We think the hospital should check with staff or with former patients who might have come into contact with Yurgel to find out if anybody saw anything that was out of place," said Mark Crawford, director of the New Jersey chapter of the Survivors Network of Those Abused by Priests. "We are very concerned that he had ample opportunity for contact with minors."

Crawford and two others officials from the group voiced their concerns during a press conference today in front of St. Mary's. They delivered a letter to the hospital, calling on officials to write former patients and staff, post announcements in the hospital and on its Website, inform the media and prod potential victims to come forward.

"Molesters are jailed, first of all, when a brave victim like this boy in North Carolina comes forward," said David Clohessy, the survivor network's national director, who also attended the news conference. "But secondly, molesters get jailed when other people who saw abuse or suspected abuse or suffered abuse also find the courage to come forward."

A spokesman for St. Mary's said the hospital was still reviewing the case and had no immediate comment.

Meanwhile, Yurgel is out on bail and under the supervision of his religious order, the Capuchin Franciscans, which paid for the $225,000 bond that secured his release, and is based locally in Union City.

The Rev. Nicholas Mormando, provincial vicar, said Yurgel isn't allowed to work as a priest and remains under close supervision pending the outcome of the case.

"We are willing to work and do what we have to do in order to be in responsible in this situation," Mormando said.

Franciscans, like priests from other Catholic orders, are supervised by their own community, rather then the local diocese. The Province of the Sacred Stigmata in Union City, oversees Capuchin Franciscans on the East Coast.

Yurgel worked at the hospital for five years, from 2003 until 2008, Mormando said.

Yurgel was serving as an assistant pastor at a Charlotte church when the alleged abuse took place in 1999. He was taken into custody by U.S. marshals in Passaic and extradited to North Carolina.

He was charged with five counts of taking indecent liberties with a child and two counts of statutory sex offense.

E-mail: chadwick@northjersey.com