Survivor Aims to Help Clergy Sex Abuse Victims

By Marcia Dixon
The Voice
September 15, 2008

http://www.voice-online.co.uk/content.php?show=14310

Support group founder says pastors prey on vulnerable

MARGARET KENNEDY runs Minister and Clergy Sexual Abuse Survivors (MACSAS), which helps men and women who have been sexually abused by church clergy. She talked to Soul Stirrings about the organisation's work.

Soul Stirrings (SS): What inspired you to set up Minister and Clergy Sexual Abuse Survivors?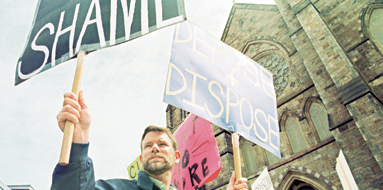 PROTEST: Many feel that guilty clergy should be dismissed from ministry



Margaret Kennedy (MK): After setting up Christian Survivors of Sexual Abuse (CSSA) 15 years ago, women wrote to me about clergy abuse as adults. The numbers mounted to over 200 and I became alarmed that there was nowhere the women could gain help and support. They, however, didn't feel comfortable with the 'Christian' bit of CSSA and therefore a more neutral name was chosen for this group.

I am also a clergy sexual abuse survivor, as I was sexually assaulted by a Christian Union Anglican Chaplain when I was in my twenties. He sexually abused several students, so I knew from first hand that these situations were real and horrifying.

SS: What kind of services does your organisation provide?

MK: We offer support by letter, email, helpline and newsletter. We have an annual conference, try to have survivor meetings from time to time. We are a small self-help organisation run by survivors for survivors. We also produce an information pack and specialist papers written by top consultants on clergy abuse of adults.

SS: What's been the most disheartening story of abuse that you've heard?

MK: An Anglican priest who was a psychotherapist making one woman (his client) pregnant and promising marriage. He encouraged her to terminate the pregnancy leaving her bereft for life. He destroyed her marriage and she lived with a belief she had broken her marriage vows.

Needless to say he didn't marry her, but her husband left her. Another case was of a Pentecostal pastor buggering a woman when he climbed through her bedroom window. She had to have anal repair surgery. The most disheartening experiences are where clergy/pastors 'persuade' women that what they do is for their healing, God-inspired and requested by God.

SS: Sexual abuse is one area of church life not often openly discussed. Why do you think this is?

MK: There are so many taboos around sex that most Christians do not have a healthy perspective on sex and sexuality. People are therefore ashamed about 'sex-talk' of any description. People fear judgement about their sexual experiences, and rather than face a church that may be judgemental (other than in marriage) they keep quiet and suffer.

SS: Many women succumb to advances by clergy. Why do you think this is?

MK: These women are vulnerable – usually in crises – and turn to the pastor for help and support. He appears to offer care and support but then sexually exploits them. He makes them feel shame and they don't know how to get out.

SS: What procedures/policies do you think churches should put in place to stop sexual abuse of lay members occurring?

MK: Churches need to be absolutely clear that pastors have no business having sex with women who seek help. The pastor is supposed to do the job of ensuring Christian living and when they sexually exploit vulnerable women they are sowing devastation in women's lives. The offence must be named. It is not an 'affair' or 'healing ministry', it is sexual violation/assault.

SS: What should churches do to help members establish appropriate sexual boundaries?

MK: I recommend the book Ethics in Pastoral Ministry by Richard Gula. He is a priest who sets out clearly the role of professional ministry and the rules by which ministers should operate. Policies and procedures must educate both pastors and congregation about pastoral sexual violation. Clergy found to violate their role as pastor by sexually involving parishioners must be called to account and dismissed from ministry.

SS: What should people do if they are sexually propositioned by a member of the clergy?

MK: Contact MACSAS. It is important to talk to us to discern a way forward that is safe for them. In some cases the situation is of attack/rape or assault and these should be reported to police. There is a criminal law against professionals abusing trust.

For more info about MACSAS visit www.macsas.org.uk or call 0808 801 0340.