The Mass Is Ended
But Some Parishioners Are Not Going in Peace. They Suspect the Decision to Close Some Catholic Parishes Was More about Real Estate Values Than a Priest Shortage

By Jason Berry
Best of New Orleans
September 16, 2008

http://www.bestofneworleans.com/dispatch/2008-09-16/cover_story.php

In the litigious aftermath of the Catholic Church's sex-abuse scandal, New Orleans Archbishop Alfred Hughes testified in a deposition that "we bishops have pledged ourselves to conduct business in the open as much as possible. That pledge has changed the way we operate and are now operating."

Hughes' "business in the open" pledge has not applied to the latest archdiocesan plan for closing parishes, however. Today a bitter chasm divides lay leaders of several parishes who accuse the archdiocese of deceptive dealings with them. Hughes has refused requests to negotiate with groups that have proposed alternative plans. He likewise shuns almost all interview requests, including several for this report.

Meanwhile, angry parishioners at St. Henry's parish have threatened to occupy their church to keep it open, positioning themselves as part of a national movement of Catholics resisting church closures — and questioning bishops about turning churches into marketable real estate.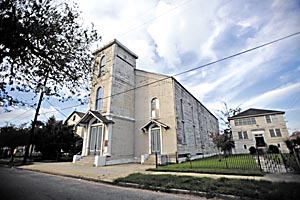 St. Francis de Sales' parish council member Lydwina Hurst says her church is paying down its debt to the archdiocese and has met all the benchmarks set forth. However, the parish has had no formal reply to a revitalization plan it submitted to Archbishop Alfred Hughes in January.
Photo by Cheryl Gerber


A priest familiar with the archdiocese's internal workings says the local church hierarchy is "seriously worried about money." His take on the problem: "Insurance is going up and they don't know how to deal with it."

Lay leaders at Our Lady of Good Counsel and St. Francis de Sales also say that Hughes has stonewalled them, even while they are paying down financial losses after alleged mismanagement by parish priests.

When the archdiocese announced last spring that it would close more than 30 parishes and consolidate some with others, Hughes cited one reason: a deepening shortage of priests. Combining parishes would "redistribute resources to make parishes that offer a broad spectrum of sacramental, ministerial and social outreach," archdiocesan spokesperson Sarah Comiskey says.

The numbers tell a story.

In 1970, the archdiocese had 572 priests; today it has 334. On average, two men are ordained into the priesthood in New Orleans each year. Loyola University in New Orleans graduates about 95 men and women with degrees in religious studies or campus ministry annually. Many go on to staff parishes and work in rectories or churches, but not as priests. Seminary enrollment has plunged across the Western world. Many cite the Catholic Church's celibacy law as the main deterrent to attracting a new generation of priests. Although celibacy could be stricken with the stroke of a papal pen, no one expects Pope Benedict XVI to make that change.

Since 1970, the metro area Catholic population has dropped from more than 655,000 to roughly 385,000. During that time, families across America left old parishes in inner cities for those in suburbia. The local parish closings and mergers are part of a national trend.

Other numbers also tell a story.

In July, the archdiocese announced that it had lost more than $100 million as a result of Hurricane Katrina — because insurance failed to cover all its property losses. Those losses had no bearing on the parish closures, the church says. Not all the faithful are convinced.

'As far as the archdiocese's finances, I think they made public what they wanted people to see," says Barbara Fortier, parish council president at Our Lady of Good Counsel. "I'd find it awfully hard to believe if my insurance company offered to pay 35 cents on the dollar. I'd want to appeal or take [legal] action."

St. Henry's sustained damages of $226,156 during Katrina. "Our insurance covered every penny of it," says George Saucier Jr., a member of St. Henry's parish council. "You wonder how they run things on Walmsley Avenue (where the chancery office is located). How many policies did they have to lose a hundred million?"

Saucier and others suspect a different reason for the closings: the opportunity to liquidate valuable real estate to repair a battered archdiocesan fisc. Comiskey says that's just not so.

'Selling parishes is only a last resort when every other option is exhausted," Comiskey says. "If St. Henry's or any other church property is deconsecrated and sold, the proceeds go to the new parish, not to the archdiocese."

The closure plan calls for Our Lady of Good Counsel and St. Henry's to consolidate under St. Stephen's on nearby Napoleon Avenue.

In ordinary times, Barbara Fortier and George Saucier would be the very people any bishop wants: Catholics involved in the church and raising money for their parishes. "We had direct conversations with the archbishop early on," says Larry Schmidt, an urban planner and parish leader at Our Lady of Good Counsel, a Garden District church on the National Register of Historic Places. "We were clearly told, if you meet the [archdiocese's] benchmarks you will not be closed. We exceeded those benchmarks. We are healthier financially than we've ever been. That's the devastating part of this decision — that we were lied to."

Comiskey disputes the notion that Hughes lied. "We acknowledge that things could have been done better in the process, but we have to trust our priests to communicate [about the plan] with the people. The archbishop is acutely aware of the anger and resentment toward him, and he is distressed about it. We made these decisions after careful deliberations that began with parishes assessing themselves."

Sworn statements by five other Good Counsel members who met with Hughes at the parish in August 2007 echo Schmidt's comments. They are digging in for a long fight that is destined for more media attention. Meanwhile, St. Henry's members plan to sleep in their church 24/7 — a practice called "vigil" that was pioneered in America by Boston parishioners.

Hughes, 76, submitted his resignation to the Vatican a year ago upon reaching the church's mandatory retirement age. That he has stayed on is a measure of Pope Benedict XVI's support for him in the difficult job of guiding a flood-battered archdiocese to a point where he can leave it significantly improved if not completely recovered after Katrina.

The archdiocese's handling of the controversy has fueled speculation about the management of church money. The archdiocese has not issued a bona fide financial statement in years; only Hughes and his inner circle know the true picture of the church's finances. A report in the archdiocesan newspaper, the Clarion Herald, in July dealt with Katrina losses, not the larger picture of the local church's financial status.

Money is a pivotal issue in any discussion of the closure plan. Every parish pays a monthly assessment, in essence a tax, to the archdiocese based on its Sunday collection levels. Large, affluent parishes like Holy Name pay more than smaller, inner-city churches like St. Francis de Sales. Each pastor is responsible for his parish's payments. Unlike the counterparts in some religious orders, like the Jesuits or the Franciscans, diocesan priests take no vow of poverty, but they are expected to manage funds honestly and in their parishes' best interests.

In St. Francis de Sales and Our Lady of Good Counsel, cavalier spending by two diocesan priests left parishioners bewildered and embittered. The precipitating event at Good Counsel came in 2002, when Father Martin Smullen — whose lavish spending surprised the lay council — was found to have gay pornography on his rectory computer. A parish leader reported him to the archdiocese; he left for a rehabilitation facility. Smullen is now parochial vicar — assistant pastor, the same post he held at Good Counsel — at St. Mary Magdalene Parish in Metairie. Larraine Bourn, the parishioner who blew the whistle on Smullen, is surprisingly supportive of him. "He had his problems. But Martin as a priest does much good," she says.

But what about alleged spending excesses?

'When there are accusations of financial mismanagement by a parish, there is an internal financial review process and, if it is found that a pastor has misused funds, he can be asked to pay the parish back," Comiskey explains. "That can be done and has been done. Reassignment depends on situations. Every situation is unique."

Smullen gave a terse "no comment" when asked by telephone whether he had made restitution and how much money was involved. Later, when asked if Smullen had repaid his old parish, Comiskey said in an email: "Father Smullen told me he made complete restitution to Good Counsel."

Parishioners tell a different story. "To my knowledge and that of the office manager, no restitution was made," Fortier says. "Unfortunately, because it all happened before I was on the parish council, I have no idea how much money was misused, and I do not even want to guess."

A more glaring case centers on Father Victor Cohea, former pastor at St. Francis de Sales in Central City. In 2007, Hughes transferred Cohea from St. Francis, where he reportedly left a debt of more than $700,000, to St. Joseph the Worker Parish in Marrero, where his spending ignited an uproar that forced Hughes to yank him in May.

The archdiocese would not divulge how much of St. Francis de Sales' debt was the result of Cohea's conduct. "As far as pastoring, he was a good person, but with money, we don't know," parish council member Lydwina Hurst says of Cohea's 14-year tenure. "We're asking the archdiocese to give us financial accountability on him."

Cohea did not respond to an interview request left with St. Joseph the Worker's rectory, where a staffer said his messages were being forwarded. Cohea did not answer an email seeking an interview. Financial records from his tenure at St. Francis de Sales are a muddle, say parish leaders.

St. Joseph the Worker in Marrero, where Hughes reassigned him, was financially sound when Cohea arrived. He soon irked parishioners when he bought new TV sets and computers and added paid staff in the rectory. At a tense forum last December, people asked Cohea about a debt at St. Francis de Sales; he said the problem was resolved, according to Michelle Goines, a parish council member at St Joseph's. People asked where the repayment funds came from. "I'm not accountable to you — I only answer to the archbishop," he reportedly answered.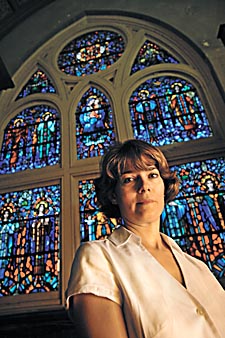 Barbara Fortier, president of Our Lady of Good Counsel's parish Counsel, says her church now has about 450 families (more than the 400 benchmark set by the archdiocese), an active St. Vincent de Paul Society, is paying down a debt caused by a priest's mismanagement and pulls in cash as a popular wedding venue. Still, the archdiocese plans to consolidate it with St. Stephen's.
Photo by Cheryl Gerber


'If it was money in a corporation, you'd say he embezzled," says Goines, who runs a business.

Meanwhile, Hurst says St. Francis de Sales has been paying down its debt to the archdiocese. "We have met all the archdiocese's benchmarks," she says. The parish submitted a revitalization plan to Hughes in January. "We have written letters to the archdiocese. We have received no answers in writing. We're doing what we feel is necessary to continue our fight."

Benchmarks include programs like religious education, assistance to the poor and documenting an increase in baptisms, confirmations and weddings to show a vibrant parish. But the term has different meanings to the two sides.

'Those are not benchmarks that mean you will stay open," Comiskey says. "It was very clear as bishops made pastoral visits to these parishes that their futures would most likely lie [in combining] with surrounding parishes."

Many parishes have gone through debt cycles and threats of closure. Historic St. Augustine Church in Tremé had a bitter 2006 standoff with Hughes over a closure plan, making national news as demonstrators occupied the rectory. The pastor at the time, Father Jerome LeDoux, was a folk hero whose Sunday jazz Masses drew worshipers from across the city and from many faith traditions. The parish had an assessment debt of $250,000, according to one insider. Over a two-decade period, Tremé had lost thousands of residents and jobs. LeDoux gave money to people who begged at the rectory door. In a compromise with parish leaders who agreed to pay down the debt, Hughes gave St. Augustine an 18-month reprieve — but he sent LeDoux packing.

Even affluent parishes sometimes go through hard times, as Our Lady of Good Counsel in the Garden District did. The recession of the 1980s saw thousands of middle-class families leave New Orleans. Good Counsel, which drew from the Irish Channel, lost parishioners. The school on Louisiana Avenue, like many parochial schools, strained parish finances.

Good Counsel at that time was run by priests of the Trinitarian Order. "The Trinitarians were great priests but not great fundraisers," says Cheron Brylski, a council member and political consultant. "They did a lot of ministry, especially in nursing homes, but they were lax on assessments."

Eventually, the school closed. By 1997, the parish was $400,000 in arrears on its assessments. That November, the archdiocese offered the parish a deal. It would pay $250,000 for the school. Of that sum, $200,000 would be counted two-for-one in debt reduction. In other words, the $400,000 debt would be wiped clean, and the parish would have a $50,000 credit on its assessment ledger.

The deal suited both sides. The parish went from red to black with funds on deposit. The archdiocese acquired a prime piece of Garden District real estate for $250,000. The school was gutted; the archdiocese rents it for storage.

After the payoff, the Trinitarians renovated a residential building behind the rectory — and resumed the practice of ignoring the assessments. In 2000, when the Trinitarians left the parish, parishioners looked at the books and were stunned. The lay council developed a finance committee to monitor its priests. "We were stuck with $243,000 worth of debt when Father Pat Collum came," council president Fortier says. Collum, the pastor, launched a repayment plan with the archdiocese. "Our debt is now $100,000," Fortier says.

In fact, Our Lady of Good Counsel now pays the archdiocese $1,000 a week above its regular weekly assessment of $1,300 — a total of $9,200 a month, or $110,400 a year.

'We now have about 450 families," Fortier says. "The archdiocese gave us a benchmark of 400. We have an active St. Vincent de Paul Society, which helps people who call in need of help with rent or electricity or groceries. ... We help two to three families a week, about $300 each. Our registered parishioners draw from Kenner, the West Bank, all over. Some went to church or school here and come back, or they have parents in the neighborhood."

Good Counsel, with its beautiful stained-glass windows, is one of the city's most popular wedding venues. The parish charges an $850 fee for nuptials. "Quite a few young people who got married here have joined the parish," Fortier says.

The novelist Poppy Z. Brite, a convert, recently joined the parish.

The conflict with Father Martin Smullen in 2002 was a traumatic experience for all involved at Our Lady of Good Counsel. While parishioners were dealing with a financial crisis, the archdiocese was using the parish's large rectory to house aged or sick priests, including Smullen, who suffered from Hepatitis B.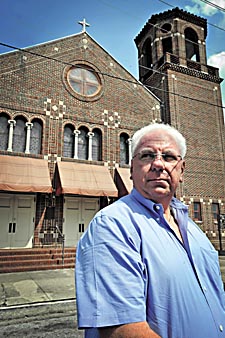 George Saucier Jr., a member of St. Henry's parish council, says the church's insurance covered all of the $226,156 in damages caused by Hurricane Katrina and the parish has no debt. He suspects the archdiocese wants to close his church so it can sell the real estate and improve its treasury. Members of the congregation plan to keep a vigil at St. Henry's 24/7 while they fight the archidocese's decision to close the parish.
Photo by Cheryl Gerber


Lay council members accepted the ailing priests as part of their ministry — and the parish was growing. As Smullen's health improved, he began celebrating Mass. "People liked Father Martin," Fortier says. "He helped re-energize the parish; he instituted Bible studies. I don't want to underestimate him."

'He was a spiritual man," says Larraine Bourn, who recalls the sensitivity he showed when he presided at her mother's funeral.

But Bourn and Father Martin soon collided.

The problems began when a young man being paid for maintenance work moved into a building behind the rectory. He became Father Martin's driver, in a new car leased to the parish. "People started noticing Father Martin and "the houseboy,'" Fortier continues. "It was an inappropriate relationship." Others share her view.

'We don't know what exactly those two guys were doing," says Harold Baquet, a parish leader and staff photographer at Loyola. "Look, it ain't our place to judge these cats."

The parish secretary approached Bourn, who was on the lay council, pointing out a $1,500 increase in monthly expenses — flowers for the rectory, food and liquor for parties, new furniture and other items not approved by the council, which was trying to pay down a six-figure assessment left by previous priests.

Bourn was particularly curious about an expense for two Internet lines. Collum, the pastor, was on vacation in Ireland when Smullen asked Bourn's son, a graduate student at Tulane University, to repair a snag with his server. Her son found files of gay porn, which Bourn determined had been charged to the parish.

Bourn reported the discovery to the archdiocese. Hughes moved Smullen to another parish for a brief stay, then to a facility for counseling. A cloud of ambivalence hung over Good Counsel leaders. Many of them liked Father Martin, admired his sermons and felt that despite his personal issues, he had good skills as a priest. They didn't want to destroy him.

Another issue weighed on them.

'With all the abuse cases in the national media, we did not want to cause a scandal," says Brylski, a veteran of political campaigns. "Our parish is most welcoming to all Catholics, including gays. My husband, Harold Baquet, and I are an interracial couple. It felt, somehow, as if we were part of a cover-up. And after all that, Hughes decides to shut us down."

Legally, Hughes is a "corporation sole." As archbishop, he is the titleholder of all archdiocesan properties. Like a corporate CEO, he has the power to hire, fire, steer financial policy and sell off properties that don't work. Unlike a CEO, however, he answers to no board of directors or stockholders. No one but the pope can relieve him of his legal position or authority. Hughes relies heavily on Father Michael Jacques, pastor of St. Peter Claver, who is considered the architect of the parish closing plan, and Auxiliary Bishop Roger Morin, who helped shape the policy.

Under canon law, an archbishop can make any financial decision that does not exceed $5 million. But when a parish is "suppressed" — a canonical term meaning that it ceases to be a sacred space — a bishop can seek professional real estate advice and bundle property for sale.

The board members of St. Henry's suspect that real estate is the true motive behind the closure order they are protesting. "They want to liquidate the assets," says the finance council's George Saucier Jr., a retired hospital administrator.

Founded in 1856 for German immigrants, St. Henry's, located at 812 Gen. Pershing St., was a blue-collar parish for decades. Four blocks away, across Magazine Street at Napoleon Avenue and Camp Street, stands St. Stephen's, a larger church with a more prosperous Uptown base. As property values near St. Henry's have risen, the parish has gained far-flung members — lawn signs in Carrollton proclaim Save St. Henry's " but to families who walk to Mass, the parish is a social hub and spiritual touchstone from the past.

From his wheelchair, Msgr. Henry Engelbrecht is a model pastor, collaborating with lay members who draw no income from managing St. Henry's properties, which they treat as a neighborhood trust. St. Henry's is a heartbeat for many people who could afford to leave, but chose to stay. To them, the order merging their parish with St. Stephen's is an assault on the neighborhood and its sacred space.

Under the archdiocesan plan, the cash deposits of Our Lady of Good Counsel and St. Henry's follow parishioners to the coffers of St. Stephen's, which would become a super-parish. St. Stephen's is the only parish of the three with a school. Most of the students are black; most of the parishioners ordered to merge are white.

St. Henry's council presented Hughes with a plan for a four-parish collaboration that would include Blessed Sacrament Parish — a predominantly African-American church behind Xavier Prep High School — and sharing priests for Mass. Blessed Sacrament was closed in mid-August and ordered to merge with St. Joan of Arc, far down in Carrollton — and another black parish. In a city suffering from racial polarization since Katrina, many Blessed Sacrament parishioners joined St. Henry's instead. It is closer. Moreover, the collaborative plan put forth by St. Henry's was a reach across lines of color and class.

But Hughes refused to budge and did not address the merits of the plan.

St. Henry's also has no debt and $150,000 in reserves. Those funds sit in an archdiocesan account "which pays a nominal interest rate, maybe 2 percent," according to Saucier. "We moved $50,000 into a blue chip fund, Catholic Foundations, which has a return closer to 7 percent."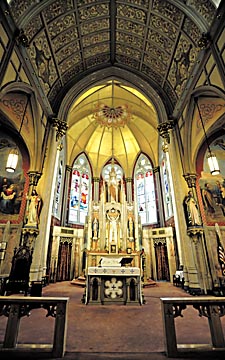 Our Lady of Good Counsel church in the Garden District is on the National Register of Historic Places.
Photo by Cheryl Gerber


When Hughes initially met with St. Henry's parishioners a year ago, he told them, "The facilities are excellent." A discussion of other benchmarks left the lay leaders believing the parish was safe. St. Henry's even helped the archdiocese with some of its key social services work.

For several years, Catholic Charities rented a floor of St. Henry's old convent (which was renamed the Blessed Pauline Center for a revered nun) as a mission for merchant seamen. Catholic Charities decided not to renew the lease. When the mission vacated, Saucier says, "The place was a mess — holes in the walls, window units that were poorly installed had caused leaks, the bathrooms didn't work. It was gross." The parish paid $100,000 for repairs and improvements, he says.

The parish now leases the space for $2,800 a month to several Irish Christian Brothers who moved to New Orleans after Katrina to help Catholic schools. "Then we learned Catholic Charities received a $1.5 million grant to build a new center for seamen near Gramercy," says Saucier, shaking his head.

The parish was out $100,000 for the repairs.

If parish assets follow parishioners from St. Henry's and Our Lady of Good Counsel to St. Stephen's, the combined church would reap tens of millions if the closed-parish real estate is sold — assuming, as Comiskey says, the archdiocese wouldn't touch the profits. That is mind-boggling for two reasons. First, imagine what other parishes would think of two historic churches being sold to private developers in order to make St. Stephen's a financial powerhouse in a poor, beaten city. Second, why would an archdiocese with $100 million in flood losses allow one parish to reap a harvest of gold?

On May 12, Hughes summoned the pastors of Good Counsel and St. Henry's to a meeting where he fumed about the parishioners protesting. "Tell the protestors that they are on the verge of grievous sin!" Hughes declared, according to parishioners the two priests dutifully told.

'Grievous sin" has a more serious connotation in church vernacular than meets the eye. People who knowingly continue in grievous sin can be excommunicated, publicly dismissed from the church — the most extreme form of humiliation imaginable for Catholics.

When Alden Hagedorn, president of St. Henry's council, realized his church was on the chopping block, he researched the topic of parish closings and contacted Peter Borré of Boston. Borré has emerged as a national leader in parishes resisting closure orders. Borré was raised in Rome in the 1940s; his father worked with the State Department on the Marshall Plan rebuilding postwar Italy. Educated by Jesuits in Rome, Borré graduated from Harvard University and settled in Boston working in the energy sector. Fluent in Italian, he kept close ties with clergy in Rome and even some in the Vatican.

Archbishop Hughes began his career in Boston, advancing to rector of a seminary and as an auxiliary bishop under Cardinal Bernard Law before heading to Louisiana. Law resigned because of the abuse crisis in late 2002. The new archbishop, Sean O'Malley, was appointed several months later and faced hundreds of abuse victims' lawsuits. In September 2003, O'Malley authorized an $85 million settlement. In December of that year, he sold the cardinal's mansion to Boston College for $90 million. "He wanted to assure the flock that not a penny of their funds went to pay off lawsuits," says Borré.

But Boston's finances were far more troubled than O'Malley realized. In May 2004, he sent notices to 23 pastors that their churches would have to close. More closings were announced as the weeks rolled on. The list grew to 83 parishes — roughly one-fourth of the Boston archdiocese. Some were in areas where the Catholic population had dwindled. But nine, including Borré's parish, had active congregations that refused to accept their fate. For months, the nine parishes organized 24/7 vigils. Parishioners slept in churches, making sure they were never empty, to ensure they would not be padlocked.

Borré has since traveled to dioceses with unpopular closure plans, organizing a national coalition. He visited New Orleans in July for a meeting with leaders of St. Henry's, Good Counsel, Blessed Sacrament and other parishes. "Four of the nine in Boston have reopened," he told the group. "Of the 83 that were going to close, the archdiocese stopped at 60."

O'Malley, who is now a cardinal, realized he had made a mistake with the sweeping order and gradually repositioned himself, according to Borré. He explained that the nine Boston parishes filed canon law appeals in Rome at the Signatura, which is roughly equivalent to the Vatican Supreme Court. The cases were dismissed.

'If the bishops only understood that people at these meetings are their natural base," Borré adds. Indeed, the room that night was filled with lay council members who had raised huge sums for their parishes. The strategy in Boston was to make canonical appeals — to work within the system — and to challenge the system externally at the same time by engaging in civil disobedience, occupying churches, filing civil lawsuits to challenge the archdiocese, and getting attention in the media.

'[The vigils] have been going on 24/7 for three-and-a-half years," Borré says. "We're trespassing. At any moment one [of the groups] is out, they can lock the church." But padlocking a church would be a huge symbolic defeat for any bishop. It smacks of police state tactics. "Bishops hate bad press," Borré told the group. "Do not underestimate your strength in the media." Despite Boston's failed canon law appeals, Borré said: "I'd like to see more appeals so some official in Rome will look up and say, "What's going on here?'"

Locally, Hughes will be remembered less for how he handled the pedophilia scandal than for how he treated his flock in at-risk New Orleans parishes as he tried to remake the archdiocese. Thus far, from the sit-ins at St. Augustine to the roiling opposition at St. Henry's and Our Lady of Good Counsel, his decisions have left him unpopular among many Catholics known for deep loyalty to the church — people who give money and time to their respective parishes. Hughes' legacy will be shaped, at least in part, by these people.

Who is Alfred Hughes, then?

During the pedophilia scandal of 2002, Hughes flew to Boston and testified to the state attorney general for a report that castigated Law and his auxiliary bishops — Hughes having been one — for concealing predators. The fallout in New Orleans, where he had to remove long-accused abusers, was devastating to Hughes, says a priest who knows him well. He has not given an interview to The Times-Picayune's respected religion reporter, Bruce Nolan, in six years. Yet Hughes has met with several survivors privately, trying to make amends.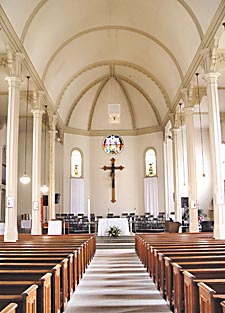 St. Francis de Sales parish in Central City was started in 1870 and was among the first in the nation to incorporate black culture into traditional Catholic worship.
Photo by Cheryl Gerber


The archbishop has a stern side, as when he berated the Good Counsel and St. Henry's pastors for their parishioners' protests. He also came off as aloof in refusing to deal with parishioners who have proposed alternative plans.

But anger is not a trait that those who know him associate with Hughes.

Father Bruce Teague, a hospital chaplain in Boston, attended seminary where Hughes taught. "He was my spiritual director," Teague says. "He had a very gentle presence. I found him to be a deep theologian. My take on Al is that he is a good-hearted man but overwhelmed by the whole complexity after the catastrophic destruction of Katrina. New Orleans has so many different strains of its cultural tradition. The average Boston priest is not trained to handle that. We live in a city that was dominated by Irish Catholic culture. ... Al trained most of his career in Rome. That type of training was like West Point. The priesthood was a class apart; you were immune from the ordinary lives of people.

'Al is basically an introvert. Frankly, I don't think he has the administrative skills, but I do hope he'd have the heart to deal with the diversity of people in a compassionate way."

In July, Good Counsel parishioner Harold Baquet underwent cancer surgery. Lying in bed, Baquet was stunned when Hughes entered the room. "He was trying to see to my spiritual needs," Baquet says. "His conversation was about me and how I'm dealing with this and my faith, and where I am spiritually. I looked in his eyes and wasn't at my best. I didn't have any preparation, but I made the pitch for the parish. He listened."

Baquet paused. "We believe in salvation and people's ability to change."

SIDEBAR — RUN THIS AS A BOX SOMEWHERE IN THE STORY.

HEAD: By the Numbers? On July 26, the archdiocesan Clarion Herald newspaper published a seven-page account of Hurricane Katrina's financial impact on the New Orleans-area Catholic Church. The archdiocese reported a total of $287.8 million in property losses, with 1,100 of 1,200 buildings sustaining water and/or wind damage. Insurance covered less than half of that figure — almost $102 million. Between FEMA ($35.4 million) and charitable donations ($46.1 million), the church as of midsummer still had storm-related losses exceeding $104 million.

Most of the damage — $77.7 million worth — was sustained by individual churches and parish schools. Eighteen of 108 parishes were closed in 2006; 23 of 86 elementary schools have closed.

The report in the Clarion Herald offered no breakdown as to where damage was greatest, nor did it index insurance coverage (or lack thereof) to various parishes or facilities. Although the pie charts and summary columns put numbers in broad categories, the information was more of an essay with selective numbers than a formal annual report by a charitable institution.

'There is no way to tell from the summary how well money has been managed or whether or not there has been any shifting of assets," says H. Richard Grafer of Pathway Investments in Port Washington, N.Y., who reviewed the Clarion Herald data. Grafer, a former partner at Arthur Anderson, is active in Voice of the Faithful, a reform group that is calling for greater transparency by bishops.

Jack Ruhl, a former LSU faculty member and now a professor of accountancy and director of the MBA program at Western Michigan University, also read the archdiocesan report. "The report does not break out information parish by parish," Ruhl says. "Most basically, what's missing is a full set of financial statements. I would describe this as an unaudited report of losses and recoveries from the hurricane; it doesn't give an idea about the financial health of the archdiocese either way. You just can't tell from these numbers."

Spokesperson Sarah Comiskey says the archdiocese plans to release a financial statement in the near future.