Man Says He Was Sexually Abused by Priest

By Paula Scully
Ashbury Park Press
September 16, 2008

http://www.app.com/apps/pbcs.dll/article?AID=/200809160410/NEWS/809160372

LITTLE EGG HARBOR — A Bass River man identified himself Monday as the victim of sexual abuse by a Roman Catholic priest, saying he did so as part of his healing and with the hope that other victims will come forward.

Chris Naples, 37, alleged that the Rev. Terence O. McAlinden, known as Father Mac, had "groomed, controlled and raped" him for more than 10 years.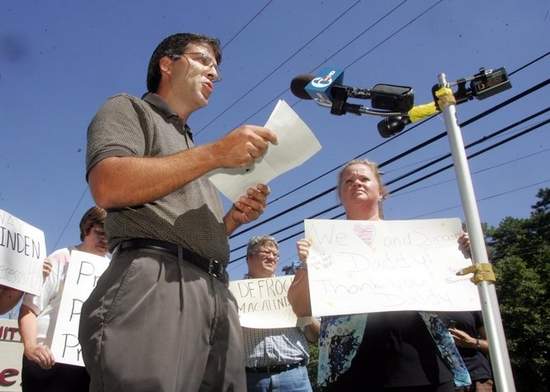 Chris Naples of Bass River identified himself as a victim of sexual abuse by the Rev. Terence O. McAlinden of St. Theresa's Roman Catholic Church in Little Egg Harbor. Naples' wife, Patty, is at right.
Photo by McCarthy


Naples spoke outside St. Theresa's Roman Catholic Church on Radio Road where McAlinden, 66, had served as pastor and where Naples said the priest introduced him to his future wife, performed Naples' marriage ceremony and also baptized his children.

The attacks took place in various locations starting in 1985, said Naples, who was surrounded by family and friends as he read from a prepared statement.

Naples, who grew up in Brick, said he met McAlinden when he was the director of youth services for the Diocese of Trenton. Naples said that he was 13 years old at the time, and he was attending a weekend retreat at a diocesan facility called Jeremiah Retreat House in Keyport.

The abuse started shortly after meeting McAlinden at Jeremiah Retreat House and then took place on McAlinden's boat, the Poorbox, as well as other various locations over the course of 10 years, Naples said.

He called on Bishop John M. Smith of the Diocese of Trenton to contact the Vatican asking that McAlinden be defrocked.

Rayanne Bennett, chief communications officer for the Diocese of Trenton, said in an e-mail Monday that information about the case had been forwarded to the Vatican for review.

"In October 2007, McAlinden's case was forwarded to the Holy See to review for possible further action against him, including laicization (defrocking). Vatican authorities have acknowledged receiving this case, but the Diocese has not received any notification as to the case's disposition," Bennett said.

"The Diocese must await instruction from the Vatican before any further canonical action can be taken against Father McAlinden."

In September 2007, Bishop Smith removed McAlinden from his position and placed him on administrative leave when the allegations were initially made by an unidentified man in his 30s.

McAlinden was relieved of his priestly faculties, meaning that he cannot publicly celebrate Mass, wear clerical garb or present himself as a priest.

Naples said he chose Sept. 15 as the day for his statement because it is his birthday and also the day of observance of Our Lady of Sorrows.

"It's a new year, a beginning," he said. "It's out there. Mac is not going to win. I want to let other survivors know that they are not alone.

After Naples read his statement at the news conference, the Rev. Robert M. Hoatson, president and founder of Road to Recovery, which serves people abused by clergy and other religious persons, said, "Unfortunately, when Chris went public, (some of the) the parish rallied around not the victim but the abuser."

"We know of one other victim and he will remain anonymous until he is ready," Hoatson said.

Hoatson identified himself as a priest from the Archdiocese of Newark and himself a former victim of abuse. He said he and the Rev. Kenneth Lasch of the Diocese of Paterson founded the nonprofit Road to Recovery in 2003.

"I expect that more victims of McAlinden will come forward, possibly in record numbers," Hoatson said.

Naples said he kept his silence for about 23 years. Hoatson said in the last year Naples went from a victim to a survivor. Naples said he had not been back to Little Egg Harbor since he told a good friend and his wife about the abuse.

"It was very intimidating for me to come to this community," he said.

Naples' wife, Patty, said she has been a member of St. Theresa's parish for 34 years and their children have attended the Confraternity of Christian Doctrine (CCD) program.

"I've had wonderful support from the parishioners here," Patty Naples said. "Unfortunately, there are a group of people that do not want to believe it. I've been greeted here warmly by the other groups."

She said when her husband told her about what had happened to him, she "was devastated and horrified."

His father and mother, Tony and Mary Ann Naples, also spoke at the news conference.

"Speaking as a father, when my son told me what happened, I can't tell you what went through my mind," Tony Naples said.

Mary Ann Naples said, "This man has got to be defrocked if we can't do anything else."

She said she had been following the allegations on the Internet and praying for "all those people" when her son told her that he had been abused.

"One can never express what happens to a mother when she finds out what her child has gone through," she said.

Chris Naples's sister, Monica Cincotta, called McAlinden a "a rogue priest who is a classic example of a sex offender . . . whose psyche is awry."

"We survivors need to stand strong, stick together and hope to make our children's lives free from abuse," he said.

Naples said McAlinden should not live in the same community where he served as pastor. He said McAlinden lives next to the parish rectory.

Bennett, the diocesan spokeswoman, said in the e-mail, "Bishop Smith and the Diocese of Trenton have no control over Father McAlinden's daily activities or where he resides.

"The residence in question is property he owns privately; his actions are not sanctioned by the diocese or the parish. In removing Father McAlinden's priestly faculties, the Diocese has taken every precautionary step it has available. We remain in contact with the civil authorities to apprise them of Father McAlinden's whereabouts."

Bennett's e-mail also said: "We fully acknowledge and understand that the alleged victim who spoke to reporters today has gone through an extremely difficult and painful experience.

"The Diocese has taken the allegations against Father Terence O. McAlinden very seriously and acted in accordance with its established sexual abuse policy and the United States Conference of Catholic Bishops' Charter for the Protection of Children and Young People."

The diocese has worked with the Ocean County Prosecutor's Office, she said.

In late September 2007, the diocese's Victim Assistance team met with the alleged victim and offered counseling services at that time, the statement said. The diocesan victim's assistance coordinator has made himself available to the victim on an ongoing basis, it said.

Because of the allegations against McAlinden, the diocese has hired an investigator to look into whether there were any other victims who have not yet come forward, Bennett said.

Naples also thanked the members of SNAP (Survivors Network of those Abused by Priests), Male Survivors and Fixthelaw.org who have helped him. His current attorney is Mitchell Garabedian of Boston, who took on the nationally publicized child-molestation lawsuits against former priest John J. Geoghan and the Archdiocese of Boston and allegations against priests in that diocese.

Anyone who knows of sexual abuse of a minor by a member of the clergy or anyone representing the Catholic Church can report allegations to Monsignor Joseph N. Rosie, diocesan chancellor, at (609) 406-7400, ext. 5510, or by e-mailing him Contact: atjrosie@dioceseoftrenton.org.