Dean Hoge; Wrote Key Studies on Religion

By Joe Holley
Washington Post
September 19, 2008

http://www.washingtonpost.com/wp-dyn/content/article/2008/09/18/AR2008091803712.html

Dean R. Hoge, 71, a Presbyterian layman and sociology professor at Catholic University who helped write influential studies of religion in America, died Sept. 13 of cancer at Johns Hopkins University Medical Center in Baltimore. He was a Takoma Park resident.

His most influential book was "Vanishing Boundaries: The Religion of Protestant Baby Boomers" (1994), a study about loosening allegiances to specific denominations and the long-term decline of mainline Protestant denominations. The book, written with Benton Johnson and Donald A. Luidens, won the Distinguished Book Award from the Society for the Scientific Study of Religion.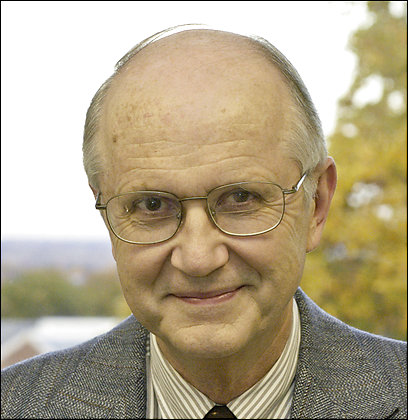 Dean R. Hoge, a Presbyterian layman, had been a sociology professor at Catholic University



In a 1994 interview with the San Diego Union-Tribune, he noted that the question was no longer whether mainline Protestant denominations would survive but how long they would survive. "To bring back the church the way it used to be, I just don't think that is going to happen," he said.

Dr. Hoge — the name rhymes with "stogie" — pursued sociological research on American churches for nearly 35 years and wrote 25 books and numerous articles on American religious life.

With sociologists James Davidson and Ruth Wallace, he was the author of four surveys of American Catholicism that tracked changes in Catholic practices and belief after the reforms of the Second Vatican Council in the 1960s.

The surveys appeared in the National Catholic Reporter beginning in 1987 and were repeated every six years through 2005. William D'Antonio, Dr. Hoge's colleague at Catholic University's Life Cycle Institute, said that, among Catholics, his friend will be remembered most for his landmark studies of the Catholic priesthood. His most recent books included "Evolving Visions of the Priesthood" (2003), written with Jacqueline E. Wenger.

Commenting on the priest sex-abuse scandals in recent years, he told the Los Angeles Times in 2007 that they had contributed to changes in the way some Catholics perceive priests, traditionally viewed as God's representatives on Earth.

"Catholics distinguish between Jesus Christ and the institutional church," he said. "People are too smart to believe that priests are representatives of God. These are men."

Dean Richard Hoge was born in New Knoxville, Ohio, on May 27, 1937, and received his undergraduate degree from Ohio State University, with honors, in 1960.

He received his bachelor of divinity degree from Harvard Divinity School in 1964 and a master's degree in 1967 and a doctorate in 1970, both in religion from Harvard.

He was an assistant professor of sociology at Princeton Theological Seminary in New Jersey before joining Catholic University's faculty in 1974. He served as director of the university's Life Cycle Institute from 1999 to 2004. He retired in 2006.

A member of Takoma Park Presbyterian Church, Dr. Hoge was an advocate for environmental and antiwar causes. Every year, he participated in the Polar Bear Plunge, which involves jumping into the Chesapeake Bay on a winter day to draw attention to climate change and other environmental issues.

He was an enthusiastic participant in Takoma Park's Fourth of July parade. One year, he and other Takoma Park residents organized a team of marchers who carried large magnifying glasses and wandered through the crowd searching for weapons of mass destruction.

He also organized the Holly Avenue Drill Team, known for marching down the street carrying hand-cranked and battery-powered drills.

Survivors include his wife of 43 years, Josephine Jacobson Hoge of Takoma Park; two children, Christopher Hoge of Kirkland, Wash., and Elizabeth Hoge of Boston; two brothers; and four grandchildren.