Out of the Shadows: Central Coast Men Talk about Childhood Sex Abuse in New Film

By Jennifer Squires
Santa Cruz Sentinel
September 21, 2008

http://www.santacruzsentinel.com/localnews/ci_10522708

MONTEREY -- Their stories are the same, but different.

Fear. Secrecy and shame. Anger. Men who were sexually abused when they were boys.

"Boyhood Shadows," a groundbreaking documentary about the little-talked-about crime and the emotional carnage it leaves behind, debuts Monday evening at the Steinbeck Forum.

Kim Allyn, a Santa Cruz deputy sheriff who was molested by his priest as a child, is one of the boys-turned-men featured in the film

"I'm just so thrilled they made it," Allyn said. "Nobody wants to talk about it, man. Nobody wants to hear about this.... It's happening every day."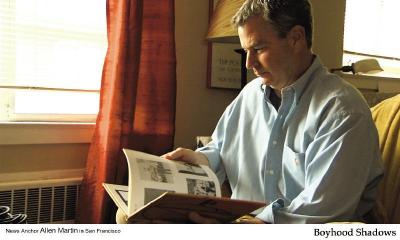 News anchor Allen Martin, who now works for KPIX, is a familiar face to many on the Central Coast, serving for years as the anchor



One in six boys is molested by age 16, according to the documentary. Sixty percent of sexual assaults are unreported.

Early last year, filmmakers Terri DeBono and Steve Rosen made a 30-second public service announcement for a Monterey County Rape Crisis Center counseling program for male survivors of childhood sexual abuse. The center received an overwhelming response for the ad and immense interest in the counseling group, which was one of just 40 groups of its kind in the world.

The men in the group thought it was time to tell their stories. DeBono and Rosen, who specialize in social issue documentaries, saw their next project.

The couple said it was a topic that needed to be explored, but it wasn't easy

"I went dragging into this project like a dog to the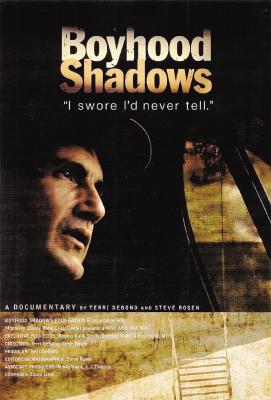 Santa Cruz County Sheriff's deputy Kim Allyn



veterinarian," DeBono said. "It's a subject no one wants to talk about. I certainly didn't."

But it was the silence surrounding the topic that pushed DeBono and Rosen to move forward.

"It's a very, very difficult subject matter that people are extremely -- more extremely than I imagined -- uncomfortable dealing with," Rosen said. "That's a terrible tragedy because such a large number of men have been abused."

The 14-month project began on the Central Coast, then reached out to abused men in San Francisco, Los Angelos, New York and Boston to show childhood sexual abuse of men can occur anywhere.

The filmmakers said they hoped the compelling men they profiled would intrigue viewers and help them understand the long-term impacts childhood sexual abuse has on victims. The 90-minute film follows Glenn Kulik, a Los Angelos man molested as a child. Kulik kept his secret for years. He lived on the streets and numbed his pain with alcohol, drugs and sex.

Several men with local ties -- including Allyn, a 21-year-old boxer from Prunedale, two Aptos residents and Allen Martin, who served for years as the anchor of KION-TV -- are part of the documentary.

"We really concentrated on trying to tell the story in a way that you can see the dignity and the power and the anger of these people and what they've done with their lives in order to survive," Rosen said.

The men dealt with their abuse in different ways.

"For me, I had to become strong and protect people because I didn't get the same goddamn help. I think that's part of my compensation for it," Allyn said. But he said he knows two molest victims who committed suicide as adults and other men who self-medicated with "women, alcohol or horsepower."

"You name it, something to put the flames out," Allyn said.

Both filmmakers said they learned an immense amount from the men they interviewed and that it caused them to reflect on their own experiences.


"At first you just really don't believe it ... and then you start talking to more and more people -- a lot of people -- and you start thinking back to the people you knew in high school who were reserved and shy," Rosen said. "You wonder if that's what their problem was."

DeBono, a high school drama teacher for 14 years, wishes she would have asked troubled students if they had been abused.

"Some of these symptoms, had I known, I could have identified some of these kids years ago," she said.

The filmmakers hope "Boyhood Shadows" will educate people, especially teachers, about signs of abuse, motivate legislators to pass more stringent sex abuse laws and have an impact on future jurors who may be ruling on sexual abuse cases.

"Maybe we can make people stronger, to stand up to defend a child," DeBono said. "It is a hard thing to do because it's a subject that no one feels comfortable with."

Allyn also hopes the documentary will also help abused men begin to talk about their pain. In recent years, he started speaking publicly about being abused Father Patrick McHugh, the head of St. John's Catholic Church in Felton in the 1960s and '70s, when Allyn was an altar boy. He and five other altar boys sued the Monterey Diocese in 2003 and settled for $1.5 million three years later.

The lawsuit has made Allyn a public face for Catholic priest abuse in the region.

"You have no idea how many men have come forward to me and confessed that they were molested," Allyn said. "When a man comes to terms with what happened and can get help and actually start talking, they become very happy.... You're kind of released from the imprisonment of this horrible story. You didn't do anything wrong."

Monday's event is a fundraiser for the Monterey County Rape Crisis Center. It's also the first and only public screening of the film, which has been entered in the Sundance Film Festival and will make the rounds to several other film festivals, including the Human Rights Watch festival in New York City.

"These guys are telling stories that will break hearts all over America," DeBono said.

Contact Jennifer Squires at 429-2449 or jsquires@santacruzsentinel.com