Catholics Split on Merger

By Adam D. Krauss
Foster's Daily Democrat
September 22, 2008

http://www.fosters.com/apps/pbcs.dll/article?AID=/20080922/GJNEWS_01/709229936/-1/FOSNEWS

DOVER — On their way to church Sunday morning, parishioners at St. Joseph's said it was "inevitable" the Catholic Church in New Hampshire would look to merge their church with St. Mary, St. Charles and the Chapel of the Nativity in Barrington.

"Ultimately, it's a really good thing to bring the entire community together and for us to share all our good works in an efficient way, such as the food pantry and all the other things we do to help the community," said Chris Novak, who's been attending church at St. Joseph's for several years.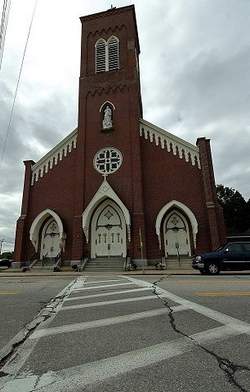 Saint Mary church in Dover
Photo by John Huff


He acknowledged it hasn't always been an easy transition.

"Change is always a difficult thing, so we need to go through all the steps of change," he said. "First, there's a little anger, a number of issues and then there's always acceptance. If anything, we learn by going to church to accept change and we learn to deal with it."

Brenda Short, who's been attending the church since 1990, called the merger a necessity.

"I just think with the (shortage) of priests, what else can they do?" she said. "Everybody likes their home parish, but it's a community no matter where you are."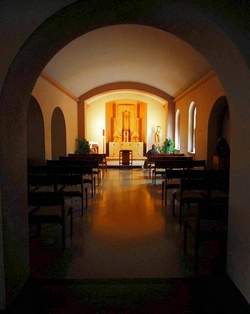 The chapel at Saint Joseph's church in Dover
Photo by John Huff


For parishioners at St. Mary, where the group "Concerned Parishioners" formed to prevent the change, the sentiment was decidedly different.

Shirley Bastianelli, who's been attending services there for 40 years, said she was against the plan because it encroaches on the church's history, and closing it would negatively affect people who walk to church, especially the elderly.

Catherine Plante, who's been attending church there for 15 years, said it's only right her church serve as the focal point of any merger because it's the oldest. She also questioned the need to build a new church, should the Manchester-based diocese go that route.

Overall, it appears community members are split. By Sunday, of 1,245 people who responded to a Foster's Web poll, 50.8 percent supported the plan, while 49.2 percent were against it.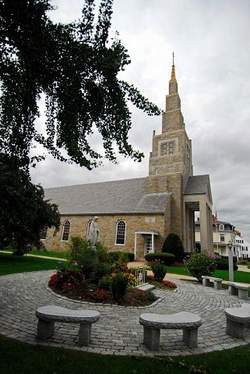 Saint Joseph's church in Dover
Photo by John Huff


Comments readers posted online about the plan reflected a similar divide.

One community member used the online forum to discuss the efforts to prevent the change.

"All the parishes in Dover were notified months ago of the decision to merge. All the parishes in Dover were aware for years of declining membership. Public petitions at this late stage, while their legal right, are unlikely to produce any changes ... ."

On Sunday, a St. Joseph's parishioner who, like others, declined to give a name, said of St. Mary churchgoers: "I think it's hard for them. I feel like we have to cooperate and do what's best for all of us."

Another St. Joseph's parishioner said something needed to be done.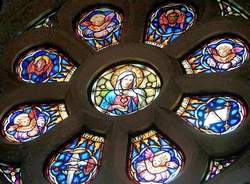 Stained glass windows in the main worship hall of Saint Charles church in Dover
Photo by John Huff


"It's pretty expensive to keep three of these churches going," the parishioner said.

It's unclear which churches will close. In explaining the push to merge, the diocese cited a decrease in parish priests and changing demographics throughout the state. The diocese assigned 31 cluster task forces across the state to investigate the impact of lost clergy on the "vibrancy, identity and even existence of their parishes," a report says.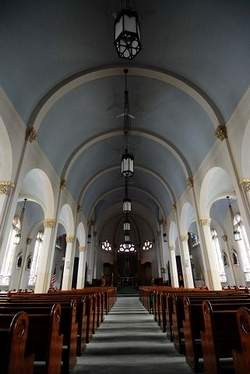 The main worship hall Saint Charles church in Dover
Photo by John Huff


A spokesman for the diocese has said there is no specific timeline for the merger, though it would likely occur by 2012. A transition team is slated to present Bishop John McCormack with recommendations in September 2009.

Once the steps of merging are set, talks will begin on where parishioners will celebrate Masses, the church has said.

By late Sunday, 14 people had aired their opinions online.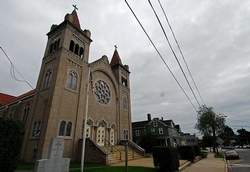 Saint Charles church in Dover
Photo by John Huff


One person said the "people who oppose the merger are jeopardizing the future of the Dover Catholic community" and are "giving Dover a reputation as a contentious group of Catholics"

"Undoubtedly," another person wrote, "no one wants to see their parish close and be forced to worship elsewhere — especially if you've been a parishioner at your church for decades. However, with the lack of membership some parishes are facing (which in turn means reduced offerings), merging may be the best, viable option. Churches have an obligation to be good stewards of their resources — financial, spiritual, or facility-related."

The reader said deciding which church to keep open will be a tough task, but offered guidance.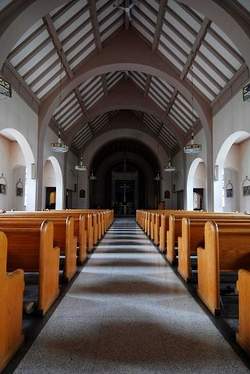 The main worship hall at Saint Joseph's church in Dover
Photo by John Huff


"A question to ask is this: What can be done to transform and strengthen the Catholic Churches in Dover? A good place to start would be to build up the leadership of the clergy and laity, create incentives for clergy recruitment and retention, while helping these churches to engage the surrounding communities."

Another reader, a self-described, "nonpracticing Catholic" from Barrington, said the comforting presence of a Catholic Church in the community should be considered.

"Merging churches within the same town might make sense, but closing the only Catholic Church in a town doesn't make any sense at all," the reader wrote.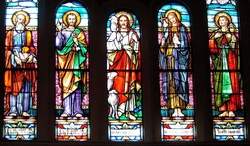 Stained glass windows in the main worship hall of Saint Charles church in Dover
Photo by John Huff


"I think it is time to close one of the churches during the winter (only) to save heating," another person wrote.

"Closing the Chapel of Nativity in Barrington is wrong," one reader said. "With the price of fuel now how many will venture to the larger (parish) in Dover, Rochester, Durham, or Northwood to worship?"

One community member criticized the way the merger has evolved.

"It looks like the decision was made behind closed doors with little, if any, input from the parishioners," the person wrote.

Another reader said the current plans aren't good enough.

"I feel not only should they merge Barrington and Dover, but I also feel that if the church is to survive tough economic times, they should close (St. Martin Church), which is in a residential community and use Holy Trinity which is more centrally located," the person wrote.

For one reader, it's " a sad, sad world when people's churches are forced to either join with another, or dissolve completely."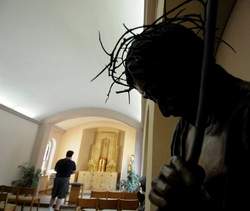 The chapel at Saint Joseph's church in Dover
Photo by John Huff


There are also those who say the proposed merger should have been done a long time ago.

"We cannot afford to support all the churches we have now and cannot man them with priests. This question came up way back in the early (1980s) when there were financial problems going on. I was on the Dover Catholic School Board at the time. There was much infighting going on among the parishes; and therefore nothing happened. Having a separate church with a different name will also help solve the infighting about which church should maintain the name," the reader wrote.

For others, the bigger issue is addressing why "very few" men are choosing to enter the priesthood. "Only the Vatican can solve the long-term problem," one person wrote.

"It is time to allow priests to marry, today is not like (50) years ago and for someone to give up not being able to marry is a hard thing," another person wrote. "Also perhaps allowing females to become priest(s) is another thing to look at. It's time for change. Wake up Rome."

Another reader urged acceptance.

They're all God's children, "so what does it matter whose roof they're under? I'm presuming they can all pray nice together?"

Contact: akrauss@fosters.com