3.09PM - Priest Guilty of Indecent Assaults

This is Gloucestershire
September 22, 2008

http://www.thisisgloucestershire.co.uk/latestnews/3-09pm-Priest-guilty-indecent-assaults/article-344721-detail/article.html

A Catholic priest who molested seven teenaged girls when he applied stage make up to them for school pantomimes was caught more than thirty years later - thanks to Friends Reunited.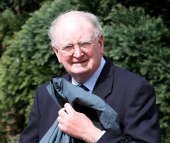 Father Peter Carr



Two of his victims got talking about their school days on the Friends website and realised they had both been abused by Father Peter Carr in 1969 and 1970.

They compared notes about how he would make them strip naked before using a sponge to apply make up to their bodies for annual pantos at a Catholic school in Blaisdon, nr Gloucester, where he was a teacher.

The two women decided to report Father Carr to his Catholic order, the Salesians, who launched an investigation which led to four other women making similar allegations.

Later, a 7th woman came forward independently to report that she had been molested by the priest in similar circumstances at panto productions five years after all the other victims,

At Gloucester crown court today Father Carr, 73, of Orbel street, Battersea, was bailed after he admitted two indecent assaults on his final victim between 13th June 1975 and 15th June 1979.

He had already been convicted after a trial last December - which could not be reported until today - of indecently assaulting six girls in 1969 and 1970.

Father Carr, of Battersea, London, had denied nine charges of indecently assaulting the six girls during the panto productions of Tom Thumb (1969) and Sinbad the Sailor (1970) at the school.

The jury convicted him of eight of the charges and cleared him of the other.

The girls were all pupils of a Gloucester convent school who were recruited for the female roles in pantos at the Salesian School at Blaisdon Hall.

For the full story, please see tomorrow's edition of the Gloucester Citizen.