Prosecutors in Fushek Case Challenging Judge's Ruling

By Jim Walsh
Arizona Republic
September 22, 2008

http://www.azcentral.com/news/articles/2008/09/22/20080922fushek0923.html

Prosecutors are appealing a judge's ruling that would have required five separate jury trials for a suspended Roman Catholic priest and blocked them from presenting evidence to prove a pattern of sexual misconduct.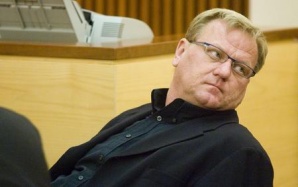 Dale Fushek



San Tan Justice of the Peace Sam Goodman cancelled a hearing scheduled for Tuesday on Monsignor Dale Fushek's upcoming trial after the Maricopa County Attorney's Office filed a notice for a stay in the proceedings.

The County Attorney's Office said in a statement that Goodman's ruling prevents the introduction of evidence "from several uncharged acts" and that prosecutors do not plan to dismiss any charges against Fushek.

"Defendant's actions and intent were not innocent, but for his own sexual gratification," prosecutor Barbara Marshall wrote in court documents. "To prove this in a vacuum would be nearly impossible. It is the pattern of conduct that clearly demonstrates Defendant's motive, which was exploitive and sexual."

Fushek once was the second highest ranking priest in the Diocese of Phoenix and arranged the visit of Pope John Paul II. He founded the Life Teen youth ministry at St. Timothy's Catholic Community in Mesa, where he was the pastor for two decades.

Fushek faces seven misdemeanor sex charges stemming from his relationships with five boys in the 1980s and 1990s, including one count each of indecent exposure and assault and five counts of contributing to the delinquency of a minor.

Thomas Hoidal, Fushek's defense attorney, has argued he was doing his job as a priest by counseling the boys about sex, while prosecutors argue Fushek was obsessed with having the boys describe sex acts to him.

Goodman ordered the five separate trials after the Arizona Supreme Court ruled that Fushek was entitled to a jury trial because he faces possible registration as a sex offender if convicted.

The judge further ruled that the counts pertaining to each victim must be proved independently without the introduction of evidence about Fushek's other charges.