Prosecutors Urge Denial of Appeal for Robinson
Ex-Priest Asks Ohio's Top Court for New Trial

By David Yonke
Toledo Blade
September 23, 2008

http://toledoblade.com/apps/pbcs.dll/article?AID=/20080923/NEWS10/809230343

Lucas County prosecutors yesterday asked the Ohio Supreme Court to deny an appeal by Gerald Robinson, the Toledo priest convicted in 2006 of murdering a nun in 1980.

His attorneys last month asked the high court to hear the case, claiming that the 24-year delay between the nun's murder and the priest's arrest denied him a fair trial.

The Catholic cleric, now 70, was arrested in April, 2004, and convicted by a Lucas County Common Pleas Court jury on May 11, 2006. The Ohio 6th District Court of Appeals upheld the conviction in July.

Defense attorneys John Donahue and Richard Kerger contended in their 122-page motion filed with the Ohio Supreme Court in August Robinson's case raises substantial constitutional questions, mainly because of the time lapse between the nun's murder and the priest's arrest.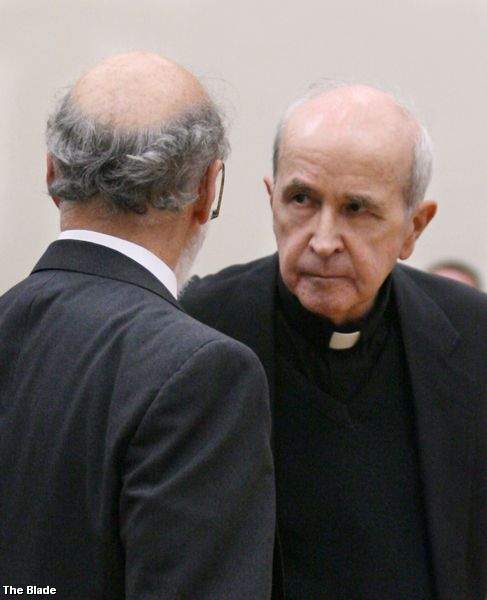 Robinson



"This is not a case where new evidence, previously unavailable, 'cracked' a 'cold' case," the attorneys stated. "Instead, it is one where the passage of time - and only the passage of time - substantially impaired the ability to present a defense."

In response, prosecutors said yesterday that Robinson "received a fair trial and justice was done" in Common Pleas Court and that the appellate court "properly and fairly" upheld the conviction in its July 11 decision.

The murder occurred on April 5, 1980 - Holy Saturday - in the sacristy next to the chapel of the former Mercy Hospital. Sister Margaret Ann Pahl, 71, was strangled nearly to death and then stabbed 31 times.

Police who conducted the investigation in 1980 testified in the 2006 trial that within a few days of Sister Margaret Ann's murder, Robinson was their only suspect. But one high-ranking police official said there was not enough evidence to convict the priest, so no charges were filed.

In 2003, a Toledo nun accused Robinson of sexually abusing her when she was a child. Those accusations led the Lucas County cold-case squad to re-examine the evidence in the 1980 murder.

The state said yesterday that a defendant must prove that specific harm, not just speculative harm, was caused by the loss of evidence and the death of witnesses over the years.

Prosecutors said the appellate court addressed the issue and quoted its July decision that said "the evidence of defendant's guilt was 'very strong' and supported by 'substantial' evidence."

Mr. Donahue said yesterday that he believes there is legal precedent to contradict the state's argument involving missing evidence. He said his client needs to show only that "potentially exculpatory evidence" was missing to prove he did not receive a fair trial.

"What really smacks of a due-process violation is that … without explanation the state of Ohio waited 24 years to hire expert witnesses, all of whom were available in 1980, to reinterpret evidence, all of which was available in 1980," Mr. Donahue said. "The court should look at the reasons why the state waited 24 years."

County Assistant Prosecutor Dean Mandros said that "I would be surprised if [the high court] would accept the case for review, but I've been surprised before."

The former priest is serving a 15-years-to-life term at Hocking Correctional Facility in southern Ohio.

In a separate legal action involving Robinson, a Toledo woman who claims the priest abused her in satanic rituals when she was a child sought help yesterday in obtaining information from the Toledo Catholic Diocese.

Mark Davis, an attorney for the woman suing anonymously as Survivor Doe along with her husband Spouse Doe, asked Lucas County Common Pleas Court to force the Toledo diocese to turn over information they requested. Mr. Davis filed motions in July and August asking a broad range of questions and seeking myriad documents and evidence.

The diocese asked the court to narrow Mr. Davis' request.

Mr. Davis said the diocese has "blatantly disregarded" its duties to respond.

Survivor Doe, now in her mid-40s, claims she was raped and tortured by Robinson and Toledoan Jerry Mazuchowski in satanic rituals starting in 1968.

Judge Ruth Ann Franks has scheduled a trial for May, 2009.

Contact David Yonke at: dyonke@theblade.comor 419-724-6154.