Vicar Is Jailed over Child Porn

BBC News

September 25, 2008

http://news.bbc.co.uk/2/hi/uk_news/wales/mid_/7634021.stm

Church saddened by child porn vicar

A vicar who admitted possessing more than 56,000 indecent images of children has been sentenced to three-and-a-half years in prison at Cardiff Crown Court.

The Reverend Richard Hart, 59, from Surrey, but formerly of Beguildy, near Knighton in Powys, admitted taking, making and possessing pictures.

The 21 offences took place between 1991 and 2007.

In addition to the criminal case, the matter has also been referred to a Church in Wales disciplinary panel.

On 3 September, the former chairman of governors at Beguildy primary school was remanded in custody after he admitted 12 charges of making indecent images of children, four of taking indecent images and five of possessing images on his computer.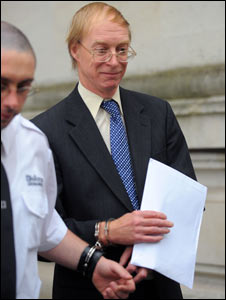 Hart was found with 56,000 child porn images



The court heard he had 44 images showing child sex abuse in the most serious category five - with 52,240 in the least serious category, 2,419 in category two, a further 684 in category three and 1,445 in category four.

On Thursday, the prosecution said that in police interviews Hart had said he had a magpie instinct.

The court heard that Hart hoarded indecent images of children aged between four and 15.

He also collected 270 perverted stories, some recounting incest and some of the images were sadistic in nature.

The court heard his wife Juliet Mary Hart, who is 41, was fully aware of her husband's collection.

Prosecutor, Ieuan Morris, described her attitude as "bizarre".

"She said she knew her husband viewed images of children from about the age of five years of age and was not surprised the police were there," said Mr Morris.

He said Mrs Hart, who was a teaching assistant, considered the images were nobody else's business, as long as the parents of the children photographed were happy.

She was subsequently cautioned for possession of category one sexual images of children. She was also disqualified from teaching or working with children for two years.

Computer programmer

The prosecution said the vicar had been obsessed with child pornography since the mid 1980s.

Hart was ordained as a priest in 1986 in St Mary's Church in Swansea and was priest-in-charge of four parishes in south Powys, although his address is listed as being in Surrey.

Hart has been suspended from his pastoral duties.

He was also disqualified from working with children by Judge Michael Burr.

He will also be subject to a 10 year sexual prevention order upon his release that was modified to allow the trained computer programmer to perhaps find paid work with computers.

Following Hart's sentencing, the Church in Wales said it was "deeply saddened and shocked".

"There is no place for any form of abuse in the Church in Wales. We give the highest priority to the care and protection of children and vulnerable people in the community.

"To this end we regularly review our child protection policies and we will also shortly begin examining clergy records which pre-date those policies," it said.