Archmere Academy Settles Sex Abuse Suit

By Esteban Parra
The News Journal

September 25, 2008

http://www.delawareonline.com/apps/pbcs.dll/article?AID=/20080925/NEWS01/809250371

A Navy doctor, who earlier this year settled a sexual-abuse lawsuit for $450,000 with the Catholic Diocese of Wilmington, has now settled with Archmere Academy -- where his alleged attacker taught religion and English.

Attorneys for Cmdr. Kenneth Whitwell on Wednesday announced their client had settled a lawsuit for an undisclosed amount against the Claymont school and the Delaware, Pennsylvania and Wisconsin branches of the Norbertine religious order.

In addition to the settlement, Whitwell received an apology for the abuse the 41-year-old allegedly suffered at the hands of the Rev. Edward J. Smith.

"It has been a long and difficult journey, but settlement is an important step in the healing process for my myself and my family," Whitwell said in a statement released by his attorneys. "My goals in these court cases have always been simple ones -- to tell the truth about past injustices and ensure that young children are protected from sexual predators in the future."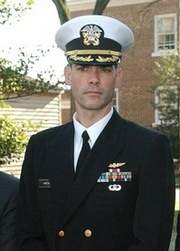 Navy Cmdr. Kenneth Whitwell, previously settling with the Wilmington dioese, received an apology and money from Archmere -- where he allegedly suffered abuse from a teacher.



In its two-page apology statement, Archmere apologized to Whitwell and also to the Archmere community "for the sexual abuse inflicted upon him."

"With the benefit of hindsight, it was a mistake to accept the assignment of Fr. Smith to the Archmere faculty in 1982," the unsigned letter said. "Archmere Academy deeply regrets that it did not detect and prevent the sexual abuse of its student Ken Whitwell by Fr. Smith."

Whitwell, a 1985 graduate of Archmere, has alleged that Smith raped him more than 230 times during a 33-month period. In a deposition taken in November for the Superior Court case, Smith declined to answer scores of questions related to the alleged abuses and specifics of his relationship with Whitwell and Whitwell's family, invoking his Fifth Amendment protections against self-incrimination.

But Norbertine and Archmere officials -- including Archmere headmaster Joseph McLaughlin and dean of students James Collins -- have acknowledged in sworn depositions that they knew Smith had been removed as principal of Bishop Neumann High School in the Archdiocese of Philadelphia because of allegations of sexual misconduct with boys there. After his removal from the school, they assigned him to duty in a Salisbury, Md., parish for a year and then to Archmere in 1982. Smith taught religion, English and served as Archmere's campus minister until he left the school in 1984.

Whitwell was one of the first people to sue under the state's Child Victim's Act, considered the nation's toughest law against child sexual abuse.

"This is a tremendous victory for all survivors of abuse here in Delaware," said Thomas S. Neuberger, one of Whitwell's attorneys. "There is hope for victims in Delaware today because our General Assembly took the lead in making Delaware the most unwelcome state in the nation for child abusers and their enablers."

A jury last year awarded a $41 million verdict in Whitwell's federal case against Smith.

Contact Esteban Parra at 324-2299 or eparra@delawareonline.com.