City Jails "hesitant" to House Catholic Priest, Attorney Says

The Orange County Register

September 24, 2008

http://crime.freedomblogging.com/2008/09/24/city-jails-hesitant-to-house-catholic-priest-attorney-says/

The Rev. Luis Eduardo Ramirez, who was sentenced to 180 days in jail last month for bringing a 17-year-old to a motel room and giving him alcohol, is having problems finding a city jail to take him, his attorney said.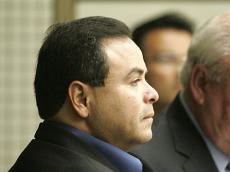 The Rev. Luis Eduardo Ramirez



Ramirez, who served at Our Lady of the Pillar parish in Santa Ana before his January arrest, was supposed to start serving his sentence at a private city jail today. But a judge decided Tuesday to give him an extension until October 21 to report to a jail.

His attorney, Gary Pohlson, said today the cities of Huntington Beach and Fullerton have declined to house Ramirez because of concerns of keeping a priest protected from other inmates.

"Jails have been hesitant thinking of how they would need to protect him from other inmates," Pohlson said. Ramirez has an interview at Seal Beach's facility next week, he added.