Vicar Was 'Connoisseur' of Porn

By Carl Yapp
BBC News

September 25, 2008

http://news.bbc.co.uk/2/hi/uk_news/wales/mid_/7629523.stm

The detective who led the investigation into convicted vicar Richard Hart has spoken about his double life as a respected village priest and a so-called "connoisseur" of child pornography.

Hart, 59, was ordained in 1986 and had spent the last seven years in charge of four parishes in mid Wales.

To the outside world he was a trusted member of the community - chairman of the school governors in the village where he lived, and a loving father.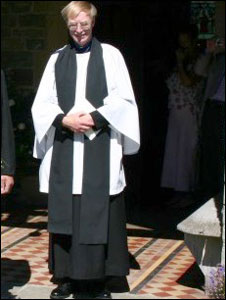 Hart was found with more than 56,000 child porn images



But this masked a sinister obsession with indecent images of children.

Hart visited websites around the world to download depraved pictures, fictional stories and films.

He also took pictures of young girls, and one woman from Powys has recalled how she was photographed by Hart as a child swimming naked in a river.

Detective Inspector Diane Davies, who led the police inquiry said Hart's "veneer of respectability" may have put him beyond suspicion.

She said people would no doubt question his motivation for becoming a priest, adding that he may have occupied a position of trust to further his obsession rather than having a genuine commitment to the church.

Det Insp Davies, of Dyfed-Powys Police, was one of 10 officers who raided Hart's home in Beguildy, near Knighton, Powys, in January, following a covert operation involving other law enforcement agencies.

This led to the second largest seizure of child pornography in the history of the Dyfed-Powys force.

"He (Hart) considered himself a connoisseur of sexual images of children, and he had no option but to admit what he had done with the overwhelming evidence against him," said Det Insp Davies.

"When we arrested him he was not surprised or angry, and was emotionless.


"He considered himself a connoisseur of sexual images of children"
Det Insp Diane Davies


"It is clear Mr Hart took the action he did with the full understanding of the consequences he might face and the impact on so many people.

"Given the supreme position of trust he held as a priest and his personal circumstances, he presented a veneer of respectability which may have put him beyond suspicion."

Det Insp Davies added: "I am sure the mind set of paedophilia is not a choice. However, we do have a choice over our actions."

Detectives went through all of Hart's illegal images to assess and categorise them as part of the case against him.

As for his parishioners, Det Insp Davies said they had been helpful.

"I am grateful to Beguildy community who have conducted themselves with dignity throughout this investigation," she explained.

"Most of all, I am grateful to those individuals that have been spoken to by the investigation team in the course of our inquiries.

HART'S CAREER AS A VICAR

1986: Ordained as a priest


1985-87: Served as a curate in Sketty, Swansea


1987-88: Priest-in-charge of Llanbister, Llanbadarn Fynydd and Llananno in Powys


1988-92: Vicar of Llanbister, Llanbadarn Fynydd and Llananno


1992-2000: Priest-in-charge of Preston and Dymock with Donnington and Kempley in Gloucestershire


2001: Priest-in-charge of Beguildy, Heyope, Llangunllo and Bleddfa in Powys

"They cannot be named or identified but they know who are they are. We cannot change the past only the future and a team effort working in partnership with other agencies, and the support of the public, is essential to positive outcomes."

No-one in Beguildy would speak to the BBC News website about the case or its impact on their small community.

During legal proceedings, Cardiff Crown Court was told how Hart had a collection of nearly 57,000 indecent images, 97 films and fictional stories about sex with children.



"Be afraid, be very afraid"

Det Insp Diane Davies' message to offenders


The court heard Hart had 44 images showing child sex abuse in the most serious category five - with 52,240 in the least serious category, 2,419 in category two, a further 684 in category three and 1,445 in category four.

His vast collection of images came from websites in Brazil, Germany, Japan, the UK, the US, Denmark, Russia and other eastern European countries.

Hart admitted all 21 counts against him, which included making, taking and possessing images of children. The offences dated between 1991 and 2007.

But what about the offenders who are still at large? Det Insp Davies has a message for them.

"Be afraid, be very afraid," she said.

"They should examine their conscience. Each image represents a child victim.

"Hart was caught in a covert operation which crossed national and international borders, so many people are involved in tracking these people down."

Speaking directly to offenders, she added: "If you can't be motivated that it's morally wrong, then be motivated by the fact when you're caught there will be serious implications on your life.

"You would find yourself registered as a sex offender and you could end up in prison."

Det Insp Davies also paid tribute to her team of detectives and the Child Exploitation and Online Protection Centre. Its behaviour analysis unit provided expert assistance and support to the investigation.