Infomercial Executives Help Support Hindu Temple

By Eric Dexheimer
American-Statesman

September 29, 2008

http://www.statesman.com/news/content/news/stories/local/09/28/0928swaminfomercial.html

Hindu temple used direct marketing as means of financial support.

Because of a history of reader response that overwhelmingly violated our standards for appropriate commentary, we have removed the option to post reactions to this story. — The Editors

In the mid-1980s, the leaders of a Hindu organization trying to gain a foothold in the United States contemplated how to raise money. Eventually, Prakashanand Saraswati and his devotees within the International Society of Divine Love — later called Barsana Dham, after they'd established themselves in Austin — ended up with an unorthodox source of support: infomercials.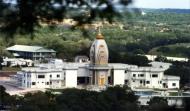 The Barsana Dham temple sits on 211 acres in Hays County. The site has had more than just spiritual structures: Offices and warehouses have been housed at the complex south of Austin.



The result has been a peculiar but apparently profitable alliance between the sacred and secular. Through overlaps between temple leaders and direct marketing executives and their companies, it has paired Prakashanand, a 79-year-old Hindu holy man also known as Shree Swamiji, with such late-night fare as promotions for the Miracle Blade, Abflex, homeopathic impotency treatments and the Ionic Pro air purifier.

There is nothing illegal about the religious organization benefiting from its ties to direct-marketing companies. AndBarsana Dham is not the only spiritual enterprise to have business-savvy disciples who contribute generously to support their spiritual homes.

But questions about where the Austin organization received its money were raised recently when ashram director and infomercial executive Peter Spiegel pledged $10 million to guarantee that Prakashanand would return to a Hays County courtroom to face charges of indecency with a child by sexual contact. The charges stem from incidents involving two teenage girls in the 1990s.

It is a matter of debate how involved the guru has been in decisions affecting the companies. A number of former followers said Prakashanand regularly dispensed business advice to devotees. Kathleen Williams, another ashram director, disputed that. "Swamiji does not give secular advice on any topic," she said. Spiegel said the ashram never had any interest in, or influence over, the businesses.

Still, Travis County court records show two of the Austin-based direct marketing companies' ties to Barsana Dham — as well as the business connections among devotees — have become flash points in legal actions. The companies "are simply conduits by which Swamiji, the Temple and/or individual Temple devotees obtain hundreds of thousands of dollars to help support the Temple property and activities," a filing in a 5-year-old lawsuit in state District Court in Travis County asserted.

Barsana Dham is part of a larger organization called Jagadguru Kripalu Parishat, or JKP, which has been enormously successful at raising money. In addition to the distinctive facility off RM 1826 in Hays County, JKP has constructed ornate temples in India. One, under construction since 2002, is being built of slabs of marble delivered from Italy. The project includes a team of artisans who carve each stone, according to the organization's promotional materials. Centers are being planned in Los Angeles and New Jersey.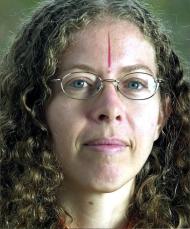 Prabhakari Devi: Vice president of Barsana Dham.



Most of Barsana Dham's income comes from donations from its base of approximately 1,200 worshippers nationwide, according to the organization. Like many churches, Barsana Dham asks members to pay dues when they join.

When the spiritual leader of the organization, Maharajji Kripalu, is in Austin, more money is raised through donations called seva, or service. Generally speaking, devotees pay for a connection to the guru: from $20 to bow to him in the morning, $200 to push him on a swing, $220 to share a cookie, $600 to wash his feet and $2,500 to celebrate a birthday with him, according to a written list provided by a former resident.

"The pressure to give was intense," recalled Anastasia Blaschke of Austin, a 10-year devotee who lived on the ashram for almost three years. "The more seva you did, the better a devotee you were."

Williams said the organization has never pushed members to donate money. Prabhakari Devi, Barsana Dham's vice president, said the seva was part of specific fundraising campaigns and was a common practice in the religion. She said the gurus often made themselves available without asking for money.

Some temples accept sizable donations from devotees who, in exchange, are given a place of honor at large celebrations and ceremonies, said Sannyasin Arumugaswami, managing editor of Hinduism Today magazine. But, he added, "while the practice of being with, serving and honoring the guru is a central Hindu tradition, the idea of putting detailed price tags on interacting with the spiritual teacher would be regarded by most Hindus as inappropriate, even reprehensible."

Many devotees also make pilgrimages to India, where seva fees can add up quickly, they said. N. Kumar, a California devotee for 12 years who once hosted prayer meetings at his house, recalled his family spending between $4,000 and $11,000 on trips to India on seva such as riding in Kripalu's Mercedes and a birthday celebration for his wife. It wasn't unusual for devotees to return owing $50,000, he said, adding: "This was an expectation. In order to be a better devotee, you had to give more."

Temple leaders also request money from followers for specific projects, such as building campaigns or Prakashanand's travel expenses, several former members said. Because many members are successful business people, large sums can be raised quickly.

Ray Sharma, a California businessman, said he was actively involved with the organization between 1997 and 2004. He recalled one instance in Austin when a small group of devotees, of which he was one, donated $200,000 within a half-hour in response to an urgent plea for money.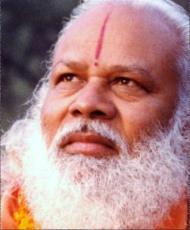 Prakashanand Saraswati: Followers include infomercial executives.



Where all the money goes hasn't always been clear, some devotees said. An internal controversy arose at the ashram when supporters donated $695,000 for the construction of a prayer hall, to be called Krishna Kunj Hall, recalled Deepak Burman, who helped lead the fundraising effort between 2003 and 2006. But after a groundbreaking ceremony, he said, talk of the new hall stopped.

Prabhakari said the campaign fell well short of the amount required to build the hall, so several lesser structures were constructed instead. Others are planned, she said.

Barsana Dham also appears to have successfully included a number of for-profit ventures in its fold. Business offices and warehouses are situated on the ashram's picturesque grounds, a 30-minute drive from downtown Austin — a fact reflected in its taxes. In 1991, the International Society of Divine Love requested that all 211 acres of its newly purchased land be exempted from property taxes because it was a religious organization. Upon a review of how the land was used, however, the Hays Central Appraisal District identified only 66 acres eligible for the tax break.

According to state corporation records, several companies over the years have made the 200-acre site their home. Yellodyno.com, which markets child-safety products, lists an ashram address. Spiegel said the organization decided early on to build commercial structures to provide a reliable stream of rental income for the ashram.

Many of the businesses that ended up on the property have been tied to infomercials and direct marketing companies. Some have been run from the ashram, others from California. The enterprises have revolved around a core group of people, several of whom also hold official leadership positions within Barsana Dham.

"Barsana Dham does not have any interest in any of the businesses," Williams said. Still, public records suggest that the organization has gained money from the companies in several ways. In a deposition filed as part of the Travis County lawsuit, for example, an executive for a media company run by devotees reported paying $7,500 a month in rent for the use of office space on the ashram.

Earnings from the businesses with a presence on the ashram also benefited the organization as devotees' incomes climbed. "As an individual, I'm fortunate to have been in business and done well," said Williams, who still owns a successful infomercial advertising agency. "I take happiness in contributing to Barsana Dham."

After a profitable 2001, a devotee who led another direct-marketing company said she gave $20,000 to Prakashanand and Barsana Dham, according to a deposition filed in the court case.

Spiegel is managing director and treasurer of JKP-Barsana Dham as well as president of the JKP Foundation, a recently formed charitable arm of the temple, according to state incorporation records. His Web site describes him as a pioneer of the infomercial business responsible for the successful promotion of products that have racked up more than $2 billion in sales.

"He is a gifted direct response marketer," said Ben Van de Bunt, co-president of Guthy-Renker LLC, one of the world's largest direct marketing companies.

After graduating from college in 1972, Spiegel traveled to Europe, where he studied meditation and acupuncture. When he returned, he worked in New York's jewelry district. In the early 1980s, he and another Prakashanand devotee started a natural food and candy business.

Spiegel said he met Williams, who spent her early working years with Ed Beckley, a California entrepreneur considered the father of the infomercial, in 1985. Today, Williams is a managing director of Barsana Dham, according to records filed with the Texas secretary of state's office.

Spiegel and Marsha Kent met the same year as members of Prakashanand's then-young organization. Kent began her career working as a convention business consultant, according to old press accounts.

Two people who were ashram residents for a combined 30 years said Prakashanand helped select the businesses he wanted adherents to pursue to support his religious mission in the United States; he ended up recommending infomercials and direct marketing as good opportunities to pay for the organization's growth. (Both requested anonymity because they still have ties to the ashram.) Spiegel denied the guru's involvement. "I've never discussed business with Swamiji," he said.

In 1987, Williams formed her own company, Williams Television Time, a media buying and placement company. Kent founded Kent Television Marketing in 1990, according to Delaware corporation records.

After helping Williams — who he'd also begun to date — set up an infomercial tracking system for her company, Spiegel said he saw the potential for infomercials and started his own company in 1991. Sergio & Spiegel Television's first product was Dick Gregory's Bahamian Diet. Another was a homeopathic impotency treatment.

The devotees' timing was excellent. Deregulation of the television industry permitted television stations to air longer advertisements. New cable stations freed up even more TV airtime. By the mid-1990s, more than 500 infomercials were being introduced every year.

In October 1990, according to filings at the U.S. Patent and Trademark Office, Kent applied for a trademark registration for a kitchen knife she called Miracle Blade, which she'd first seen demonstrated at a county fair. The first infomercial her company produced was for the knife set.

It was an instant hit, racking up $1 million in sales during its first three weeks, according to industry reports at the time. Today, the company claims that sales of the heavily advertised blades, now in their third design, have surpassed $150 million.

At the same time, Spiegel, who had been renting office space from Kent, started Dynamic Television to market motivational talks. In 1993, he and Kent purchased 500,000 rolls of a food wrap owned by General Mills that claimed to brown food in a microwave. The pair's infomercials for Microcrisp food wrap eventually brought in $55 million in sales. Kent & Spiegel Direct Inc.'s promotions for the Abflex sit-up device and the Sobakawa Pillow generated tens of millions more in sales, according to trade publications.

In 1994, both Kent and Williams made a list of Los Angeles' top 10 businesswomen. Another devotee-owned company, American Fulfillment Center, was busy handling orders for infomercial products from warehouses located on the Austin ashram. The Austin temple was inaugurated the same year.

"If you start a new business with a product no one's ever heard of, you might say, 'Hey, $6 million would be a great year,' " Spiegel explained in a 1995 interview. "But you can do $50 million in one year from one infomercial. It's fairly equivalent to winning the lottery."

Williams said the only advice the guru ever dispensed to devotee/infomercial entrepreneurs was spiritual. But several former ashram residents said Prakashanand appeared to regularly provide guidance to the executives.

One, Ivan Plavac, who joined the organization in the mid-1990s and stayed for a decade, recalled being present twice when Prakashanand talked business at one of Barsana Dham's Los Angeles centers. Once, he said, the guru helped test new versions of the Miracle Blade; Spiegel said Plavac misinterpreted the guru's participation. In another instance in which he was present, Plavac remembered Prakashanand weighing in on whether to fire a particular infomercial employee.

The ties of Spiegel, Kent and Williams to the Austin guru were also the subject of much discussion within the then-small community of infomercial entrepreneurs, former executives recalled. Steve Dworman, who published the Infomercial Marketing Report from 1991 to 2001, remembered the devotees bringing Prakashanand to a National Infomercial Marketing Association convention in Las Vegas in the early 1990s.

It was striking, he said, seeing the diminutive holy man mingling with direct marketing industry executives at the Mirage hotel.

As infomercials grew more audacious, the government began to take notice. In 1991, the U.S. Postal Service obtained a cease-and-desist order against Sergio & Spiegel for deceptive advertising, contending that what the marketers termed a "talk show" about an impotency cure was really an infomercial and that the product itself was being falsely advertised. (One guest offering a testimonial was related to a member of the product company's board of directors, according to the filing.)

The company appealed the order but lost again in 1993. Spiegel noted that the company was never fined, adding that it was breaking new ground discussing erectile dysfunction on the air and that regulating agencies were still assessing the new industry's boundaries.

In 1997, the Federal Trade Commission took issue with Kent & Spiegel's claims that Abflex could help users lose five inches and 10 pounds in only three minutes a day for 30 days. The company agreed to stop making the claims, according to a consent agreement with the trade commission.

Other problems followed. Kent & Spiegel was plagued with returns of a defective Bun and Thigh Sculptor, a glitch Spiegel blamed on the product's Taiwan manufacturer and said cost the company $20 million.

Compounding the problems, industry analysts said, was the volatility of the business. Only one in 20 infomercials is considered a success, said Clare Kogler, president of Jordan Whitley Inc., which has monitored the industry for 17 years.

"It's a very difficult business to manage — big peaks, occasional valleys," Van De Bunt of Guthy-Renker said. As the Internet took off in the mid- and late-1990s, the business experienced a shakeout.

In 1998, Kent & Spiegel filed for protection under federal bankruptcy laws. Spiegel blamed the company's woes on the Bun and Thigh Sculptor's defects, which "destroyed consumer confidence in the product, causing a collapse in sales," he wrote in a filing. "The failure of this product caused a decrease in confidence — and sales — in other (Kent & Spiegel) products."

The bankruptcy filing also exposed ties between Prakashanand devotee-run businesses. Thanks to contracts between the two companies, Kent & Spiegel's problems resulted in layoffs at Williams' agency. Spiegel said rumors about the devotees' connection to the Austin ashram prompted the bankruptcy court to order three separate audits of the business.

Kent and Spiegel themselves were soon back on their feet. Kent had kept the rights to Miracle Blade in her name. U.S. Patent and Trademark Office filings show that in 2000 she assigned interest in the product to Sylmark, a new company Spiegel and Kent formed. Sylmark also acquired the rights to several of Kent & Spiegel's old products at its bankruptcy auction.

Sylmark has since promoted Walk-Fit, Total Trolley, Ionic Pro and the Ab Slider. Spiegel and Kent individually are listed as the inventors of several of the company's products, including, recently, a light healing device, according to U.S. patent filings.

More of Prakashanand's devotees became involved in direct marketing through Spiegel, Williams and Kent. Williams said the devotees' involvement in the infomercial industry wasn't part of a grand plan, but rather "was one of those things that just happens." She said she often hired acquaintances to fill positions at her businesses.

Greg Sarnow became friends with Spiegel in Switzerland in the early 1970s, when both men lived there, according to a court deposition. Court records also show that in 1995, Sarnow, a Barsana Dham resident, became majority owner of the Austin-based American Television Time, a media-purchasing company, when he acquired a percentage of the company from Williams. Williams founded the company four years earlier as Williams Southwest.

American Television Time's other owners also had close affiliations with Prakashanand's ashram. Court records show that Sarnow's wife, Beatrice, and Brenda Becker, wife of a temple director, each owned 10 percent. A fourth owner is the mother of one of the women now claiming in a Hays County case that she was groped by Prakashanand.

According to court filings, a half-dozen Barsana Dham residents worked at American Television Time. More of the company's employees were nonresident Prakashanand followers, the court filings say.

American Television Time appeared to be successful into the late 1990s. It reported net sales of $47.6 million in 1997 and $34 million the following year, according to legal documents.

But like Kent & Spiegel, American Television Time ran into financial trouble, eventually declaring bankruptcy in March 1999. Documents from that bankruptcy case highlighted additional ties among the various infomercial companies run by members of Barsana Dham.

American Television, which listed an address at the Austin ashram, owed the International Society of Divine Love $60,000 in back rent. Court filings listing the company's debts also showed that Sarnow and American Television had extended an unsecured $300,000 loan to Kent & Spiegel Direct.

And in a January 1999 interview, Sarnow blamed his company's troubles on the financial turmoil at Kent & Spiegel, which had hired Sarnow to buy media for its Sobakawa Pillow infomercial.

The shared connections to Prakashanand and Barsana Dham later embroiled American Television's bankruptcy in controversy.

Linda Bartos, then a Barsana Dham resident and another early devotee of Prakashanand, was vice president of American Television Time. Bartos declined to be interviewed. But according to court filings, she, her daughter Carol and a third Prakashanand devotee split off from American Television in February 1999 to form an Austin-based direct marketing company called Fast Media LLC.

In many ways, the two businesses were indistinguishable. Fast Media used the same address as American Television. It used the same office equipment. Virtually all of Fast Media's employees came from American Television, according to depositions and other court filings.

American Television filed for bankruptcy protection a month after Fast Media was created. A month later, in April 1999, American Television turned over six media buying contracts to Fast Media. The contracts effectively put Fast Media in business. "This is what got us started," Bartos said later in a deposition.

Several of American Television's creditors complained about the timing of Fast Media's creation. In bankruptcy court filings, the creditors noted that though they were fighting to recover their money, Fast Media grossed millions in revenue, and Bartos earned $256,000 in the company's first year of operation.

In an effort to prove that American Television and Fast Media were virtually the same company, the complaining creditors noted that the two businesses shared a connection: Prakashanand Saraswati and the Austin ashram.

In May 1999, DMTV News, a trade journal, reported on the dispute, which had been the subject of rumors. "There is concern in the media industry that the American Television bankruptcy is a part of an orchestrated attempt by the temple and its members to avoid paying stations and cable networks, while continuing to make money under a new company name, Fast Media LLC," it wrote.

Bartos and Fast Media sued the publication in state District Court in Travis County, claiming that the statement was libelous because it implied that Prakashanand's devotees were all working together. In response, lawyers for the trade magazine responded that the devotees did appear to be working together.

"The owners of American Television were Temple devotees who lived on Temple grounds," the journal's attorneys wrote in one filing. "The owners of the new company ... all live on Temple grounds. The advertising business itself is located on Temple grounds." Executives of the two companies "live in the same building, they eat their meals together in a common dining hall, and they chant together daily. And they live in a communal environment where everyone shares."

In depositions for the case, Bartos said the formation of her company was an arm's-length transaction that benefited from lucky timing. She denied that money from her company went directly into temple accounts or that Prakashanand was involved in any business decisions. A judge dismissed the libel suit in October 2003.

Prakashanand's devotees have created more direct-marketing companies. Carol Bartos and Williams formed the Austin-based Team 360 Global Management LLC. (A third devotee was listed as another director, according to state records.)

Williams created Williams Worldwide Television, which has handled some of Miracle Blade's international marketing efforts. She is an executive vice president of Sylmark, Spiegel and Kent's company.

Kent founded Creative Juice Direct, a direct marketing and infomercial production company; Linda Bartos founded Seva Direct Merchandising. Sarnow is founder and CEO of the Direct Response Academy, which lists a Barsana Dham address.

Kent and Spiegel have taken on supporting roles in Prakashanand's criminal case. In addition to pledging $10 million in exchange for the guru's right to travel, Spiegel has sat in the front row of Prakashanand's legal hearings in San Marcos.

As a condition of his release, the guru has not been permitted on Barsana Dham. According to testimony at a recent hearing, when in Austin, he stays in a house near the ashram owned by Kent.

Contact: edexheimer@statesman.com; 445-1774